India is home to over two-third population of the Tigers in the wild. Apart from Tigers, India is also home to Asian Elephants, Asiatic Lions, Snow Leopards, One Horned Rhinos, Wild Dogs, Brown Bears, Himalayan Black Bears, Leopards, Crocodiles, Gharials, over 1200 species of birds, and much more. In all aspects India is not second to Africa when it comes to wildlife. India is surely one of the richest bio-diverse regions of the world. It is one country you cannot see in one visit, and you will want to come back again and again.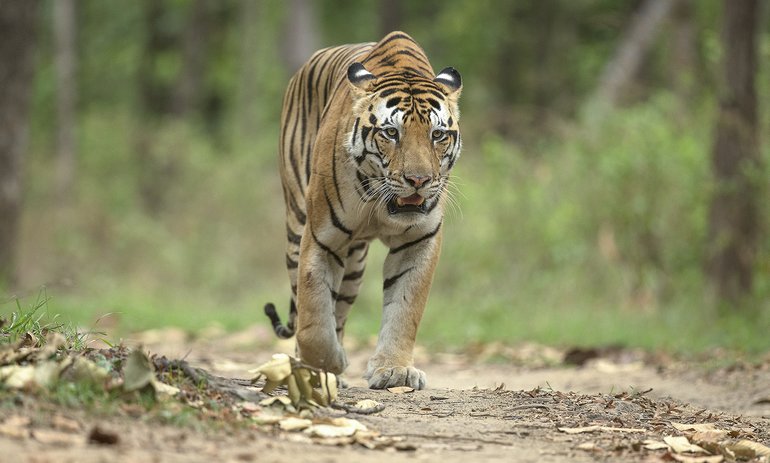 Royal Bengal Tiger, Kanha National park
I have been doing Tiger safaris in India for 30 years now. They are best done by planning with someone experienced. Also you must book much in advance for the same. Ideal time is 5 months minimum as the safari permits are limited and available online to be booked. The permits are made available 120 days before your safari date, hence plan much in advance.
There are no resorts in national parks in India. Only places where you can stay inside the national parks are some basic forest rest houses in Corbett and Dudhwa National park. Good places to see Tigers in India are Bandhavgarh, Kanha, Corbett, Ranthambhore, Tadoba, and Pench. As listed India has a lot of variety in flora and fauna, and a minimum safari of 8-10 days is recommended. If you have less time then also nothing less than 6 days is suggested.
It is best to take bottled water or reverse osmosis water at the Lodges. Though India looks like a small country, but the public transport is not well organised. It is suggested to hire private cars for inter destination transfers, or short duration trains and internal flights.