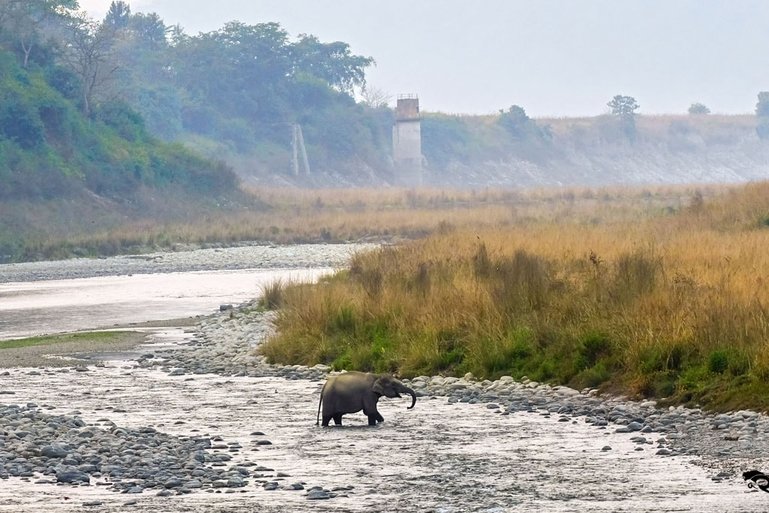 Jim Corbett National Park
Jim Corbett National Park takes pride in being the oldest established National Park within the geographical boundaries of Asian Continent. It was declared as a National Park in 1936. Another point that this unsurpassed wildlife destination boasts of is that it has the first Tiger Reserve under Project Tiger in 1973.
The land of song, roar and trumpets, Jim Corbett National Park offers a mixed bag of unique experiences and showcases a panorama of remarkable elegance.
To mention, the most significant highlights of this empyrean for wildlife buffs are- the rare Bengal Tigers, Crocodiles and Leopards. The other wildlife attractions in the park are Otters, Hogs, Boars, Sambas, Langoors, Gorals, Sloths and Pangolins. The spellbinding spot is an abode to more than 585 bird species, 33 reptile species, 37 dragonfly species, 7 species of fish and 7 amphibian species.
National Park for Holidays
---
As we all know that this Universe is full of unknown elements and unexpected encounters, the Jim Corbett National Park is also a gamut of unlimited, fascinating and miraculous experiences. As rightly said by the much acclaimed author and naturalist John Muir, "The clearest way into the Universe is through a forest wilderness", there is no further reason required to get ready to unleash the multifarious universe through the exotic wildlife in the park.
Best time to visit Corbett National Park
---
Though the park remains open throughout the year, but to encounter with the wild and to grab the never-to-be-forgotten experiences, the best time to visit Corbett is from mid of November to the mid of June.
How to Reach Corbett
---
The exhilarating Jim Corbett National Park lies in two districts – Nainital and Pauri – falling in the list of the most tranquil and picturesque hill states of India- Uttarakhand. Covering an area of about 521 sq. Km, its periphery is in the foothills of the Himalayas. The virgin streams, vibrant rivers and enthralling ridges crisscrossing the terrain, present Corbett with a noteworthy assortment of landscapes.
• By Air: The closest airport to the Corbett, nationwide is Pantnagar Airport and internationally is New Delhi Airport.
• By Rail: Ramnagar is the nearest railway station to Corbett at the distance of 12 kilometers.
• By Road: Corbett is efficiently linked with almost all major cities like Delhi, Lucknow, Ranikhet, Nainital etc.
Backpack for a Wildlife Park visit
---
The following items will be helpful for Jungle safari
• Camera and camcorder
• Binoculars
• Flashlight
• Spare Batteries
• Electrical converter and plug adapter
• Suntan lotion and insect repellent
• Spare glasses (due to dust, avoid contact lenses)
• Sunglasses
• Hat
• Personal medications
• First Aid Kit
• Wet Wipes
• Spare plastic zip lock bags
Stay options in Corbett
---
Corbett is full of exotic resorts and plenty of options to stay as economical and luxurious. I stayed in Lemon Tree Resort (Mohaan) and just loved the ambiance and hospitality. These resorts offer you a home-away-from-home experience.
Jungle Safari
---
Jungle Safari
Elaborating on its diverse wilderness, the Jim Corbett National Park is nothing less than an empyrean for wildlife enthusiasts and therefore, it witnesses a huge influx of tourists every year. Considering the swarm of tourists, Corbett has been categorized into four safari zones, namely:
1. Dhikala Zone-
Entry Gate: Dhangadi Gate
Best time to visit: Mid of November to Mid of June
2. Jhirna Zone-
Entry Gate: Jhirna Gate
Best time to visit: October to June End
3. Bijrani Zone-
Entry Gate: Amdanda Gate
Best time to visit: Mid of October to June End
4. Durga Devi Zone-
Entry Gate: Durga Devi Gate
Best time to visit: Mid November to End of June
The division helps the authorities to have an easy administration of the park.
Wildlife safaris & their Timing
---
Jeep Safari
Zone- Bijrani, Durga Devi, Jhirna, Dhikala (only for those who stay in Forest Lodges at Dhikala Zone) (30 jeeps at one time)
Morning Timing- (Summers) 06:00-09:00 (Winters) 07:00-10:00
Evening Timing- (Summers) 03:00-06:00 (Winters) 02:00-05:00
Elephant Safari
Zone- Bijrani (1 elephant) Dhikala (2 elephants) (only for those who stay in Forest Lodges at Dhikala zone)
Morning Timing- 06:00-08:00
Evening Timing- 03:00-05:00
Canter Safari
Zone: Dhikala (2 canters)
Morning Timing- (Summers) 05:30-12:30 (Winters) 06:30-11:30
Afternoon Timing- (Summers) 12:30-06:00 (Winters) 11:30-04:30
The wild beasts dwelling in the woods of the Jim Corbett National Park and a lifetime moment to capture the pose with the furious Royal Bengal Tiger, everything from its wilderness to its predators makes Corbett- a dream destination for wildlife aficionados worldwide.
Camping and safari in the Jim Corbett National Park is one of the best ways to treat oneself in the lap of the bounty of nature. Since it is the perfect opportunity to by-stand the spectacular wildlife and serenity of the nature, do not think over again before choosing Corbett as your next holiday destination.