Nameri National Park is located in the district of Sonitpur, Assam is known for its Tiger reserve after Manas National Park. The nearest city to Nameri National Park is Tezpur at a distance of 35 km and 9 km from Chariduar village. It has been declared a National park in 1999-2000 with an area of 212 square kilometers. Sharing its northern boundary with the Pakhui Wildlife Sanctuary of AP (Arunachal Pradesh), and it has an area of 390 square KM. The river Jia-Bhoroli is going to be a lifeline of Nameri National Park which flows from northwest to southeast. It has been a great place for nature lovers, and a wildlife lover that attracts a large number of nature buffs and photo enthusiasts like taj Mahal of Agra. The River Bor-Dikorai is a tributary of Jia-Bhorai which flows along the southern boundary. Both these rivers provide water to the wildlife of the park and create ardent greenery as well.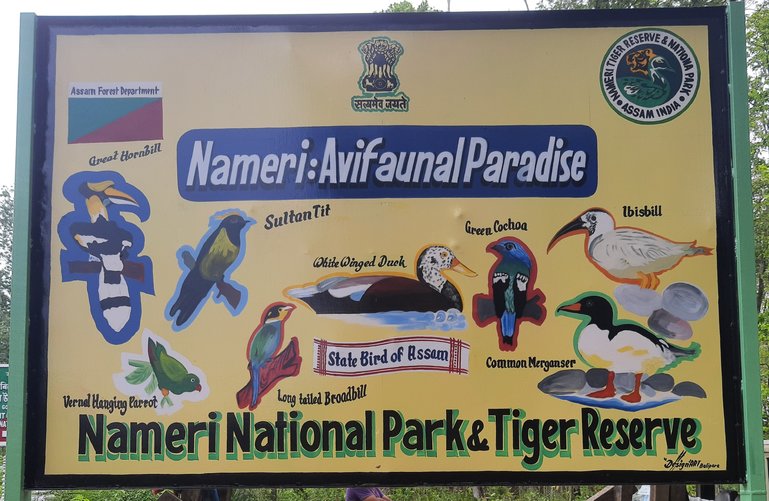 Nameri National Park
Fauna In Nameri National Park:
---
Nameri National Park is home to several types of wildlife, including Marbled Cat, Hog Deer, Dhole, Clouded Leopard, Himalayan Black Bear, Bengal Tiger, Wild Boar, Capped Langur, Sloth Bear, and other animals. Apart from this wildlife, it has as many as 374 birds species, such as plovers, ibisbill, rufous necked hornbill, great pied hornbill, the white-winged wood duck, black stork, babblers, blue-bearded bee-eaters, wreathed hornbill, and many more birds. After visiting this national park if you have an intrest in History then you must visit the north India. In north India Agra, Delhi and Jaipur is major cities.
Flora Of Nameri National Park:
---
Almost 600 floral species are found in the park, and some of the notable floral species are Gmelina Arborea, Amoora Wallichi, Ajar, Michelia Champace, Urium Poma Bhelu, Rudraksha, Hatipolia Akhakan, Orchids, Cypripedioideae, Cymbidium, etc.
Who Must Visit Nameri National Park:
---
Nameri National Park turns out to be a breathtaking place for those tourists who are photo enthusiasts, nature lovers, adventure enthusiasts, and who see flora. While spending time in the lap of nature rejuvenates and revitalizes visitors. One can get peace of mind here and force oneself to come here over and over again.
Best Time To Visit Nameri National Park:
---
The winters are considered one of the best times to visit the park as the climate becomes alluring and soothing for travelers. It offers an opportunity to see wildlife which comes to drink water on the bank of rivers while summers are hot and humid which can make your journey unpleasant. One should not be visiting during the months of monsoons which can make some parts of the park inaccessible.
How To Reach Nameri National Park:-
---
Nameri National Park does not have direct flights to reach, rather Tezpur Airport is the nearest one which is at a distance of 30 Km from Nameri National Park. From there, one can hire taxis or board buses to reach the park. Rangapara is the nearest railway station to Nameri National Park at a distance of 29 km. From there buses and taxis can be hired by travelers. Travelers can get buses frequently from Tawang, Guwahati, and Dibrugarh, with ease.