The top 9 things to do in the Eastern parts of Bangkok (Phahonyothin, Ratchadaphisek, Sukhumvit and Ramkhamhaeng).
1. Chatuchak Park
---
A large public park that sits next to Chatuchak Weekend Market you usually see from the BTS Mo Chit's platform is a leisure and recreation spot for nearby residents. A visit to Chatuchak Park in the morning or during the weekend lets you see a slow side of Bangkok urbanites, who would come here to run, ride a bike or just relax under the trees.
Opening: Everyday, 06:00 to 18:00
Address: Kampaengphet 1 Rd., Ladphyao Sub-district
Admission: Free
Travel Tip: You can reach it directly via the Metro subway line, or with a change of trains at the BTS Siam station.  Both morning and evening can be pleasant even at the hottest times of the year.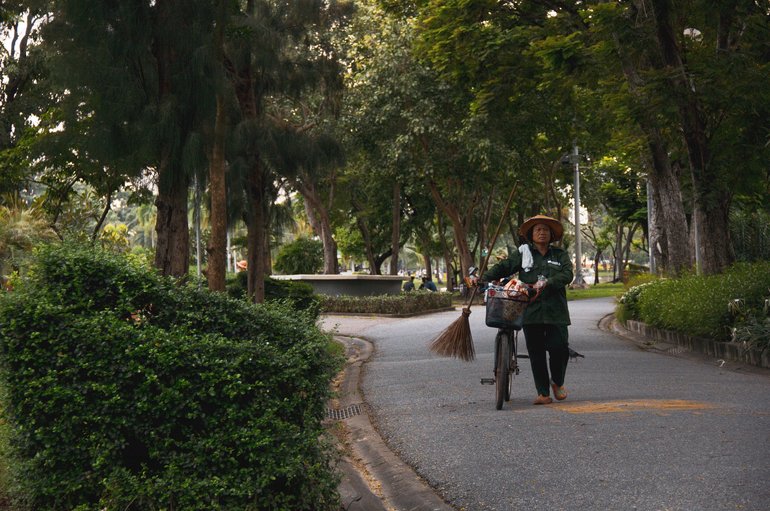 Chatuchak Park, Bangkok, Thailand
2. Chatuchak Weekend Market
---
This world's largest market is commonly known among Thais as JJ (jay jay). With more than 15,000 retailers in 27 sections, occupying some 27 acre space, what makes Chatuchak busy every weekend is not only the fun of bargaining prices but an incredible variety of merchandise it has to offer, from the latest fashion items and vintage decor finds to Thai crafts and teak wood tables.
Opening: Saturday and Sunday, 07:00 to 18:00
Address: Kampaengphet 3 Rd., KhetChatuchak
Admission: Free
Travel Tip: The back section of the market is the most interesting, as fairly illegal things such as cockfighting and various animal species are to be found.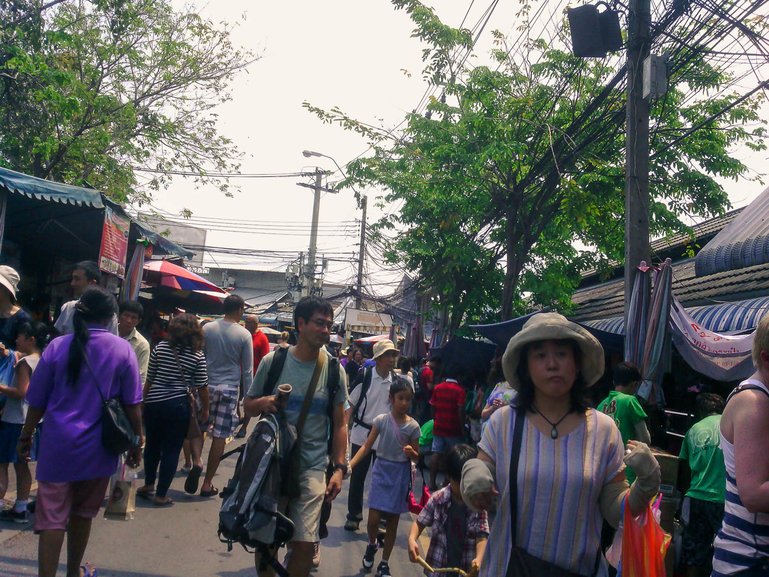 Chatuchak Weekend Market, Bangkok, Thailand
3. Siam Niramit in Bangkok
---
Bringing Thailand's unique and colourful historical and spiritual heritage to life in a dazzling word-class stage show featuring stunning special effects and over 150 performers, a visit to Siam Niramit is a must while in Bangkok. Tickets include a sumptuous authentic Thai cuisine buffet and visitors have the opportunity to wander through picturesque replica villages from the country's rural regions and buy charming Thai handicrafts before the show.
Opening: Everyday, 9:00 to 20:00
Address: Huai Kwang, Bangkok
Admission: 1,500 baht
Travel Tip: The closest mass transit access is from the Metro subway's Thailand Cultural Center station. Visitors can try making traditional Thai handicrafts or sweets. There are opportunities for elephant rides and traditional Thai massage.
4. Terminal 21
---
With 9 floors of 600 shops in this themed mall and all the famous cities under one roof, you can truly travel the world under one roof, from Tokyo to London, Istanbul, Paris and beyond.
Opening: Everyday, 10:00 to 20:00
Address: Sukhumvit Rd. (between Soi 19 and 21)
Admission: Free
Travel Tip: Avoid the food court like the plague between noon and 13:00 as thousands of workers descend on every seat. You can walk directly into Terminal 21 from the Asoke station of the BTS Skytrain.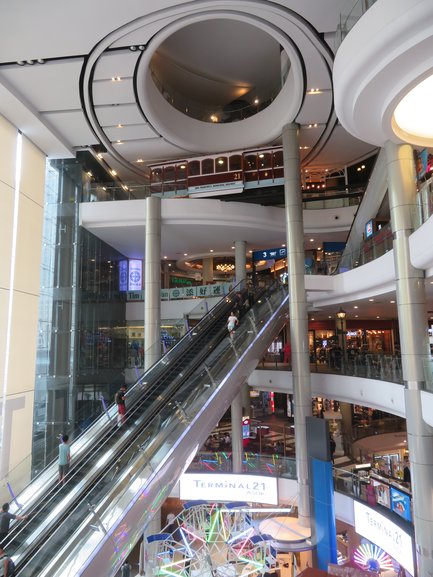 Terminal 21, Bangkok, Thailand
5. The EmQuartier
---
This new shopping mall is part of The Mall Group's B20 billion restyling of the Phrom Phong area as Em District, a development of hotels, premium offices, luxury residences and entertainment facilities. Emquartier is opposite Emporium Suites by Chatrium where guests can find a collection of high-end boutiques including flagship stores from MCM, Jimmy Choo, Valentino, Sephora and A Bating Ape, plus cult Asian brands Stylenanda (Korea) and Beams (Japan).
Opening: Everyday, 10:00 to 20:00
Address: Sukhumvit Rd., Phromphong
Admission: Free
Travel Tip: Take the walkway across Sukhumvit Road to get there. For a great selection of high-end goods, the EmQuartier is one of Bangkok's best.
---
The Emporium is a luxury shopping complex on Sukhumvit Rd. 
Along with The Emporium department store, the mall contains a cinema multiplex and book, fashion and trinket shops, a grocery store, a food court and many upscale restaurants. Entertainment offerings include SF cinema, an exhibition hall, and children's play centres. The Emporium's many dining options including all types of international cuisine.
Opening: Everyday, 10:00 to 20:00
Address: Sukhumvit Rd., Klongton
Admission: Free
Travel Tip: There is a Skytrain exit directly into the 2nd floor of the Emporium Shopping Complex from the Phrom Phong Station, making it ever so easy to come and go out for more.
7. Benjasiri Park
---
Benjasiri Park (also written Benchasiri Park) is a major park in Bangkok. The park was built in 1992 to celebrate the Queen's 60th Birthday so the park is also known as Queen's park. Inside Benjasiri Park, there is a forest garden, artificial lake, multipurpose space, playground, basketball courts, and swimming pools.
Opening: Everyday, 05:00 to 21:00
Address: Sukhumvit Rd. between Soi 22 and 24
Admission: Free
Travel Tip: Take sunhats and water and be wary of the midday equatorial sun!
8. Flow House Bangkok
---
If you've got an hour to kill or a half day to chill then Flow House Bangkok has everything for you, surfing, plunge pool, bar, pool table and plenty of space to just kick back and relax. Travelling with family and friends and looking for a new spot to have fun and relax.
Opening: Everyday, 10:00 to 00:00
Address: A-Square, SukhumvitSoi 26 Klong-Toey
Admission: 750 baht / hour
Travel Tip: Discounts offered for kids all the time, and promotions for everyone else are available for multiple sessions and evenings. Ladies night is on Thursdays.
9. Siam Park City
---
If you need to escape from the glaring Bangkok heat then a visit to Siam Park City is a must. Located just 20 minutes from Suvarnabhumi International Airport the park is spread over 100 acres and divided into an amusement and water park, the latter containing a wave pool certified by the Guinness Book of Records as the world's largest. There are a variety of rides and attractions for both thrill-seekers and those who seek something less strenuous, and the park welcomes over 2 million visitors a year.
Opening: Everyday, 10:00 to 18:00
Address: 203 Suan Siam Rd., Kannayao
Admission: Adults 900 baht for water park and unlimited rides, adults 420 baht for water park and limited rides, Kids (100-130 cm) 120 baht for water park and limited rides, and adults 330 baht for water park only
Travel Tip: The nearest mass transit is the Lat Krabang Airport Link station, but it would still be more than a 20-minute ride away. You could also get there via taxi from the airport.