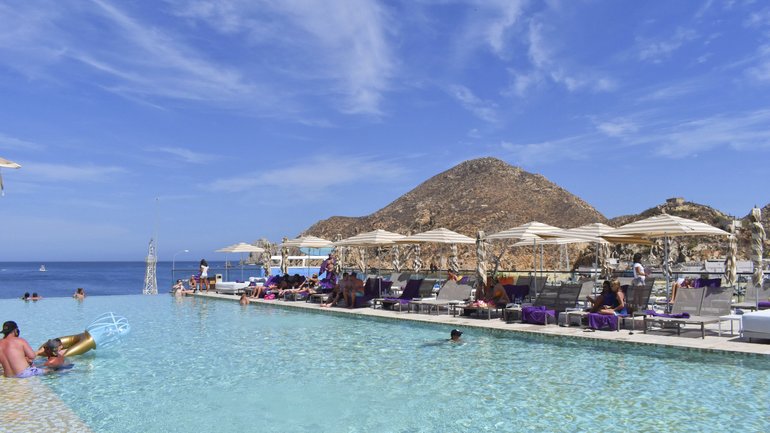 Breathless Resort Pool Overlooking Cabo Bay
For tourists and locals alike, Breathless offers up a fun way to enjoy some beats and bubbly while relaxing poolside for the day all at a reasonable price! To get the most out of this exclusive adults-only experience its best to prepare yourself with some knowledge beforehand.
The Experience
---
With cash and ID in hand, we made our way to the day pass entrance which is behind the main resort hotel just to the left of La Terminal de Cabo (where the booze cruises take off). All IDs are taken and photocopied before you can enter the resort. Get the password for the complimentary wifi and head up the elevator to the second floor. The morning vibe usually starts off low key, with either a stereo playlist going or some cool lounge house music depending on the day of the week you decide to visit.
The day pass opens its doors at 9 am and the party goes until 5 pm. Last time we went to Breathless it was over a weekend. This time around we decided to use the Los Cabos Passport 2X1 discount which is only valid Sunday, Monday, Tuesday or Wednesday. We chose to go on Wednesday.
It is clear the tempo and the shenanigans are chilled way down during these mid-week days. Not as many people are at the pool, no DJ spinning tunes, and no foam party or other activities to be had. All that said, if you are looking for a down-tempo, chill poolside retreat the mid-week timeframe will still serve you well.
However, if you are looking for something more upbeat, with a bit more of a party atmosphere, we'd suggest forgoing the 2X1 discount card and paying the full admission for a Thursday, Friday or Saturday entrance. It is well worth the $110 USD per person in our opinion, as the weekend vibe is definitely more upbeat. There is almost always great dance music, we found the service to be a bit better and there are way more activities and entertainment to get the crowd going. As we point out below, you can still find discounts for these days of the week as well.
One of the things we love the most about this resort is it is adults only. No kiddos running around doing cannonballs into the pool.
The pool overlooks the light sands of Medano beach and sparkling Cabo Bay giving fabulous, vacation-worthy views to sip your cocktail while soaking away the afternoon.
Or step down to the beach itself, and take a quick dip in the crystal clear waters before heading back to your lounge chair to relax in the sun's rays.
Know Before You Go
---
Most cocktails are included with the price of admission (its open bar), but you can also get premium drinks for an extra charge. Prices aren't too outrageous as compared to other resorts. Food is also included with the price of admission. If you start off early enough you can enjoy breakfast and then take in a light lunch mid-day. The food is decent for pool-side fare and easy enough to find delicious bite-sized eats to munch on at your lounge chair.
During high season (November – May) the resort gets crowded on the weekends so it is recommended to get there early to score yourself a sweet poolside lounge chair. In some cases, it may be the only way to be sure you will get seats at all.
Towels are provided and the drinks will be flowing all day so pace yourself!
Lastly, don't forget your ID! You'll need it to get in!
Tips On Getting Your Money's Worth
---
It's always nice to get a discount on the price of entry if you can swing it! Normally tickets for the all-inclusive day pass run around $110 USD per person.
As mentioned above a great deal is the 2X1 offer advertised by loscabospassport. However, do remember this offer is valid during the slower days of the week (Sunday, Monday, Tuesday and Wednesday).
If you are coming off a cruise ship and want to find a great place to party during the day, Resort for A Day offers a compelling discount rate at $84 USD per person (versus the typical $110 USD per person). AND, there are no blackout days with this offer.
Lastly, if you are in Cabo you can ask the folks at check-in about the VIP Party Card. This card can get you 15% off the day pass rates. By signing up you agree to get various promotional emails from Breathless from time to time which provides great insights into upcoming events!
Seriously do make an effort to show up early. It's a great deal if you spend the entire day there. But if you are thinking of strolling in at 2 pm it may not be worth the $110. The day pass ends at 5 pm. Three hours for $110 isn't quite as good as 8 hours for $110.
Whether you enjoy a more chill scene or a party atmosphere, the Breathless Day Pass is one of the best in Cabo. It's a fantastic way to simply enjoy lounging poolside with a drink in hand, feet in the water, listening to cool music, people watching and having fun!