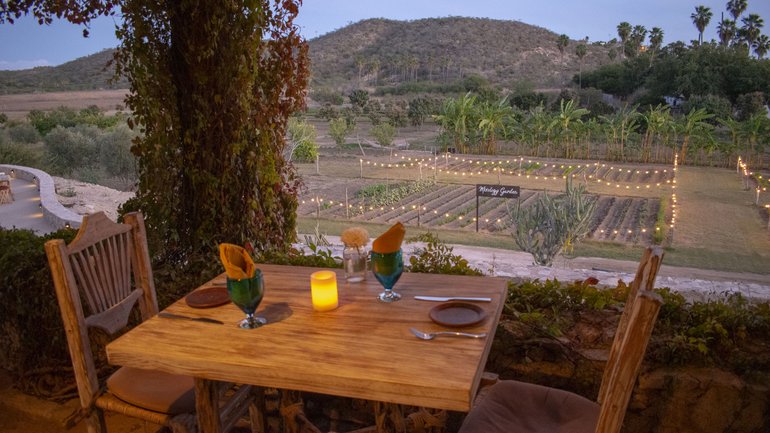 Overlooking the farm at Los Tamarindos
Here in Los Cabos, we are absolutely spoiled with the diversity of farm-to-table establishments available. So Steve and I decided to try what we consider the top 4! Below we share what each has to offer. Discover the one that fits your taste and style! They are all completely different!
---
Metate is described as "Mexican with an Argentinian flare." The food is quite rustic-gourmet predominately cooked in their ranchero-style kitchen in either the smoker or wood-fired brick oven.
When you enter Metate at night you are greeted by an abundance of fruit and nut trees with dazzling lights strung among them all. The bar is quite unique, with a backdrop of several pallet boards that act as a screen for silent, old black and white Mexican movies.
Our favorite on the menu has to be the La Guerrera appetizer. A plate of three tostadas topped with crab pate, scallops, cucumber, and avocado. This is an absolutely scrumptious dish.
Their wine is also fantastic and fantastically priced. We found a Mexican red blend called Tren Rojo at Metate for around $600 pesos/ $18 USD. It is from a winery out of Aguascalientes in mainland Mexico. The cocktails at the bar are delicious as well.
Main dishes at Metate hold true to the rustic Mexican/Argentinian vibe. One of our favorites is the Cordero Del Senor. A delicious dish of t-bone and lamb ribs topped with a bed of arugula salad and truffle salt drizzled with pesto made from their onsite garden.
Metate's owners, Jorge and Abraham, are also two of the best parts of this great establishment. They are super friendly and genuinely interested in your experience. During our visits at least one of them was always on-site, visiting tables and happily talking with guests. We thoroughly enjoyed the tour of their garden, and information about the different variety of trees we dined beneath (mango, pistachio, orange, and plum). Jorge, originally from Argentina, met Abraham while working together at a hotel here in Cabo where Abraham was a chef.
Overall pricing for dinner and drinks at this smaller farm-to-table establishment is quite reasonable. Our total bill was under $100 USD for two of us.
Los Tamarindos
---
Specializing in rustic old-world cuisine the menu contains dishes made of simple, good, authentic, fresh ingredients. You won't find a ton of gourmet fusion food here, but what you will find is very down to earth. We loved the view of the gardens from the bar and restaurant. The Serrano chili margaritas we started with were amazing and, as one would guess, quite deliciously spicy! The topper was watching our bartender literally walk out to the garden just below and pluck up some fresh herbs for the drink. Truly the first-hand farm-to-table experience!
Los Tamarindos is small in comparison to its neighbors, Flora Farms and Acre. This also gives it a more "homey" and old world feel. We started our meal with a bowl of delicious squash soup. This was my favorite dish! Clearly garden fresh squash pureed and dressed in fresh olive oil. I loved it! For dinner, I had the goat which was good but a bit gamey for my taste. It was served in a broth to keep it tender, and accompanied by homemade corn tortillas, and condiments of onion and salsa. This made everything come together in a yummy hand rolled taco.
Steve had the "Pork Shank in Green Mole" which he greatly enjoyed. The pork was so tendered that it easily fell off the bone and paired very nicely with the green mole sauce. It was accompanied by roasted sweet potatoes and squash.
Los Tamarindos has been open for 7 years. They originally opened as a cooking school. The building is was built in 1888 where it was originally used as part of a sugar cane plantation. You can still book reservations for the cooking school which starts at 10 am. Los Tamarindos has a decent selection of Mexican wine. We were introduced us to a lovely Magacero red blend from Vinos Encinillas out of Chihuahua, Mexico. This is an absolutely beautiful wine coming in at around $50 USD. It's made of a blend of 44% Merlot, 34% Shiraz, 22% Cabernet Sauvignon grapes. Service at Los Tamarindos was attentive and nice. We had plenty of room to enjoy our time but were also well looked after.
Overall pricing for dinner and drinks here was around $180 - $200 for two of us.
Acre
---
When you step into Acre you are immediately struck with the polish and sophistication of the grounds. Everything from the perfectly set concrete slab walkway, to the immaculately raked ground amongst the thoughtfully landscaped vegetation is breathtaking. As you walk through the jungle-like forest you feel immediately transported to a serene getaway. We could only imagine what it must be like to stay here! And with that said, Acre is also a resort as well as a restaurant.
The vibe at Acre is more modern-gourmet than old-world rustic charm. Acre's bartenders are superb! I tried the Beatris Enamorada made of Pisco, passion fruit, carrot, egg white, and kaffir lime. It was so good I could have had several more.
As our starter, before dinner, we enjoyed a delicious burrata salad made with habanero tomato sauce, milpa tomatillo, mustard greens, and served with a side of grilled levain bread.
For our main dining event, we went for the Fresh Catch Tataki.
For dessert, we were interested in the "pie of the day." However, it wasn't really a "pie" at all. It was served on a plate as a sort of "deconstructed" banana pie-ish dessert with a cookie crumble base on the plate, and a "banana puree" piped on top, with piped whip cream, chocolate pieces and pieces of sliced banana.
The service was kind and attentive.
Overall pricing was around $150 for dinner and drinks for two of us.
Flora Farms
---
We decided to try Flora Farms for Sunday brunch as we had heard so many good things about their Sunday brunch menu! I ordered a mimosa and Steve went with the Flora Farms Bloody Mary. My mimosa was to die for! Probably the best mimosa I've ever tasted in my life. Steve's bloody Mary was a meal in and of itself! We highly recommend both!
For brunch, I ordered the herbed scrambled eggs which came with a side of maple bacon, sausage, and potatoes. All done to perfection and simply divine!
Flora Farm's bartenders are on point! They make some seriously good drinks and as we enjoyed some after breakfast cocktails we were wonderfully serenaded by a live band.
Flora's Field Kitchen also boasts a small grocery store where you can pick up herbs, meats, local honey, cute flower crowns and fresh baked goods all from the farm! Note that you won't find any beef on the menu or available at Flora Farms. Beef is not sustainable and requires too much water for this area so the folks at Flora Farms opt to use other protein options such as pork, and chicken.
After brunch we wandered the cute little shops on the grounds. To top off our experience we finished with homemade ice cream. On the menu, a beet-mint flavor. I am not a fan of beets but surprisingly when you add sugar and mint the humble beet transforms into a beautiful purple sweet treat on a cone!
Flora Farms is more family-friendly and almost amusement park-like in its availability of activity and atmosphere. It is open til 3pm during the daytime hours allowing you as much time as you need after brunch to wander the lovely grounds. It's definitely an "event" to go to Flora Farms. Not only can you dine and drink, but also shop, play croquet, run around with the farm dogs, or take a tour of the homes available onsite. It's a truly unique experience.
Overall pricing for brunch and drinks was around $100 for two of us.