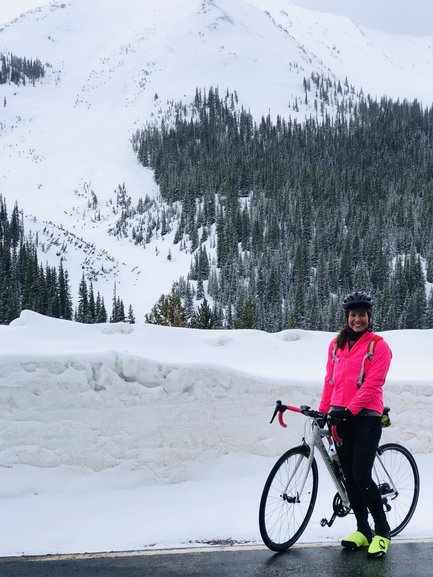 It is never too late to take out that road bike and begin your cycling journey. Don't have one? No problem, head down to your local bike shop and give some new bikes a spin.
Then, come back and be sure to use our essentials check-list to ensure you are safe and prepared on your next adventure.
My Bike Gear Essentials
---
Bike: Be sure to get it tuned it before any multi-day or long ride and test it out on a couple short rides first to test the brakes, gears, tires, etc.
Helmet
Front and rear safety lights
Bike pump
Saddle Bike Pouch to include:
Spare tube or tubes and patch kit
I like the CO2 cartridges as well as a bike pump.
Tire levers
Cycling multi-tool with Allen wrenches
Safety cameras on rear, front or both are very popular now to capture video of irresponsible motorists.
My Personal Gear Essentials
---
Water (hydration pack or bottles with cage). I like one bottle filled with Scratch or Nuun electrolyte mix.
Snacks/energy food. I'm a fan of Cliff Shots and Honey Stinger Gluten-Free Carmel Flavored Waffle.
Sunscreen and lip protection with SPF
Eye drops. I wear contact lens and need to refresh often, especially if in dryer, high altitude climates.
First-aid kit (small kit for emergencies)
Sunglasses
-Road ID band and/or Medical info/emergency contact card in your helmet or on you in a pouch. The Road ID band is a must in my opinion. Inexpensive and easy to wear. This could literally save your life if in an emergency.
Cell phone
Cash, always, and my ID and a credit card
Watch or cycling computer. My favorite is the Wahoo Element Bolt with heart rate monitor.
Map, if unfamiliar with the area
Lock, optional, depending on my plans
My Clothing Essentials (I choose based on weather conditions)
---
Padded shorts or tights, depending on season
Wicking jersey or top
Rain jacket, again this will depend on your area
Light moisture wicking hat under my helmet
Gloves
Socks
Bike Shoes
Cycling Pre-ride Inspection
---
If you have not had your bike tuned-up, be sure to do that before you begin your riding
Charge front and rear lights or if battery operated, be sure to carry extras
Lube chain
Inflate tires and check condition
Check both rear and front breaks
Be sure the front/rear wheel quick releases are secured
Check that bolts are tight throughout
All bikes are different so know the specifics of your bike.
And most of all, Have fun and be safe out there on the roads!