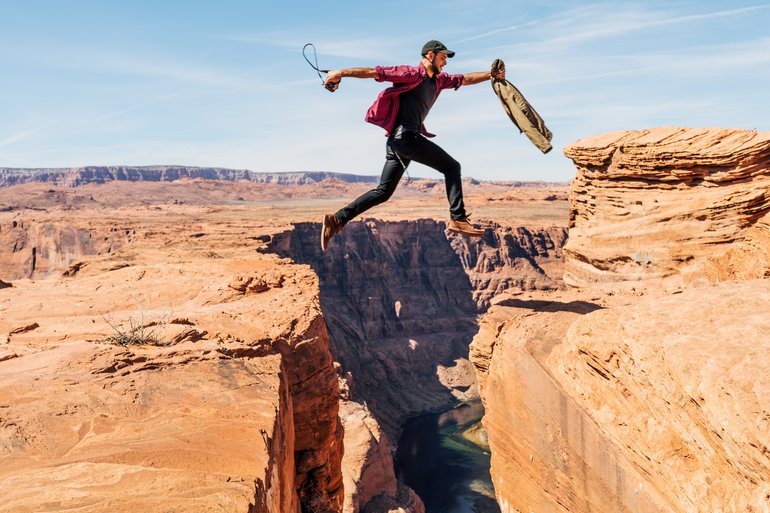 Is this you? Well… read on. This article was written for you.
Obstacles should not stand in the way of your Joy and Fulfillment
So you've beat the myths that might prevent you from solo adventuring. Or maybe you're still working on it. Let's face it, we're all working on it. The first step is admitting you're ready to leap into solo adventures. You ARE ready to experience more joy and fulfillment in your life. Now what? What do you do next on your voyage to more self-discovery and joy? Here are a few of the solo adventures our team has tried out. (And a few of the obstacles they had to overcome to give themselves permission to have all this fun and fulfillment).
Health and Wellness Adventures
---
The Obstacles:
* "I don't have time to spend on myself."
* "I'm surrounded by people with bad habits."
* "I haven't found a program I like."
Try These Adventures:
Pump up the jams. Fitness options go far beyond the aerobics classes and machines you may remember from former visits to the gym. Stretch yourself physically and spiritually with a yoga class, or rev up your metabolism with Zumba. Challenge yourself to do something you've never tried before, like gymnastics, barre, or boxing — or recover the fun of childhood with a trampoline or hula-hooping class. Or look for one of the new combo classes that combines, say, yoga and cycling to get you feeling great from every perspective.
Take a deep breath. Sign up for a class in meditation or mindfulness to learn to live fully in the moment. Taking time for inward reflection helps you live a balanced life. While you're at it, check out nutrition classes that can help you learn how food contributes to your well-being.
Treat yourself to a spa day. Yes, you deserve it. Imagine a day of soaking in a hot tub, getting all those tight spots worked out through a deep tissue massage, and pampering yourself with a facial or pedicure. A perfect solo adventure — after all, you want to concentrate on how great you feel without distractions!
Movement Adventures
---
The Obstacles:
* "It doesn't accomplish anything for my career."
* "I might injure myself."
* "The weather's bad."
Try These Adventures:
Take a hike. This doesn't necessarily mean up a mountain, or any treacherous trail. You really don't need special shoes or equipment to get started with this adventure. Try exploring the area around your workplace on your lunch break. Maybe pack a picnic lunch to enjoy in a local park or plaza.
Skate through life. Take advantage of winter weather by heading to your local ice rink. (Even some warm weather cities set up ice rinks near the holidays!) Grab or rent some skates, and show off your moves — or learn some new ones.
Ride the chair lift to adventure. Keep that winter weather theme going by taking skiing or snowboarding lessons. You're going to go down the hill on your own anyway, so hop on the chair lift and see what interesting people you might meet.
Outdoor Survival Adventures
---
The Obstacles:
* "I have no idea where to actually go."
* "I don't know what I'm doing."
* "I don't have outdoorsy friends."
Try These Adventures:
Take a class. First aid. Compass and map use. Plant identification. You can find local classes on all sorts of outdoors and survival skills that will help you feel confident and excited about further adventures.
Climb a mountain. Or even just a rock. You can take indoor rock climbing classes that prepare you for the real thing. Look for hiking clubs that explore the wilderness area closest to you.
Go backpacking. When you strip down your belongings to the bare minimum, you learn a lot about who you are and what you need back in your "real" life. Again, local classes and clubs can help you prep, and you're bound to meet plenty of new people to join on your adventures for those times you may opt out of solo adventures.
Performance and Art Adventures
---
The Obstacles:
* "I don't want to embarrass myself."
* "I'm not professionally trained."
* "I'm waiting for inspiration."
Try These Adventures:
Dance Your Heart Out. Here's a secret you should know: No one is looking at you. No one cares what you look like. So head out on the dance floor, sign up for that beginning ballet class, or slip into some tap shoes. If you're having fun, everyone who's watching is having fun, too.
Book Orchestra Seats. If you love the theater, get out and enjoy it. You can get amazing seats when you go on your own, whether you're checking out your local community theater or Broadway. (And if you really love it — go ahead and audition for that community theater production of "Our Town" or "Annie" that's coming up!)
Make Something That's Worth 1,000 Words. Art classes are everywhere. Even if your best efforts are basically stick figures, you can learn a new way of seeing the world when you take a class in painting, drawing, photography, or filmmaking.
Life Skills Adventures
---
The Obstacles:
* "Nobody ever taught me what I need to know."
* "I can learn enough by reading about it."
* "I'm smart in other ways."
Try These Adventures:
Get your finances in order. You say that doesn't sound like an adventure? Try opening a statement showing the gains on your investments, or open escrow on your first home — and see how adventurous you suddenly feel! Adulting these days requires a sense of adventure — and understanding how to help your money grow paves the way for even more fun.
Launch that startup. Not sure where to start? Take a couple of business classes to learn the ropes, and start small to build your confidence in your idea. Research others who you aspire to be and reach out and ask for mentorship.
Stand on stage in front of a naked audience. No, they're not really naked — but if you imagine them that way, all your stage fright is bound to disappear. Public speaking classes and organizations like Toastmasters can boost you past any nerves till you feel confident speaking to any group. Public speaking is a solo adventure!
Literary Adventures
---
The Obstacles:
* "I'm not talented enough."
* "I'm too boring to have anything interesting to say."
* "Nobody will want to read what I write — and if they do, they'll laugh at me."
Try These Adventures:
Write in your favorite coffee shop. Some of today's greatest writers (J.K. Rowling, anyone?) love the vibe of a coffee shop to get their writing done. Take your laptop to your nearest java joint, plug in, and just start typing. Don't worry — the muse will show up.
Join a book club. Talking about your favorite books is a great way to juice your own literary curiosity. Find inspiration by joining a book group that reads the kinds of material you're longing to write.
Boost your inspiration with support. Look for events like NaNoWriMo (National Novel Writing Month) in November to get you out of the starting blocks. This speed-writing event connects writers all over the country for support as they power through 50,000 words in 30 days.
Culinary Adventures
---
The Obstacles:
* "It's easier to just order takeout."
* "Why go to all the trouble just for myself?"
* "I have a really small kitchen."
Try These Adventures:
Cook dinner for yourself. Even if you're eating solo, it doesn't mean a life of fast food and take out. Make use of your kitchen, and treat yourself to a special new dish. You can find wonderful recipes on the internet — and you are totally worth it.
Taste some wine. If you have wineries or vineyards in your region, head out for a day of tastings. Consider using a rideshare service or even renting a limo to stay safe on the road.
Take a cooking class. Many restaurants offer cooking classes, or look for chef schools in your neighborhood. Challenge yourself to try cuisines you've never cooked before, whether it's Thai food or homemade desserts.
Visual Adventures
---
The Obstacles:
* "I don't have the materials or equipment I need."
* "Someone said bad things about my art once (or many times)"
* "I feel like I'm wasting time."
Try These Adventures:
Take an easel for a walk. Head out into your neighborhood — maybe a local prk? — to do a little painting. Find a favorite view, and settle down with water colors or even oil paints to recreate it, putting your own visual spin on it. Who knows — perhaps you'll be so happy with your painting, you can hang it on your wall or put it up for sale.
Grab that selfie stick. Enjoy a photo tour around your city. Look for interesting textures and colors, and vary your photos between close-ups and wide shots. If you post your favorites on social media, you'll get all sorts of encouraging feedback.
Take a pottery class. Work out your stress on some clay as you make a vase, a mug, or a piece of abstract ceramic art. The tactile pleasures of working with pottery help center you in your body as you create.
Science and Invention Adventures
---
The Obstacles:
* "Someone else might steal my idea."
* "I could never make money with this."
* "What if I can't get it to work?"
Try These Adventures:
Visit a national park. The National Park Service is one of America's truly great agencies, preserving natural beauty and national history. Head to your nearest national park, and ask the park rangers which tour you should take to learn the most. You'll have a fascinating time!
Planetarium! Aquarium! Science museum! Or visit all three, if you're lucky enough to have them within a reasonable drive or walk. Learning about space, the ocean, or the world around you will get your brain working at its peak (and it'll take you back to the most fun field trips you went on in grade school).
Do a sci-fi movie night. Boot up your favorite sci-fi movie — but grab something to take notes on, and jot down all the science errors you see. (Remember, in space, no one can hear you scream — so how do all those whooshing spaceships make all that noise?) Don't forget to make your favorite homemade popcorn recipe!
Cultural Adventures
---
The Obstacles:
* "I can't afford it."
* "I'm afraid of the unfamiliar."
* "I don't speak any other languages."
Try These Adventures:
Visit a neighborhood from an ethnicity other than your own. Whether it's Little Italy, Chinatown, or Thai Town, your city is likely to have a historical neighborhood where different ethnic groups first settled. Wander the streets, look into the shops, and try a cuisine you've never sampled. Bring a journal and explore how similar we all really are regardless of ethnicity.
Stretch your linguistic boundaries. Try taking a foreign language class at a local junior college, or pick up lessons online. Learning a new language opens up your brain like nothing else, and you'll find yourself excited to see how your understanding of the world expands and how much fun you are having communicating with native speakers.
Hop a plane to a new country. Add a notch to your travel belt when you visit a country you've never been to. Maybe you want to explore your own family history, or perhaps you want to sample your favorite cuisine on its home turf. Put those language lessons to good use by visiting the country you've been studying.
Whatever the obstacles that are keeping you from solo adventuring, you can overcome them one at a time. Start with mini adventures that keep you close to home, and expand your horizons as you venture further and further from your comfort zone. Through solo adventures, you'll access the kind of joy that makes life special, and you'll reach a sense of true fulfillment as you reach out to make new connections with the world around you.