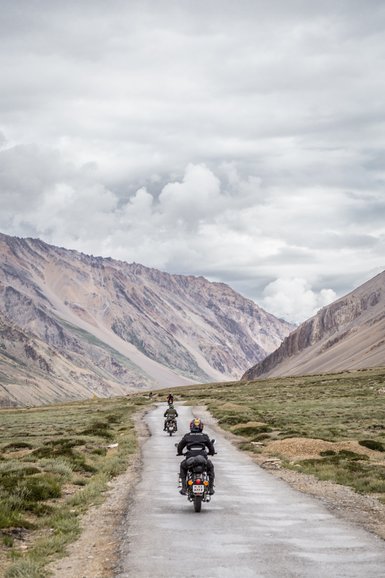 When you see just how much history, culture and natural beauty there is to explore, it's not hard to see why Europe is the most visited continent in the world. It's 50 nations all offer a charming, unique blend of old and new across stunning landscapes, with many capital cities no more than a couple of hundred miles away from each other.
From a biker's perspective, we are often seduced by different attractions when compared with the normal tourist – we love seeking out enjoyable ways to ride our freedom machines. The sight of twisty roads, scattered like spaghetti all around the mountains before us make our palms tingle with excitement.
With a long list of spectacular national parks and majestic mountain ranges located all around Europe, you are never too far away from somewhere exciting to ride your motorcycle.
Avoiding the futile exercise of finding and naming 'Europe's best road' – I wanted to explore the best locations in a different way.
We are going to focus on the best areas that offer the most riding potential, housing the most jaw-dropping roads for you to ride through. Areas that have not just one iconic road, but many. That way, you can find your very own Stelvio or Transfagarasan that none of your riding buddies even knew existed!
Remember to pay attention to the seasons when planning your adventure as some of the mountainous roads may be closed during winter.
Without further delay, let's start our engines!
The Black Forest, Germany
---
Almost all keen bikers have heard by now of the legendary Black Forest in Germany. While its panoramic high road (often referred to simply as 'the B500') is among the most popular of the twisty roads here, there are numerous other fantastic roads that snake in and out of the forests for you to lose yourself in.
There is so much to see in the enormously enchanting forest and the villages dotted around it. With plenty of stunning look-out spots positioned over the hazy, wooded expanse of tall trees for you to stop and enjoy, you will find that there are traditional alpine villages all over, full of character and log cafes for you to rest your bones and meet fellow bikers enjoying the area.
The Carpathian Mountains, Romania
---
Romania has to be one of the most slept-on countries in all of Europe. In this vast country there is almost every kind of terrain and landscape you can imagine.
Home to the rally-bred Transalpina, the mysterious Transbucegi and the world-famous Transfagarasan – Romania is heaven on earth for motorcyclists looking to spice up their life.
Not only do the Police in Romania drive slow Dacia's, they are often understaffed and lacking the spare resources to patrol the gorgeously constructed roads nestled in its mountain ranges. Now we are not saying, by any means its okay to break any motoring laws, but by all acounts, you can experience some genuine freedom when riding here.
The Carpathian mountains are an exquisite family of peaks and slopes that extend themselves through multiple countries, offering some of the most impressive natural scenery. Not only is it visually stunning to see the Carpathian mountains in Romania, the driving experience here is hard-to-beat, at times – it almost seems like the roads were designed by a lover of motoring, for them to enjoy for themselves.
Luckily, we can enjoy these roads too. Try not to limit yourself to the most popular roads, by all means, ride the Transfagarasan and see what all the fuss is about, but there are so many roads that are offer a less-crowded experience. Sadly, like most of the legendary roads that receive the spotlight, during the summer months it can be a tedious exercise navigating the slow, trundling tailbacks of clutch-burning vehicles that are so often piloted by drivers out of their depth and comfort-zone.
Get your map handy, look for the squigglies and ride away from the crowds on many of the hundreds of brilliant mountain passes just waiting to be laid in rubber.
The Dolomites, Italy
---
The Dolomites are a magical, mountainous area of the Alps located in northern Italy, popular with hiking enthusiasts and skiiers eager to explore the wild array of rich forests, blue lakes and bright rock formations.
Now it's not very difficult to find amazing roads in Italy – simply head away from the big towns and cities and as you head into the rural landscape you will be overwhelmed with just how many interesting roads there are.
With the Dolomites, you can experience some of the most exciting roads and gorgeous hilltop views in all of Italy. With most motoring enthusiasts heading for the iconic Stelvio pass, you can have most of the stunning roads almost entirely to yourself to ride your motorcycle in surroundings that many dream of.
The Pyrenees, France/Spain
---
There is a vast area of outstanding natural beauty that many travellers visiting Europe don't know much about. Often overshadowed by the popularity of the Alps, the Pyrenees offer a myriad of different ways to enjoy gorgeous mountain roads patrolled by eagles and mountain sheep.
If you pinpoint the area where France borders with Spain, containing Andorra in the middle – you will find a mystical land of sleepy villages perched on jagged cliffs, with curvaceous roads following the jittery outline of the sheer rock faces. Tight corners with no room for error and dark tunnels offering protection from falling rocks are just a few of the characteristics that make the Pyrenean mountain roads so challenging and down-right rewarding.
When you are not squirrelling your way up to the soaring highs of the mountains, you will be greeted by wide open valleys where Andorra sits surrounded by green pastures and crystal clear lakes. Curiously, here you might experience a fusion of langauges and cultures, cuisines and traditions – often encountering many people on the Spanish side of the border speaking French and vice versa.
Taking a motorcycle to this quiet corner of Europe offers so many rewards, you really shouldn't overlook it when planning your next adventure.
Pindus Mountains, Greece
---
Technically, still a part of the Alps, the Pindus mountains in Greece offer what many other entries on this list did not – an exotic, temperate riding experience in the most historic of settings.
Situated in the north-west of the country, the quality of the roads through the Vikos and Pindus National park are of the highest level. Showcasing some breath-taking views, the Vikos Gorge highlights some of the most beautiful natural scenery in all of Greece, home to some truly wild creatures such as bears and wolves and beautiful wild flowers and plants.
Sweeping S-bends, petite chicanes and cliff-hanging hairpins will constantly challenge you as you go on a wild goose chase around the mountains, riding through traditional villages, monasteries and historic ruins carved into the landscape.
Be mindful of the weather and season you travel, as even though Greece is famed for its splendid weather, electrical storms in the mountains are not an uncommon sight and as you climb higher in the mountains, temperatures will descend quickly.
Where will you go?
---
Did you find any inspiration in these scorching-hot European motorcycle destinations? I really hope you did.
By featuring entire areas prime for riding enjoyment, (instead of being limited single roads that everyone is queuing to see) you have so many more opportunities to discover your own paradise and ride with a great, big smile on your face until your butt falls off.
Some of my all-time favourite roads in Europe – nobody talks about in the motoring world! It's just because certain roads gained fame from popular shows like Top Gear (well, it was all Top Gear actually) that a lot of drivers and riders started to believe they were the best roads out there.
But of course, we couldn't call ourselves explorers unless we never stopped searching for something better! something that we discovered for ourselves.
So remember to keep riding, keep searching for asphalt excellence and share with others what you found!