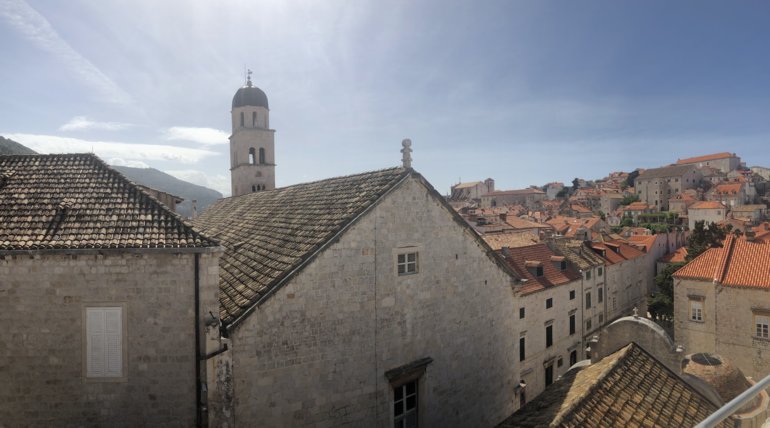 Dubrovnik, Croatia. The First Place I Stayed in a Hostel
So you've decided on your adventure. After finding flights, the next logical step is to find places to stay. Something that can trip many people up is choosing what type of venue to stay in. Many people prefer hotels as they have privacy, intricate networks, are thought of as safer, and sometimes free food and drinks. It may surprise you to learn that hotels aren't the only way to achieve these requirements. And depending on the type of traveling you are doing, a hotel may not be the best option for you. So what's best Hotel or Hostel?
Hotels
---
The biggest appeal of hotels are privacy. While traveling with friends or family, you may want to spend uninterrupted time with them. Staying at a hotel can be comforting for you to serve as a safe place to stay, easy meeting spot, and place to relax after a long day of exploring. Hotels may also offer many services including activity setup, free meals, room service, valet parking, and more. Some places may even have activities within the premises such as a pool, bar, or restaurant.
Another reason hotels are a popular choice is due to their vast networks and connections to other industries. Airline and credit card companies may offer points which can be used at different hotel locations across the globe. Points offer established travelers an incentive to stay and travel with certain companies with the rewards of free flights, stays, or other benefits.
Hotels also come in many different varieties. Resorts and boutique hotels are popular choices for many travelers who are looking to relax, especially in coastal destinations. While hotels are usually a more expensive choice, they are well established and are the right choice for many travelers.
Hostels
---
Many people who have never stayed in a hostel may not know what to expect. They are often thought of as cheap and last minute stays for backpackers and other solo travelers. While they may attract a more nomadic traveler and they are much cheaper than most hotels, you should not be afraid to give them a chance. Like hotels, hostels come in many varieties. A hostel could be setup in somebody's home, in a high rise building, or in a small location in the middle of a city. Hostels are by far the best spot for adventure travelers, especially those traveling on their own. Many hostels (and specifically party hostels) are designed for you to meet other travelers and connect with people on their own journeys. Some hostels may include free food and others may offer it for low prices. Bars and restaurants can also be found in some hostels, especially those in cities. Often, the owner of the hostel will spend time with the guests to make their experience as enjoyable as possible. Many places also host activities for the guests both in the hostels and in the towns or cities they are located in. Lots of hostels also have kitchens and fridges available for those wishing to save some extra money by cooking their own food.
Hostel staff are often time volunteers. They may be travelers themselves who have decided to stay and work for a certain amount of time in exchange for free accommodation. They work several shifts a week and when they've not working, are experiencing the destinations the same as you. Many times, they stay for long periods of time and thus, have learned the ins and outs of the surrounding area. This makes them an ideal resource for recommendations for restaurants, bars, and activities.
The thing that either attracts or throws off many people is staying in dorm rooms. Dorms can range from two people up to some as big as twenty. While this offers an even better chance to meet people, it does scare some travelers. In all hostels, you will find lockers for you to keep your belongings in and often times, the hostels will offer to keep your luggage past checkout if you aren't leaving the area until later in the day. For those still put off by the idea of sharing a living area/bathroom, many hostels offer private rooms for one to four people. This will give you the privacy of a hotel while still allowing you to interact with fellow travelers if desired.
Some hostels are also specifically for female travelers, creating a space that may be more comfortable for women traveling to new places. Most hostels will also offer female only dorms for those who still want to mingle with those of other genders. For those looking for other private options, consider a capsule hostel which is essentially a filing cabinet but with beds instead of drawers.
Airbnb
---
One of the newest and most interesting types of accommodations, Airbnb offers private rooms, apartments, or even entire properties for people to stay. These are often ideal for those traveling in large groups and can be more cost effective than a hotel and sometimes even cheaper than a hostel. Airbnb is also a good option for those looking for long term stays, as monthly rentals are an option for some venues. This offers the privacy and feel of an apartment but with furniture, appliances, and utilities costing much less than renting an apartment. It also has the convenience of choosing specific dates. Keep in mind that while long term stays may be cheaper than nightly rentals, they have a minimum of four weeks for your stay.
Pros and Cons
---
Hotels
Pros
Safe and private
Relaxing
Variety
Redeeming points
In house activities
Parking
Good meeting place
Hotel services
Cons
Expensive
No interaction with other travelers
Less authentic
Hostels
Pros
Lockers
Best for solo travelers
Meet others
Fun experiences
Authentic
Staffed by travelers
Cheap
Lots of activities
Variety
Cheap food and drinks
Female only options
Possible home cooked meals
Cons
Staying with strangers (for some may be a con)
Shared bathrooms are a real possibility
Less skilled housekeeping
Lack of privacy in some places
Can be loud in mornings and at nights
Shared dorms are not ideal for families or couples
Airbnb
Pros
Cost effective for groups
Good alternative for families, couples, and groups
Furniture and appliances
Kitchen
Private bathrooms
Offered in many locations
Low utility costs
Good for short and long term stays
Privacy
Cons
Not usually cost effective for solo travelers
Responsible for any damages
Won't meet others
It can be hard to know where the best place to stay in a new destination is. The only way to truly know what the best option is for you is to try everything. If you're by yourself, maybe give a hostel a try. Family trip? A hotel may be the best option. Airbnb may be the best option for you and your partner's next getaway. It all depends on you and what kind of experience you are looking for.
Some good options for booking any accommodations are below: