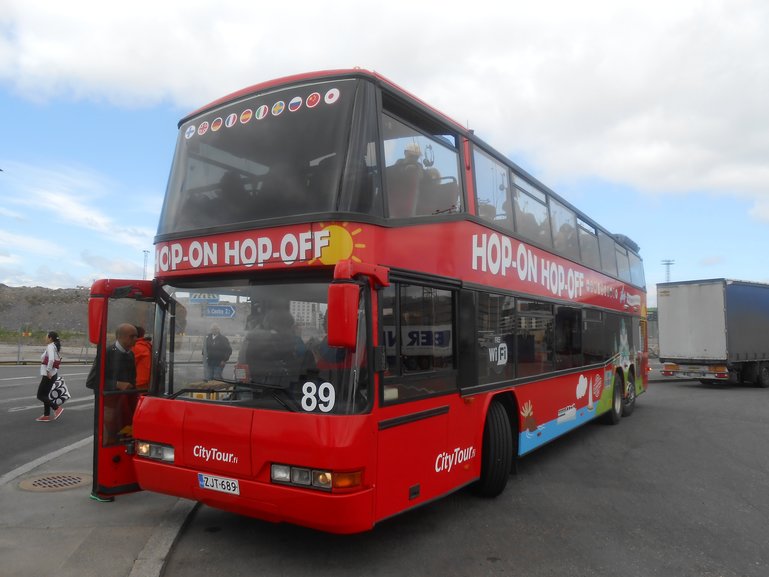 Hopping On and Off in Oslo (and Elsewhere)
-From Tourist to Traveler in less than 12 Hours-
by Mike Howard
If you're in town for a conference, layover, or have a "free" day before the action starts, Hop-On Hop-Off busses open Oslo like an Oyster. It's a cool concept, and costs less than thirty Euros for all day. But even if you only have an hour and a half to spare – take the round trip, listen to the excellent audio tour and if you boarded the bus as a tourist, you'll disembark a traveler.
Or better yet, if you do have all day – stay on the bus. Now that you have a solid grasp of the best sites the city has to offer, pick your favorite five or six, hop off and explore. See the City Hall, Norwegian Parliament and Oslo Central Station. The busses cycle through every half hour – so stay as long as you like but keep track of the time and hop back on when you're ready for your next stop. Wander through the Royal Palace Park, or Vigelund Park – the largest open-air sculpture park in the world. Hop back on the bus for the Norwegian Folk Museum, the Viking Ship Museum, or the Kontiki Museum… or all three. Go shopping at Aker Brygge and have lunch. Swing by the Nobel Peace Center and/or take in Akershus Castle.
Oslo may be particularly well suited to the Hop-On Hop Off experience, but the formula works, regardless of the city. Seriously – they are ALL good.
It really beats handing a taxicab driver a fifty dollar bill (or more) and trusting to his heavily accented, vaguely researched patter to convey a sense of the city. Or an equally accent-challenged tour guide in a minivan, determinedly steering you to souvenir stands, eateries and arcades with not-so-hidden agendas. It's certainly cleaner, certainly safer, and certainly less prone to unexpected complications.
Not edgy enough? No problem – with the breadth of knowledge gained by hopping, there's probably plenty of time for edgy. Besides – in my experience – edgy is overrated.
From Los Angeles to London, from Montreal to Madrid, Seattle to Singapore and many points in between, you get a lot for a little: double-decker tour busses that loop around the city, stopping at sites of primary interest. On nice days, the roofs retract, offering 360 degree panoramic views. Prices vary, but average 35- 45 dollars in equivalent currencies. Comfortable earphones provide audio information in a dozen languages, narrated by experts who really speak your language, synchronized to fit the bus route. Round trips range from 45 to 90 minutes. Many tickets stay good for 48 hours, or can be extended for a few more Euros, Pounds or Dollars – so if you have the luxury of time – you have the next day to finish exploring. If not, no problem – you've already seen more than most visitors (and many locals) ever see.
In Seattle, you'll see the Space Needle, Pike Place Market and Pioneer Square, multiple museums, China Town and the waterfront. In London, you'll be on a first name basis with Big Ben, and see and explore Soho, Number Ten Downing, Hyde Park and Buckingham Palace. In Helsinki you'll acquire an incredible grasp of the urban grid, key neighborhoods, monuments, the Olympic stadium, parks and shopping centers.
If time is limited, get an early start if you can. If you are wired (and really – who isn't nowadays) go online for the nearest Hop-On pickup station. Or check in at the tourist information center – or simply ask a concierge.
I personally believe that all explorers are basically tourists, but if you are one of those explorers who make a distinction between being a "tourist" and a "traveler," and are in town for the first time, Hop-on Hop-Off tours are the ultimate equalizer. My fellow "hop-onners" have worn minks and they've worn tennis shoes. They've carried expensive multimedia devices and they've lugged well-worn knapsacks. I suspect they're all better for the experience.
Take Oslo. I'm ashamed to admit that I'd never heard of Gustav Vigelund, and if it hadn't been for the Hop-On, may never have made his acquaintance. Instead of blowing off a boring sounding option on a more conventional tour offering, I spent a long hour admiring his life's works. I certainly had heard of the Kontiki Museum, and spent another hour marveling at Thor Heyerdahl's legacies from Peru to the South Seas, Easter Island and Morocco – with time to spare for the Nobel Peace Center.
With Hop-On Hop-Off tours, a disinterested driver gets you there, a pre-recorded professional talks you through the highlights, and after a taste – you get to go back and select the main courses – even go back for seconds. You never relinquish control of your time, limited though it may be, and after hearing the spirited lecture two or three times, could probably deliver it yourself.