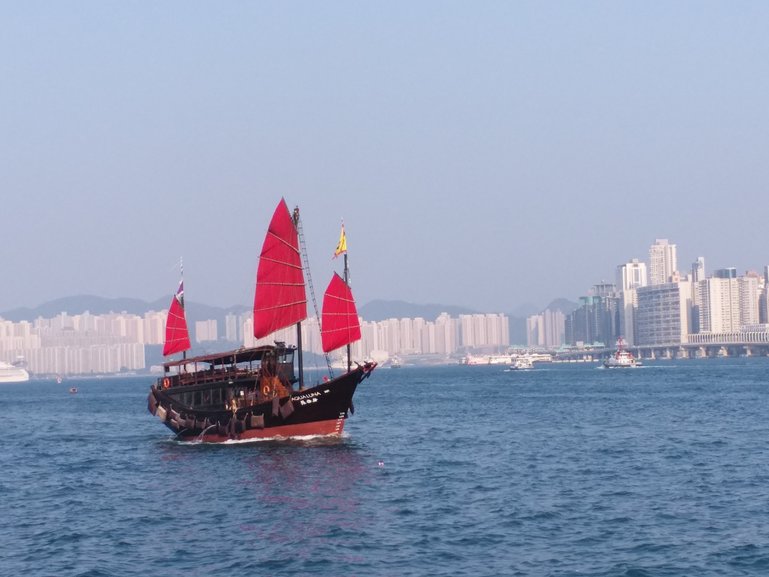 Survival Kit for your travel in Hong Kong
Transportation
---
Ferry
Star Ferry
Star Ferry is a renowned transportation crossing Victoria Habour between Tsim Sha Tsui on Kowloon side to Wan Chai or Central on Hong Kong Island side. In addition, they provide a service reaching from Tsim Sha Tsui on Kowloon side to Disneyland with a dear price.
New World First Ferry
New World First Ferry mainly provides ferry service from Central to Oultlying Islands. Other services also provided.
Coral Sea Ferry
Coral Sea Ferry mainly provide ferry from Sam Ka Tsuen to Tung Lung Island. Honestly, there is not much to explore in Tung Lung Island. However, the boat is designed in a very local style. The ferry pier is designed in very nice local styles so it does not hurt to go and have a look at their Sam Ka Tsuen pier. Unfortunately, their official website is in Chinese version only. Shoot them email (not sure if it still works) or give them a ring on (852) 2368 8885 when you have some questions on mind.
Kaito
There are heaps kaito along Sai Kung Pier. Don;t worry you cannot find one becuase you do not need to look for one coz they are the ones who are eager to look for you! They are always standing near the pier! Another spot is Wong Shek Pier in which the operators of kaito are not obvious. They usually hang around the boat landing spot. Check out the details at Hong Kong Tourism Board.
MTR
MTR Fare Savers
Why not save HK $2 from MTR Fare Savers on your MTR ride when you are near these spots.
MTR City Saver
It is especially helpful when you travel between Kowloon and Hong Kong Island or other long distance trip on MTR. Conditions apply and please check on their official website and dig out more!
Minibus
A useful website can get you knowing the route price and timetable of Green Minibus and Red Minibus.
Bus
The two mainstreams of bus services of Hong Kong are KMB buses and NWS buses.
Taxi
All information you want to know about taxi is on the official website of Hong Kong Tourism Board. Avoid traps from taxi drivers in Hong Kong by following this link here.
Entertainment
---
Cinema
The major cinemas in Hong Kong are Broadway Circuit, MCL Cinemas, CGV Cinemas, The Sky and Golden Harvest.
Book Places
There are couple of bookstores for you. The first one is Bloomsbury and another is Kelly & Walsh.
D Park (Tsuen Wan), Hong Kong Times Square (Causeway Bay), Langham Place (Mong Kok), Moko (Mong Kok East), Festival Walk (Kowloon Tong), Lee Tung Avenue (Wan Chai), Western Market - Silk Cloth Center (Sheung Wan), Sneakers Street (75 Fa Yuen Street, Mong Kok), Ladies Market (Tung Choi Street, Mong Kok), Temple street at night (Yau Ma Tei) Dried Seafood and Tonic Food Streets (Wing Lok Street and Dex Voeux Road Central). If you wanna experience markets in a complete local style, check out the website which may be helpful for you!
Useful Information
---
Electronic Gadget Place
Sin Tat Plaza (Mong Kok), Mong Kok Computer Centre (Mong Kok), Wan Chai Computer Centre (Wan Chai), Golden Computer Arcade (Sham Shui Po), Golden Computer Centre (Sham Shui Po), New Capital Computer Plaza (Sham Shui Po) and Wonder Building (Sham Shui Po).
Language
"Learn Cantonese Language Free Offline - by KidsTube" is a pretty handy too and mostly reliable. When traveling in Hong Kong, don't bother too much of learning a couple of Cantonese because the mobile app pronounce it to locals for you!
Souvenir Places
---
Hong Kong Maritime Museum Gift Shop and many others listed in my book.
Haunted Places
---
I do not suggest going to visit these places because it is quite dangerous and you may breach local laws by trespassing. The haunted places are rated as refuge of ghosts among locals by rumours and it is not my opinion. Just want to put up here for those who are interested in knowing local rumours about paranomal activities: Nam Koo Terrace (Wan Chai), Ho Chung 13 Asia TV Studio (Ho Chung), Sai Ying Pun Community Complex, Tat Tak Communal Hall (Ping Shan), Tat Tak School (Pig Shan), Mount Davis Fort, a certain place in Cheung Chau, Bride's Pool, So Lo Pun Village and French Braid Road in Chinese University.