Costa Rica's Caribbean has hidden gems underwater that can be enjoyed snorkeling or diving. Plan your trip and experience it.
Snorkeling can be done by almost anyone. Even those who cannot swim or are not comfortable swimming can use the foam noodles or life vest. Although you see much more diving down deeper, the views from the surface are also amazing and enjoyable.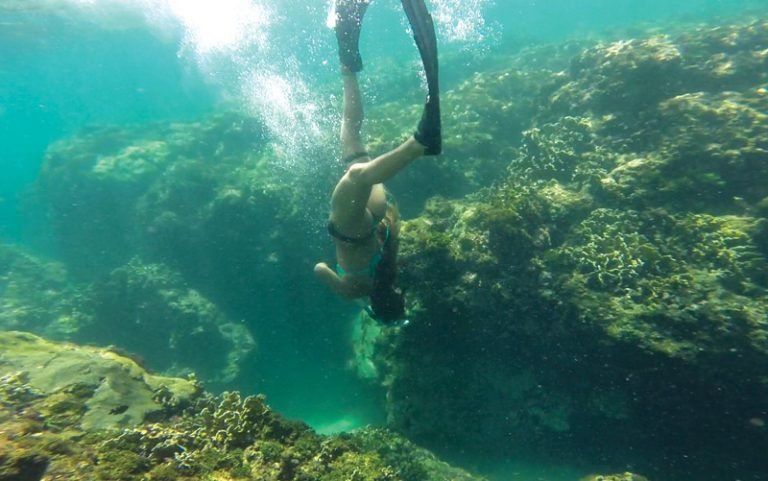 Many places in Costa Rica are good for diving or snorkeling; however, the Caribbean is particularly amazing with its clear water and white sands that enhance the views by letting the coral and rock forms stand out more clearly. All you need is a mask, fin and optional life vest.
Please buddy-dive as there are risks that you might encounter that your buddy can assist if needed.
There is such an indescribable sense of freedom walking from the shore into the vibrant blue Caribbean water. The reef from Playa Cocles to Playa Chiquita is very close to shore in a shallow spot. It harbors many caves and a bounty of fish, langostinos, octopus and small colorful fish.
Exploring under the rocks, crevices and caves reveals so much life in many forms and colors. Immersion in the colorful, tranquil world underwater is the perfect way to recharge and reconnect with yourself. There is very little sound to disturb or distract you, and the movement of the sea and its creatures is calming. It's real freedom and serenity.
Living in this amazing country, we need to get out and explore. I recommend that Costa Rica's Caribbean area should be on everyone's must-do list. It's a trek from some parts of the country, for sure, but as you can see, well worth the excursion. The best times of the year for snorkeling in the Caribbean are March/April and September/October. Rainy season does not occur there during those months as it does on the west coast, so the underwater clarity is best.