In Costa Rica you'll find that most ATMs ("cajero automático") have a fix withdrawing fee for international cards like Visa/Mastercard. ATMs that have fees are legally obliged to display a screen that indicates the exact amount and ask a confirmation. So feel free to test around, and cancel the transaction if the fee is too high for you.
The currency in Costa Rica is the Costa Rican colón (code CRC, symbol ₡). 1 US Dollar is roughly equal to 600 CRC.
ATMs fees in Costa Rica
---
* Banco de Costa Rica (BCR): no fees
* Banco Popular: no fees
* Scotiabank: ₡1500 per withdraw (around 2.50 USD)
* Cathay Banco: ₡1500 per withdraw (around 2.50 USD)
* Davivienda: ₡1500 per withdraw (around 2.50 USD)
* Banco BAC Credomatic: $5.00 per withdraw (around 3000 CRC)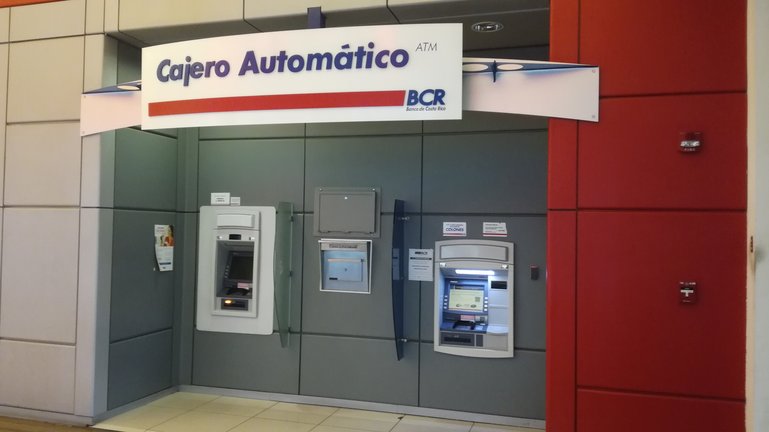 No withdrawal fees for Banco de Costa Rica (BCR)
Fees with your own bank
---
Your own bank may also add its own fees. This is specific for each bank, so check with your bank pricing to see the fees for international withdrawals.
Limits
---
ATMs have both a per-withdrawal and per-day limit which goes from around ₡100.000/withdrawal to ₡250.000/withdrawal and ₡100.000/day to ₡500.000/day. Usually, the higher the withdrawal fee the higher the limits.
Good to know
---
Almost all ATMs in Costa Rica are available in English and are also able to dispense USD.
Don't forget to ask for a receipt, especially when you're abroad. And once you have it, take a picture of it immediately because you'll probably end up losing the paper. Make sure the amount on the receipt matches the amount on your account. And in the case of a dispute, use your receipt/picture as a proof.