Arriving in Kathmandu
---
Once you land in Kathmandu airport (Tribhuvan international airport) then continue to immigration, get visa on arrival easily. If you have visa before landing in Nepal, just put stamp in immigration. After this follow others to get outside of the immigration building. If you have booked your trip with Tour Company then they will pick up you from airport. If you have planned to travel by yourself then get taxi from Airport Taxi Service to Down Town (City Center) called Thamel or your Hotel where you booked. If you don't have booked hotel then you can get information from HAN (Hotel Association Nepal) counter from airport.
Then reach your hotel and get refreshed and head towards money exchange to exchange your currency with Nepalese one. You can use your credit cards which applicable require 4 % extra for paying your bills or get money from ATM which is easily available in City center.
If you want to visit yourself then visit these places around Kathmandu which are highly recommended by Lonely Planet and TripAdvisor.
What to see?
---
Kathmandu Durbar Square
Kathmandu Durbar Square called Basantapur, which is situated in heart of Kathmandu City as well known by Old Kathmandu. It impresses visitors with temples, Courtyards and Old Royal Places those built in Malla Period. Describing more, you can see many things like Royal Place, magnificent views of Pagoda of Kasthamandap, Kumari Ghar, Kal Bhairav and Taleju Temple. The artifacts that are assembled in the temples are mesmerizing to see, if you love the artworks. These are the main things to see but still you feel the people, religious scenario, market and many things which are always calling for visitors.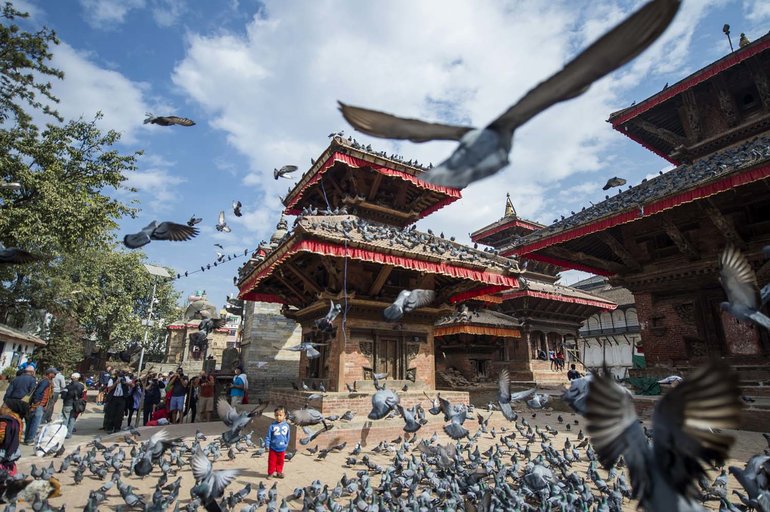 Kathmandu Durbar Square Area
Swayambhunath Stupa
It is located on Hill which is almost 3 km west from Thamel (Down Town). We can say it's the Buddhists Temple (Holy Temple) in Nepal. It's the oldest stupa where you can see monks, Monastery, temple and many things about Buddhist religions. It's the best view point for Kathmandu Valley with range of peaks and hills in the far view. Now a days it is more famous and called by Monkey temple.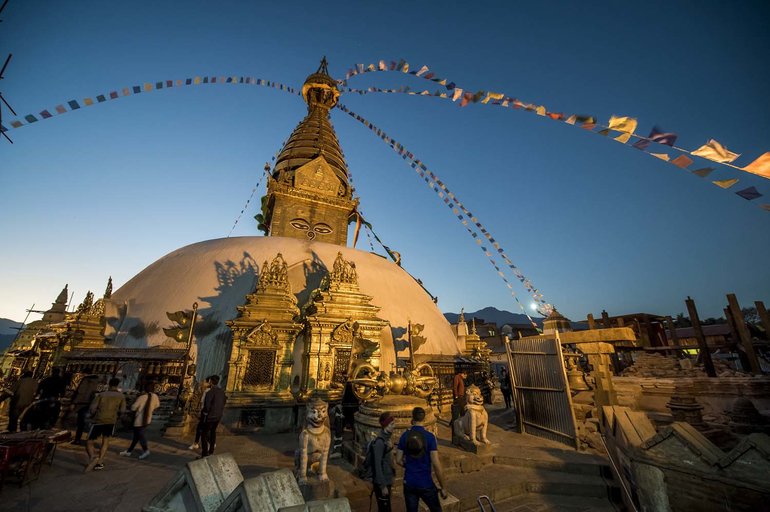 Swayambhunath
Pashupatinath temple
One of the biggest and well famous Hindu Temple in world called Pashupatinath is situated east of Down Town which is 5 km far. Lord Shiva is considered one of the most sacred Hindu shires in the world. Most of Hindu people have dream to be there once in lifetime for worship. As well as visitors can explore crematory and Hindu Religion.
Bouddhanath Stupa
Famous Bouddhanath Stupa is biggest stupa in Kathmandu Valley. It is situated 8 km from down town. It's the place for the Tibetan Buddhism as well as famous for meditation. We call peace stupa the best place for Photography.
Still there are many interesting and well famous places around Kathmandu like Patan Durbar Square, Bhaktapur Durbar square, Chandragiri Hill station, Sleeping Bishnu, Chagunarayan and many more. Travelers can visit those places depending on their holidays and time.
How to visit those places?
---
If you plan to visit yourself, you can hire private vehicle from hotel or you can use Local Taxi and can get easily everywhere. If you are looking for cheap trip and different experience then you can reach Kathmandu Durbar Square and Swaymbhunath on foot. Then get local public bus to Bouddhanath and Pashupatinath, after then get bus to Ratnapark and walk back to hotel. Nowadays, visitors hire motor bike and bicycle too for their trip to those places.
Where to eat Nepali food?
---
In Kathmandu there are many local and tourist restaurants which provide variety of food. In Thamel, you can find Italian, Indian, Chinese, Thai, Japanese, Halal, and Mexican as well as Nepali restaurant, where you can pick your own choice. When you are visiting in some others country then why not to try their local food and get new taste and flavor.
In Nepal there are many popular dishes like:
* Dal Bhat (lentil soup, rice, green veg, curry, pickle with local food)
* Momo
* Chapati
* Curry
* Noodles
* Rice and many more.
You can have your lunch, dinner and snacks in local restaurant.