Small ship cruises are often bound for wonderfully far-flung places that involve complex flights and connections, hotel stays before or after the cruise, and things to figure out like tourist visas, possible inoculations, travel insurance, and what to pack. So definitely count on more planning going into the booking process than for your standard cruise or a trip to a Caribbean resort. But trust us, the extra effort is more than likely to be worth it.
"Small ships provide an ideal means for passengers to engage with the destination that is just not possible aboard a conventional cruise ship — better location in port, more personal service from ship's staff and while ashore, and more educational opportunities" says Steve Wellmeier of Poseidon Expeditions.
Like any trip, to book a small-ship cruise you can either use a travel agent to help you or you can book directly with the cruise line.
Either way, before you embark on a small-ship cruise, these 13 tips will help you navigate the options and plan what may easily be the trip of a lifetime.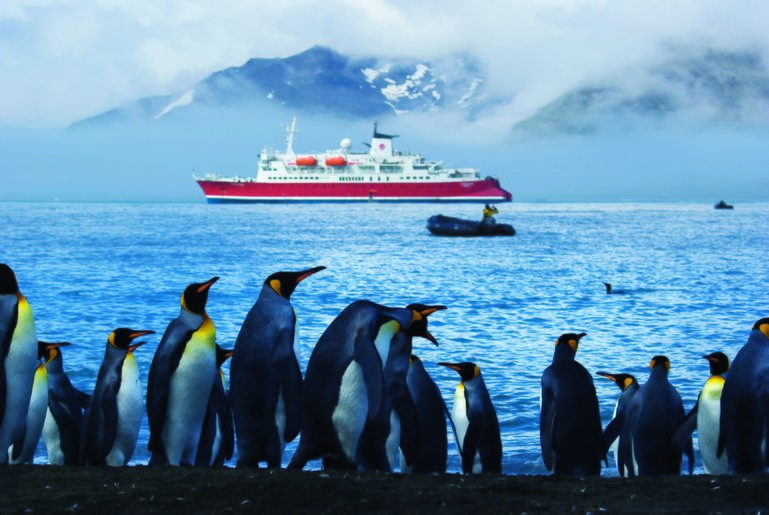 No shortage of South Georgia Penguins in the Antarctica. * Photo: © G Adventures, Inc.
1. First, figure out if a small-ship cruise is your cup of tea
---
If you don't like crowds, waiting in line or dressing for dinner, and seek memorable experiences way more than material things, then you're small-ship material. If you love mingling with passengers from all over the world, learning about the destination through lecturers and local guides, prefer local folkloric performances to Vegas-style shows, and getting your feet wet and your hands dirty more than generic luxury, then a quirky small-ship cruise is clearly for you.
"Small ships get to places the others can't reach and so it's often more about the destination than the vessel, the entertainment or the number of restaurants" says Powell Ettinger, director of The Small Cruise Ship Collection.
2. Take some time to do you own market survey
---
It would behoove you to do a bit of homework first, to see the full range of choices out there.
3. Book directly with the cruise line if you enjoy the details of trip planning
---
Some small-ship cruise line websites allow you to book directly on their site, so if you're the type who likes to book your own travel and is comfortable choosing a cabin, arranging airfare, deciding yay or nay on travel insurance, booking hotels stays and possibly arranging land tours before or after your cruises, then go for it.
Many small-ship cruise line websites, however, are not equipped to process direct bookings, so in that case, browse their site to learn about their offerings then call or email them directly to get your questions answered.
Booking a small-ship cruise is often a very personal transaction, parallel to the experience itself.
"When they call us, customers can ask questions and have them answered immediately," says Joy Ackert of Ontario Waterway Cruises. "We are a family business so that first contact is the beginning of making our customers feel like they are going to be coming to visit with friends or family. It creates a very welcoming atmosphere prior to boarding."
---
If you have a beloved agent that has helped you or a friend with trip planning before, they're a great place to start. A good travel agent (and they're not all good) will know the many options out there and work to match the best small-ship cruise for your personal needs and desires. A good travel agent can help you plan and book airfare, hotels and land-based touring to complement your cruise before it starts or after it's over. One specializing in small-ship cruises is even better, such as the Small Cruise Ship Collection.
The pros and cons of using a travel agent:
Pros: Someone is guiding you throughout the process, advising and reminding you about things like visas and airfare. Agents may have a special relationship with the lines and may know which cabins are the quietest on a given ship or which itinerary has the best ports. A good travel agent is indispensable.
Cons: If cruise line X doesn't pay commissions to travel agents (maybe because they're too small to justify the cost or have a large in-house sales force, such as Grand Circle Travel), your travel agent may not recommend X to you and only suggest lines that pay them commissions — makes sense for the agents, but you could miss out some great alternatives (see #2, do your homework).
5. For a package deal, book a small-ship cruise through a third-party
---
Tour operators put the pieces of the travel package together and sell it, while wholesale travel sellers just sell the packages — for example, a Mekong river cruise bundled with airfare and hotel stays.
Poseidon's Steve Wellmeier says that because of the more complex reservations required for small-ship cruises, for example to the Polar Regions when travelers naturally have a lot of questions, Poseidon relies on specialty tour operators.
6. Expect to pay more for a small-ship cruise than a standard big-ship cruise
---
Most of the time (not all), a small-ship cruise carrying just a few dozen or a few hundred passengers will cost more than a mass-market mega ship carrying thousands of passengers. The small ship lines can't take advantage of the same level of bulk discounts in procuring supplies, excursions, crew and various port fees.
"Small ships are a terrific antidote to the big ship experience: more and more clients find that they truly love the smaller vessels. They are amazed by the more personalized service, getting to know many of their fellow passengers much more easily, and having the advantage of far more interesting itineraries where out of the way ports are featured. From a travel agent's point of view, it's generally an easier sell for those reasons, but small-ship cruises are typically a higher-priced ticket as these vessels don't have the economies of scale of the large ships" says agent Mary Kleen.
7. Keep in mind that in many cases, the price you pay for a small-ship cruise will be the same whether you go through a travel agency or book directly with the cruise line
---
Many small-ship cruise lines, especially the very smallest ones, will endeavor to offer everyone the same rates and discounts, no matter how you book their cruises.
Whether "rack rates or reduced online rates, it's the same price for agents and public" says Pandaw's Zika.
8. Exception to above: the big European river lines often do discount and sometimes exclusively to travel agents
---
They have huge fleets, so they can offer volume discounts to travel agents who book a lot of their cruises.
Uniworld's Arnelle Kendall says, "Our travel agency partners often have exclusive offers that we've negotiated with them that we aren't able to offer customers that contact Uniworld direct, such as discounts on select sailings, shipboard credits, and special excursions, so customers do receive the best offer when going through a travel agency."
9. Booking way in advance — a year or more — is a good idea in certain cases
---
Unlike big ships with thousands of cabins, small ships have far fewer cabins to fill up, so with regions that have a short cruising season — Antarctica is just four months long, for example — it's a good idea to book a year or more ahead if you really have your heart set on going on a specific date. Additionally, airfares can get booked up and may be more expensive if you wait until the last minute.
"If cabin choice is a priority, it is advised to book far in advance. Our upper-tier cabins are the first to book" says Abercrombie & Kent's Jean Fawcett.
10. Book last minute — a few months or a few weeks before — if you're flexible with where and when you go, the cabin you'll get and how much the airfare might cost
---
There often are last-minute deals especially during the off-season if ships haven't filled up. For example, European river cruises are often eager for passengers early or late in the season, and often Mekong River cruise rates tend to go down in March and April when the river levels are low and it's very hot.
11. It can't hurt if a cruise line is a member of a reputable trade group
---
Some of the top travel industry trade organizations that small-ship cruise lines might belong to include The International Galápagos Tour Operators Association (IGTOA), International Association of Antarctic Tour Operators (IAATO), Association of Arctic Expedition Cruise Operators, Virtuoso (global network of travel agents, cruise lines and other suppliers connected to the luxury end of the travel industry), and CLIA (Cruise Line International Association, a global cruise industry trade organization).
12. Nose around TripAdvisor and other ombudsman-like sites
---
It's not a good sign if the cruise line, tour operator or travel agent you're dealing with has been consistently trashed on Trip Advisor or if multiple complaints have been filed with organizations like the Better Business Bureau.
13. Run for the hills if you see red flags
---
Charlie Funk, co-owner of the travel agency Just Cruisin' Plus for the past 35 years, says: "don't do business with any small-ship cruise line that doesn't accept credit cards and that requires full payment at the time of booking even if the cruise is a year or more away." In his experience, Funk says these two factors are early warning signs of cash flow issues, financial instability and impending bankruptcy. He cautions against patronizing a cruise line that imposes punitive cancellation penalties on the deposit rather than after final payment; processes credit cards on foreign banks and charges those foreign processing fees to the client; and fails to address complaints or problems in a timely manner.