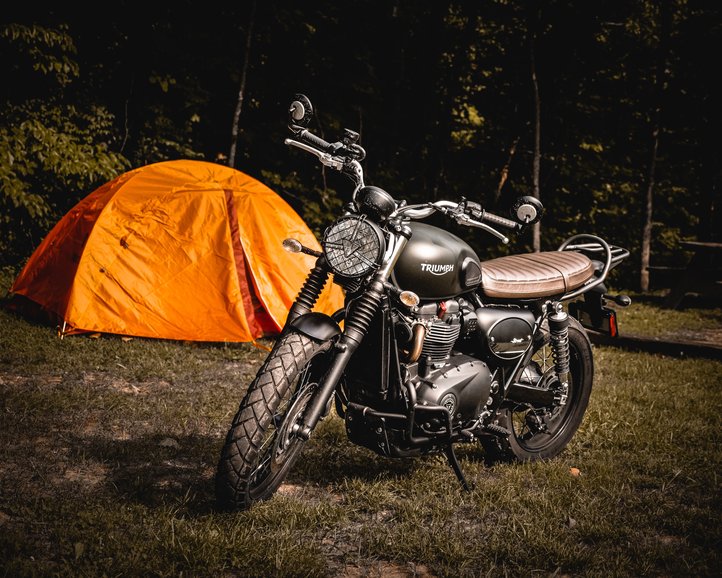 If you've only enjoyed your motorbike rides for a few months of your life – or you're starting a season again after winter, you might consider upping your adventure game this year. How?
Motorcycle camping – the best of all ways to camp
Camping with your bike is a great way to add a layer of depth to your trips and be able to travel for longer, without the added cost of expensive overnight stays. For us, going from London to different parts of the UK, it seems to be quite far to get to places where we can explore the beautiful nature of this country.
We decided to stretch our travel budget by camping, cooking our own food and live the simplest, most modest life, just to stay on the road for longer. It doesn't matter if you're planning a long trip or only just a few weekend getaways in the summer – camping is so much more fun, too!
Days are getting longer and we unravel from the winter misery, seeking more time spent in nature. Weather is getting better, too – but it wasn't the most welcoming for the past few months.
With this rationalization in mind, we prepared a starter guide for all fellow motorcycle riders to give camping a go this year.
To consider the top-level requirements for a successful motorcycle camping excursion is to think about the minimums you need to survive each day on-and-off a motorcycle. Depending on activities and your destination, you might need additional layers to keep yourself warm or essentials like mosquito spray if you are staying near lakes or forests.
Wear gear
---
As obvious as it sounds, you will need the usual motorcycle gear you put on every time you travel on it. Then, if you want to have walks or hikes, some warm, but lighter and more comfortable jacket might come in handy. It's good to layer up when you're riding your motorcycle for longer periods of time when it's still below 20 degrees during the day. Also, you save storage space in your luggage. Stay warm and comfortable! As a minimum you will need:
Motorcycle stuff: jacket, trousers and gloves, helmet
Windproof fleece or puffer jacket
Long-sleeve top or t-shirt
Underwear and socks
Trousers or leggings
Hiking shoes (use them as motorcycle boots to save space)
Also, remember about daily basics like toothbrush and toothpaste, face wash and cream. You will survive without a shower for one or two nights.
Sleep
---
To have a comfortable night out in the wild (or on a campsite), you will need a sleeping bag with a pillow or rolled-up jumper to lift your head up. Also, a tent is essential. The size of your tent will vary, depending on how many people you're going with.
Alternatively, if you want to save as much space as possible, instead of a tent you can go for a bivvy bag, which is a waterproof cover for your sleeping bag and there is almost no setup involved. It is used by the army thanks to its simplicity and ease of use – and you can grab a bargain from army surplus stores.
To keep yourself off the ground, a self-inflating camping mattress/pad will be your way to go. It doesn't take up much space but is serving its purpose very well. It folds down to a very small size and can be attached to the bike with elastic straps or cargo nets.
Just to summarise:
Tent or bivvy bag
Sleeping bag
Sleeping pad


Cook and Eat
---
As soon as you park your machine, you might start feeling a bit of a rumble in your stomach, and it will probably not be easy to solve with another coffee or tea.
Depending on how creative or lazy you want to be, you might cook a meal ahead and just warm it up once you reach your destination, but there's nothing stopping you from having some fun with cooking nearby your tent. It there's such availability, you might set up a campfire.
Check local rules before you do so, though. It's very important. You might get fined or even cause fire and affect the local ecosystem.
A good alternative is a gas camping stove, which will do the job as well, in a more controlled manner.
And you will not smell like smoke!
Okay, so what would you need if you want to eat while you camp?
If you don't cook:
A prepped meal ready to eat
Utensils (spoon, fork, knife)
Cup for water or tea
It requires a bit of meal prep and it will not be a perfect option for summer when the temperature might make the meal go bad throughout the day.
If you want to cook:
A cooking set (saucepan, bowl, a wooden or silicone spoon)
Utensils
Camping stove with gas cartridge
Ingredients for your meal – keep it simple (grains and quick-cooking vegetables are ok!)
Cleaning sponge and a towel


Mount it all to the bike
---
Carrying such a variety of luggage attached to your motorcycle requires some clever bags, isn't it?
So for me what works is a 60L back seat Givi bag which fits many different bikes. Quite soon I will be changing my little Yamaha for some bigger Yamaha, most likely. I wanted to have a transferrable gear set and this bag seems to be big enough not only for weekend getaways but for many weeks on the road, as long as I keep washing my clothes every now and then.
Great ways to attach your luggage to the bike:
Pannier bags, hard or soft
Tank bags
Tail bags
Dry roll bags
Cargo nets
However, you can keep some of your lighter things, like clothes, in a backpack.
Keep it safe
---
Remember about being cautious about your motorcycle safety, too, once it's left in a location for the night. Use chain, disc lock and lock your steering to keep it as safe as possible. If your pannier bags have padlock-friendly zips – make sure you get a few of them and secure your bags, even if they're empty inside.
Two bikes can be locked together with a chain, there's no other safe spot to secure your moto.
Camping will be a great extended adventure on the weekends, and good practice before you decide to take on a big adventure and make camping your way to sleep in various locations. Think about those purchases as an investment for the future.
If you would stay in a hotel for that night, that could be around £40, meaning for few nights worth of hotel stays you will get gear which allows you to sleep for virtually no cost for the next couple of months – depending on how often you will use it.