It is virtually impossible to travel nowadays without using your phone to do at least some of the work. This is one of the reasons why the decision to make roaming free when travelling within the EU has made so many travellers so happy. Free roaming means your data plan is available for use. And data means you can use your favourite travel apps.
But even when travelling to other continents or for those of you coming to Europe from across the seas, there are usually very economical options for phone cards that offer a limited amount of data for visitors. So, this is usually one of the first things we do when visiting a foreign country these days: we make sure we have communication and data.
That said, I'm pretty sure we all have some preference or other as to which apps we find more helpful when travelling. Before we give you our selection, let's first discuss which categories of apps have proved indispensable over our years of travelling both locally and internationally.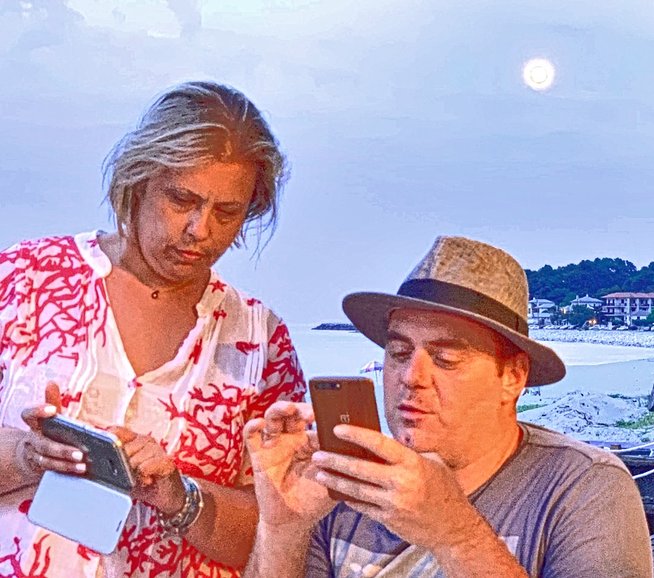 Prepping and planning
Any kind of overview of travel apps would probably have to start with tickets and accommodation. So the first thing we recommend is downloading and installing the app of your most frequently used airlines and hotel booking services. All major airlines have a corresponding mobile app which facilitates the process. You have to be a little careful about security (change your password regularly, do not use the same password across apps, etc) but once you've got the hang of it, the process of booking tickets and/or rooms becomes a breeze. Not only this, but e-tickets, boarding passes and hotel reservations are all stored in one place and often, there are offers that are only accessible through the mobile app. (Read the post on our blog to see which ones we use most often!)
The next step has to do with services. It is important to still have control over your data and your bank account when travelling abroad. So, make sure you have your mobile provider's app installed and connected. This way you can constantly keep track of your phone bill. Moreover, if you've never considered e-banking, it is definitely time to set it up when you're going to travel. Even though most charges on your credit card do not appear right away, it is still important to monitor your account and cards. Besides, through the banking mobile app, you can transfer money, load your pre-paid card, make payments and, most importantly, report a stolen or lost card immediately and have easy access to your bank's helpdesk.
Final step: local apps. Do some research on apps that are used locally where you're going. For example, you might find museum apps, theme park apps (our favourite is definitely Eurodisney), subway maps, local taxi apps, ticket, restaurant or event reservations. There might also be bargains or line skipping options only available for mobile app users. E-tickets that don't require printing are very useful too!
And now, as promised, these are our Top 5 Favourite Travel Apps that we don't leave home without!
1) Tripit
A all-in-one trip organizer which you can connect with your email and have all your travel documents and emails with reservation numbers and itineraries in one place. You can add notes, files, maps and as soon as an itinerary has been added, it offers information about flight departures and delays, airport maps and much more. If you don't want to allow access to your email, you can also forward the emails to a specific address and they will be processed and added to the itinerary. For $49 a year, you get pro features, like plan sharing and speeding through security.
2) Citymapper
The ultimate city guide. It helps you navigate through selected cities like a true native, whether you're walking or using any kind of transport. It's like a map that has come alive and decided to be your best friend. It monitors buses, trams and trains and gives you live info, real ETAs and all kinds of info about the area you're visiting.
3) PackPoint
Your packing buddy. An app that tries to predict what you might need to pack based on your stated preferred activities. It is designed to take the pain out of packing, but it might take a little practice before you can make the most of it.
4) Lonely Planet
A guide in your pocket that will make sure you get the most out of every place you visit. You choose the city, download the guide and you have information about museums, monuments, activities and more. You can search for the best things to see and the best places to eat and actually finish the reservation online. You can also have access to offline maps of the city. A valuable resource all in all.
5) Google Translate
There are many translators and phrasebook apps out there. There are also some legitimate choices if you want to acquire basic knowledge in a foreign language somewhat quickly and easily (e.g. Duolingo). But Google's translator remains the most powerful tool for all intents and purposes. It instantly translates what you say and lets the other person read or hear it. And now, using your camera, it can also translate what you see on a notice or sign or text in real time. Just point the camera in that direction and see the text transform before your amazed eyes.
All things considered, modern travellers rely more and more on their phone thingies and the right travel apps can really maximize your experience and make all stages of your trip easy and enjoyable. Keep travelling!