Everest Base Camp Trek is a magnificent venture to the world highest base camp, Mt. Everest Base Camp. The adventure enthusiasts find Everest Base Camp Trek an adventure of the lifetime and World's Immortal Trekking so far. This trek takes us to the heart of Sherpa land where one can not only witness majestic giant peaks but also explore the Sherpa people and their unique culture.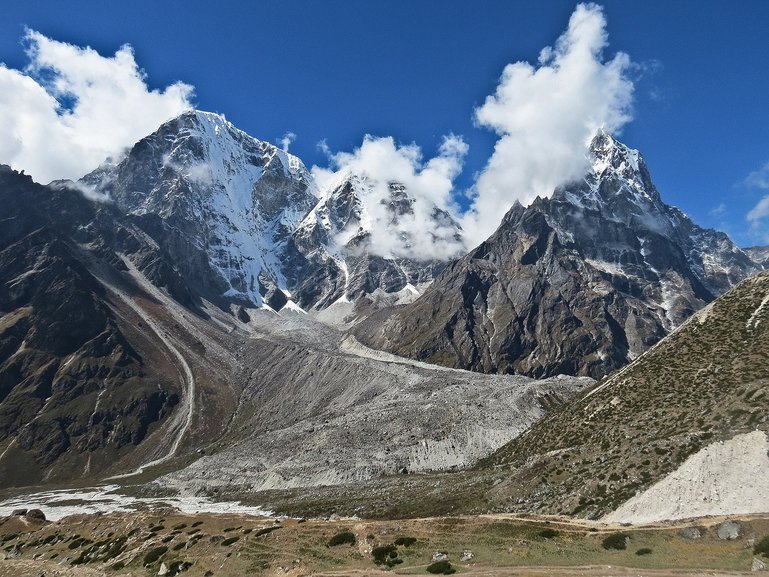 Everest Base Camp
Everest Base Camp Trek begins and ends at Lukla. To get Lukla, you need to take a short and scenic flight from Kathmandu airport. Alternatively, you can take a long 9-10 hours of drive from Kathmandu to Shivalaya or Jiri. You can also get a jeep ride to Salleri from Kathmandu during Autumn and winter where there is not rain.
Starting from Lukla, trek to Phakding and slowly enter into Sagarmatha National Park. Sagarmatha National Park is a UNESCO World Heritage site and the national park located at the highest elevation of the world. You begin to experience alpine flora and fauna in this park. Next, there is Namche Bazaar to explore. The Tibetan culture, traditional market, Hotel Everest View, the hotel located at the highest elevation in the world, Sherpa Cultural museum, mesmerizing view of Thamserkhu are the prime highlights of Namche Bazar. After this beautiful exploration of Namche Bazaar, trek to Tengboche and explore the oldest monastery in Everest region. Finally, trek to Gorekhshep via Periche and Lobuche.
Climb Kalapatthar early in the morning to capture mesmerizing sunrise and mountain panorama including holy Pumori, Loa Tse, Nupse, Makalu and Mt. Everest. Further, the trek to Everest Base Camp offers you more sublime views of mountain peaks and the Khumbu Glacier. Follow the same trail while backtracking and end the Everest Base Camp Trek at Lukla. You will be using the same trail used by legendary climbers: Edmund Hillary and Tenjing Norgay Sherpa.
Highlights
---
A spectacular flight to Lukla or a scenic drive to Shivalaya or Salleri via Jiri.
A spectacular walk in Sherpa land experiencing their culture and civilization.
Sagarmatha National Park and its alpine species of flora and faunas.
Namche Bazar, Hotel Everest View, Traditional Tibetan Market and Sherpa Cultural Museum.
Tengboche montery and its pristine surrounding.
Kalapatthar and Everest Base Camp.
Majestic mountain views include Pumori, Loa Tse, Nupse, Makalu and Mt. Everest.
Best Time to Travel
---
Nepal has four climatic seasons: Winter, Autumn, Rainy and Spring. Among all, Autumn and the Spring are best time to trek in not only Everest region but in all over Nepal's mountain and the cities. But relatively, Autumn is even better than Spring. Spring has pleasant weather in Nepal. The climate is moderate. There is a magnificent weather during Autumn. Mountain views are breathtaking. There is no any snowfall. You won't encounter with any such complications in Autumn.
The magnificent thing to experience during Spring while trekking in Nepal is beautiful rhododendron. The trekking trails are full of fully bloomed rhododendron and it will be incredible to capture the rhododendron blanketed hills and the mountain peaks towering to the sky. However, to be true and frank, there is no such weather like Autumn in Nepal to trek in the mountain.
Food and Accommodation
---
There are normal lodges and guesthouses owned by local during the Everest Base Camp. But, these days, people can also get luxury accommodation on the trail in some places like in Namche and Dingboche. Luxury accommodation tends to cost extra. Expect to share bathrooms and toilets and they are normally outside. You will have commode toilet on the trail. One night accommodation will cost between 10-30 USD in Everest region.
You can enjoy any type of dish you like as mentioned in the menu by the guesthouse or lodge. You can choose the items you like and need to make the order. Sometimes, if you are in a big group, you can experience buffet dish too. During Autumn, the trail and the guesthouse are far too crowded and you may have to wait for the food you order. One item of food costs between 4-10 US dollars.
Experiences and Skills
---
In fact, you do not really require any technical skills of trekking for the Everest Base Camp. However, prior trekking and hiking skills will be an asset for the Everest Base Camp Trek. The regular exercises, aerobics, short hiking and trekking will enhance your stamina. So, we recommend you to prepare accordingly because you are trekking above 500m. You can acclimatize in two places: Namche and Dingboche. Have balanced diet, get your health checked up, be confident, you will enjoy your Everest Base Camp Trek and make it an adventure of lifetime.
Challenges
---
There a few challenges on the Everest Base Camp Trek. The weather is a big challenge for the trekkers who choose to fly from Kathmandu to Lukla. Lukla weather is changing every minute. If it is sunny in Kathmandu, it gets cloudy in Lukla. Due to which, Lukla flight are cancelled or postponed.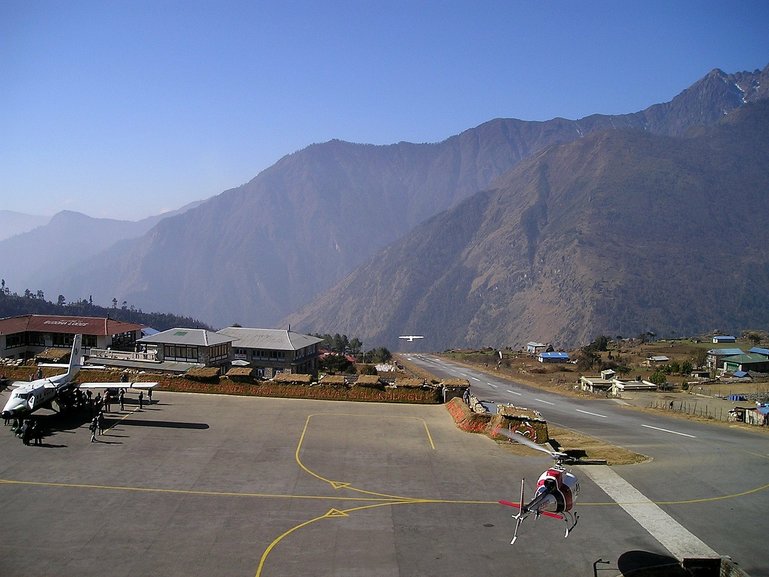 Lukla Airport
There is sometimes extreme weather like heavy snowfall which obstructs the Everest Base Camp Trek. It occurs in peak of the winter. For this you need to check the weather condition before heading to Everest region and make the right preparation.
The other challenge in the Everest Base Camp Trek is the accommodation and the food during peak season: Autumn. We, sometimes, have to spend the night either in dining or in dormitory. So, some people like to trek to Everest Base Camp Trek in Spring or in other seasons.
Final Say
---
Everest Base Camp Trek is well known as World's Immortal Trekking among the global trekkers. If you really want to make your Everest Base Camp Trek a boon, it means an astounding and magnificent, we require to do well preparations prior to the trekking. Pack up the right gear, find the best weather, accompany with professional and experienced guides and porters, book your trip with reliable trekking company, do some easy hiking and trekking and exercises, be confident, and celebrate your Everest Base Camp Trek as an immortal adventure for a lifetime.