Even many Nepalese don't know the world's highest peak. It becomes obvious to alien not to know the Tallest Peak in World. Many of those who know the tallest peak is Everest do not know where is Mount Everest located which is an irony.
Thus, this query need to be resolved for travelers specially those seeking trekking destinations. If anybody is unknown about the tallest peak in the world then see this information.
Height of Mount Everest:
---
The world's highest peak (measured from sea level) is Everest. The Mount Everest height is 8848m (29029 ft). Interestingly, there has been different measurement to know the height of Mt. Everest. With the snow height, Mount Everest is 8848m high while the rock height is 8844m.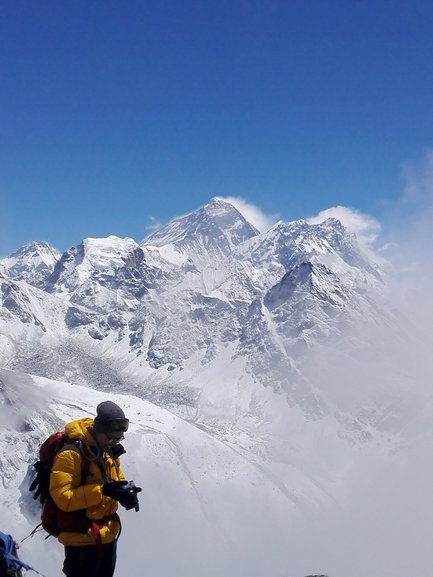 Mount Everest
Mount Everest Location:
---
The China's National surveying and mapping administration provided the exact Location of Mount Everest in 2005. The provided Longitude and latitude are 86˚55' East and 27˚59' North respectively.
Everest has separated Nepal and Tibet being located at border. In fact, Mt. Everest is located in Mahalangur himal range, khumbu sub-section. The peaks surrounding Everest are Lhotse (8516), Nuptse (7855m) and Changtobse (7580m).
Being at the border, you can reach Everest from both side. The route from South side of Everest represents Nepal which is very popular where the north side represent to Tibet.
Mount Everest in Nepal
Nepal is a small landlocked country situated in South Asia. Similarly, Nepal is in the middle of two giant countries India and China. India surrounding Nepal from South, East and West where as China is on the North side.
On Nepalese side, the Mount Everest is located in Solukhumbu district with Solukhumbu National park providing shelter.
Solukhumbu is 126 km east from capital of Nepal, Kathmandu.
Mount Everest in China Side:
On Chinese side, it is located in Tibet's Tingri country in Xigaze area. Reaching to Everest from Chinese side is much easier as there is a road to reach Chinese Everest base Camp. So, climbing from this region is always cheaper.
Only few people climb to Everest from Chinese side because of political restrictions and other factors. One of the reason is that rescue operations are complicated and even helicopters don't have permission to fly from this side.
Naming Convention :
The British surveyor of India in 1865 named Everest after the name of Sir George Everest to honor him. Different names describes Everest based on different locality.
In Nepali it is Sagarmatha, which means Goddess of the sky.
In Tibetan, it is known as Chololungma meaning holy mother peak.
While it is also called peak XV.
What Nepalese feel to have Mt. Everest?
A small and landlocked country Nepal is world's second richest country in terms of water. But only thing that lets Nepal to be known in whole world is its greatest peak Mount Everest. Further, out of 10 highest peaks in world, 8 falls in Nepal. It is pride for Nepal and Nepalese.
Sherpa's near Everest call it as their mother. On top of that, Nepalese feel happy and proud when they say Mt. Everest is located in Nepal. Nature gave us such a wonderful gift which keeps our head high.
In recent years, tourism has got pace in Nepal. The main attraction of tourism sector in Nepal is its Himalayas and hills.
One of the major section helping economy of Nepal is tourism. Sherpa's, the highlander's, main income source is Trekking to these Peaks.
Combine of topographical structure and geographical composition makes Nepal, one of the best destination in the world for adventure sports like Tour, trekking and mountaineering.
Way to Explore:
As the number of tourists are soaring, the attraction point has been Everest Base Camp. From the many trekking destinations in Nepal, Everest Base camp trekking has also found rhythm and number of trekkers increased.
Being the Base Camp of Mount Everest, there cannot be better place than this to explore Everest. Trekking adventures around world have desire to see Mount Everest once in their life time.
Thus, the best camp trekking which takes to 5360m height to capture great view of Everest is always a favorable destination.
Nearly around 30,000 travelers go to Everest Base camp in a year. Which itself proves the value of this trekking.
Trek to Everest Base Camp is very famous because one can see other mountains which are more than 8000m high. These other mountains are neighbors to Everest. Furthermore, one can observe the life style of Sherpa People (Brave), who help you take to Everest base Camp for fulfill your dream.Also you can observe Khumbu ice-fall.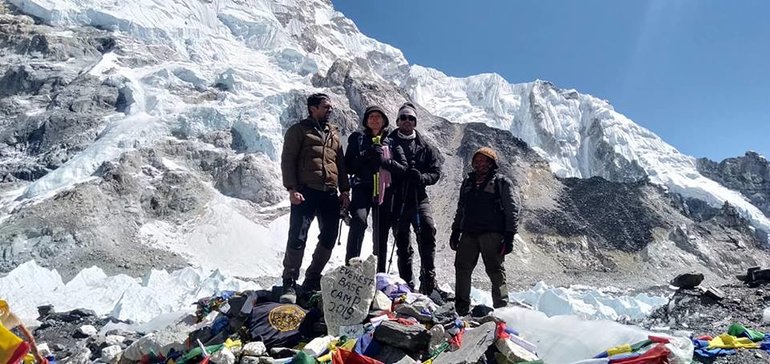 Everest Base Camp
The different days trekking packages are available for Everest Base Camp trek.Minimum of 10 days to 16 days trekking take you to the base camp of Mount Everest.
Mount Everest on a Map
---
Death trolls in Everest:
---
Technically, it is not very difficult to climb Everest from the standard route that has been designed. But the major issues posing danger for this trek is altitude sickness (Acute mountain sickness).
Additionally, mercurial weather and high speed forceful wind are the factors behind making it difficult. Moreover,the unpredictable avalanches and Khumbu Ice Falls are another threat that leads to significant number of deaths in Mount Everest.
The Mount Everest deaths rate is between 6 to 7 % of the total travelers who made to Everest.
Few disaster records are listed below-
1970 disaster- 6 Sherpa died-Khumbu ice fall avalanche
1996 disaster- 8 died- blizzard
2014 disaster- 16 Sherpa Died- Mount Everest avalanche
2015 disaster- 18 died- Avalanche caused by Earthquake
Conclusion:
---
In conclusion, Mount Everest is the world's highest peak with height 8848m. It separates Nepal with China. The Everest is Located in Solukhumbu district of Nepal.