Our Viking River Cruise on the Yangtze took us to the "Fengdu Snow Jade Cave. Located about eight miles from the new county of Fengdu, the Snow Jade Cave is rated as China's most beautiful by Chinese National Geography. Discovered in the mid-1990's, the cave is over 1,022 miles long. At present, it is the youngest discovered in China. Because of its uniqueness and beauty, it has become a popular scenic spot along the Yangtze River as well as serving as a research site for the study of caves". (description from a Chinese web site).
Fengdu "new county" means that, when the Three Gorges Dam flooded the Three Gorges, more than 1,000,000 people had to be relocated as their homes went under water. The Chinese government solved this problem by building new towns higher up the mountains that formed the Three Gorges. The new town of Fengdu was a new river port almost at the altitude of Snow Jade Cave, and Snow Jade Cave became a major tourist attraction with a short bus ride from Fengdu. We have visited a lot of caves in 6-8 states and in Spain and France, but Snow Jade Cave is #1.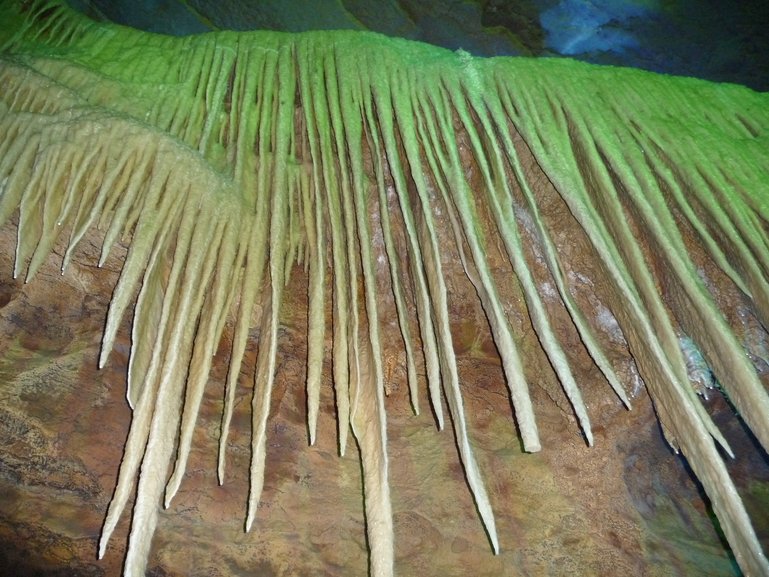 My only complaint is the use of colored lights instead of displaying the natural brilliant whine of the formations. Rare Snow (white) Jade is the most expensive and most desired type of Jade. Hence the name for the white formations, so why color them? Maybe a few would be interesting, but this goes overboard..
Snow Jade Cave is a knockout. If you are going on a Yangtze River cruise, be sure to take one that stops here.