One of the most asked question when booking a cruise on the Yangtze River is "What is the best time to cruise the Yangtze River?"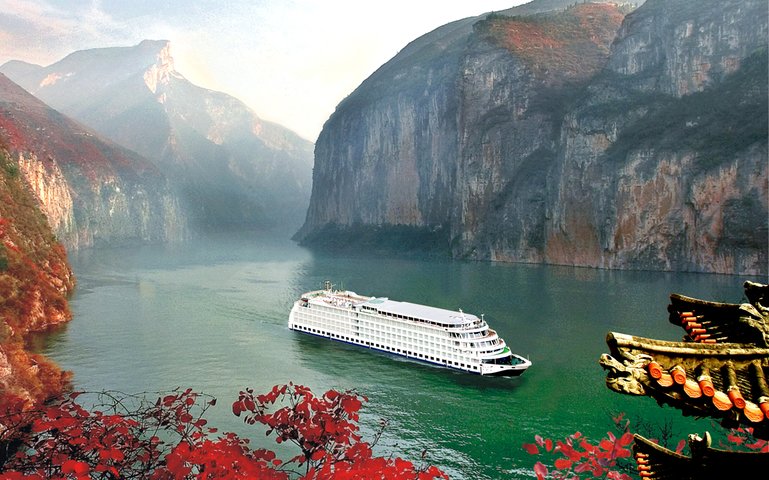 Best time to cruise on the Yangzte River
China is a vast country almost the same size as the whole of Europe and it's very important to choose a good time to visit it. Most of the travel guide books suggest travelling either in April, May or September, October when hotel prices are usually high.  These periods are also suggested as the best time to cruise on the Yangtze River. We agree! But you should bear in mind the national holidays of China which take place in the first week of May and first week of October when the hard-working Chinese people take well deserved two weeks holiday.  The certain tourist attraction including the Yangtze River can be crowded while some places can be deserted.
The winter time is a little cooler but it's a perfect season to pick a bargain.  In some parts of China, including the Yangtze River, the nights could be cold but the days could be sunny with clean skies which give you excellent conditions for taking perfect photographs. Also there are less people around which will give you ample opportunity to take photographs without anyone in it.  The solution is to wear some layers which you could take of during the day. If you do not have enough clothes for the cold nights you can always find a great deal at the local clothes shops.
If you decide to cruise on the Yangtze River during the winter time try to experience the magnificent Spring Festival which takes place on the first new moon of the year! The festival is the equivalent of the Western Christmas and New Year's Eve rolled into one. If you are looking for genuine and festive atmosphere then the Spring Festival is the time to visit China and cruise on the Yangtze River!
The summers could be hot and humid especially in the big cities of China.  The cruising on the Yangtze River could be excellent solution for the hot summer travelling around China – it gives you a break from the stress of big cities and time to recapture energy for the next destinations. Also summer holidays in western countries are regarded as school holidays when the prices go up the roof. In China summer time is consider as a low season and if you are thinking of booking a cruise on the Yangtze River for your family we would suggest you to book it directly with the cruise company.
Here is chart of seasonalities on the Yangtze River
---
* Winter Season, Low Season – Nov, Dec, Jan, Feb
* Shoulder Season – March
* High Season, Spring Season – April, May
* Summer Season, Low Season - Jun, Jul, August
* High Season, Autumn Season - September, October