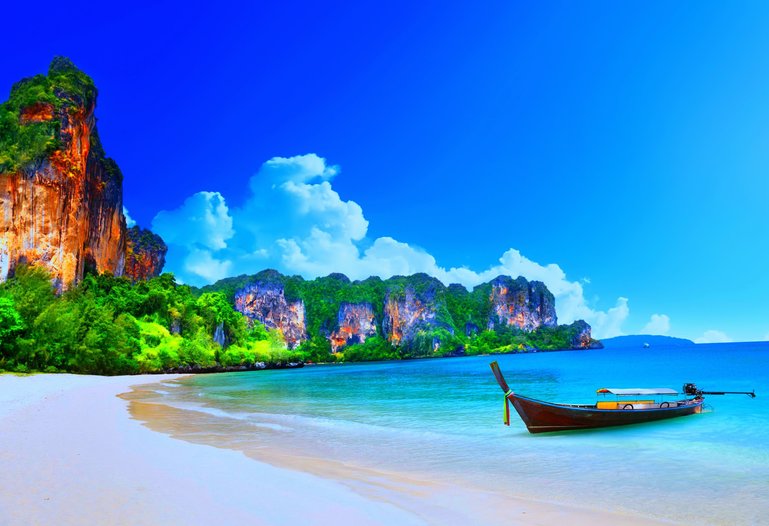 If we've learned anything in the last couple of years, it's that numerous jobs can be done from anywhere. And if you've been feeling less than jazzed about your current surroundings, perhaps a change is in order.
Imagine looking out your window to see vibrant city life, snow-capped mountain peaks, or a wash of waves from the ocean rolling onto shore. You don't have to dream of that kind of life. Instead of waiting for your next vacation, why not make a move so that you live in a place where people want to vacation?
For US citizens, these 7 countries are the best places to live abroad while working remotely, allowing you to finally live the life you've been dreaming about.
1. South Korea
---
It's fun. It's quirky and eccentric. And this amazing country's capital, Seoul, is as vibrant and modern as it gets. Yet you'll find plenty of historic relics to check out in your spare time. There are an abundance of teaching jobs in South Korea, but the best teaching jobs in Seoul are online.
South Korea is known for being fairly welcoming to foreigners and Korean is relatively easy to learn. The subway systems in the big cities make getting around efficient. And the food is delicious. There's always something to do here, plus you'll likely find the other expats here are the easiest to make friends with anywhere.
2. Costa Rica
---
If you'd rather stay on this side of the earth when you move abroad, Costa Rica may be more your scene. It's a peaceful place full of nature and friendly locals. Coffee is one of the many highlights here though in San Jose, you'll find plenty to keep you occupied.
Costa Ricans follows a philosophy known as 'Pura Vida.' Simply put, it means they encourage you to slow down and enjoy life. So feel free to relax here. When you work remotely while living in Costa Rica, that's even easier to do since you can set your own hours. That gives you more time to explore one of the happiest countries on the planet and meet the many other expats that love to call it home.
3. New Zealand
---
Some say New Zealand has the most beautiful landscapes anywhere in the world. But other expats say there's a better chance to find balance between work and life. Auckland has long been the place for both culture and commerce though by working remotely, you can feel free to find yourself anywhere.
Queenstown offers more excitement, but between the North and South Islands, it's only a three-hour journey by ferry. These views may just inspire you in your work online too!
4. Canada
---
If you want to live abroad without moving too far away from your family, you can make the hop to the north into Canada. The beautiful landscapes are enough to make anyone want to stay there forever. While Toronto is the largest city, Vancouver on the Pacific coast inspires plenty of creativity.
One of the best benefits for US citizens living abroad in Canada is that it's very similar to life in the US. Most attitudes are the same, and while there is a bit of French spoken, English is always spoken as well. If you'd like to live abroad but are worried about moving to another continent or trying to speak another language, Canada may be your best choice as an expat. You can teach online or find other remote working options with ease!
5. Sweden
---
The stunning land of Sweden is one of the most highly-developed places there is. This Scandinavian location features a thriving urban hub in Stockholm and an impressively efficient way of life. Transportation is a breeze while the balance for work and life is made very clear here, and it will be even better when you work online and carve your own schedule.
The country boasts long holidays that you can enjoy even as you work remotely in Sweden. Plus, the cities are the among the cleanest anywhere. With all those breathtaking foods and the friendliness of this nation, you'll only wish you had become an expat in Sweden sooner!
6. Spain
---
Spain is often seen as a sophisticated place for US expats to choose. In Western Europe, it has one of the lowest costs of living which means you can find decent housing and still afford quality wine. The entire country has much to explore whether you go for a big city like Barcelona or Madrid, or you decide to call the Andalusian coast home.
There's nothing like the food either, or the approach to life which encourages enjoyment. And if you're a fan of tapas, you'll most certainly want to live in Spain while working remotely too!
7. Thailand
---
If you'd like a tropical setting with some of the best food Southeast Asia has to offer, look no further than Thailand for your new expat home. The miles upon miles of beaches, fascinating culture, and tempting street foods certainly make it worth the distance.
Bangkok is ideal for a busier environment that's still peppered with floating markets among those modern hubs. Phuket gives you the inside track on island life, and Chiang Mai is just perfect if you want a quiet place to take it easy while you work or play.
Here's How to Become a US Expat and Work Anywhere
---
There are so many beautiful places around the globe that you can choose to call home, and these are just 7 of them. Years ago, you'd have to nail down a job first before going. But don't let that stop you! Now you can teach English abroad or if you're not into teaching, simply work online from anywhere you choose. This makes it possible to turn that dream vacation destination into the place that you call home!