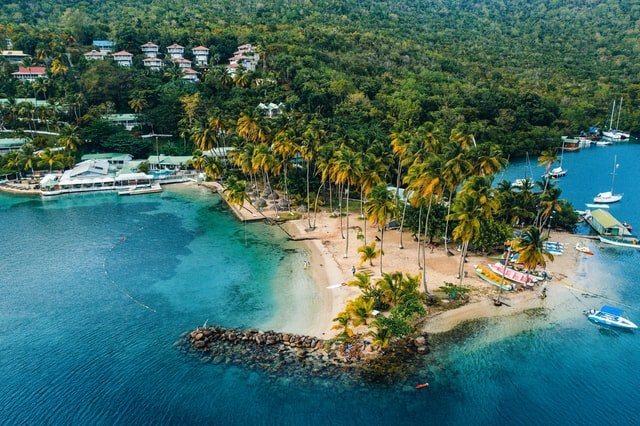 Source: Unsplash
There's so much more to the Caribbean than fruity cocktails and laying on the beach. Planning your Caribbean getaway gives you a unique opportunity to explore your destination, experience an entirely new culture, and make once-in-a-lifetime memories.
Choosing to vacation in the Caribbean doesn't mean just laying on the beach or by the pool sipping fruity cocktails (unless you want it to, of course!). You have a unique opportunity to explore a community, history, and culture that are totally unique.
Here are six ways to take your Caribbean vacation from a chance to unwind to an escape to paradise filled with once-in-a-lifetime memories.
1. Choose Your Perfect Destination
---
Paradise is what you make it out to be, and every destination offers a unique experience. When you're deciding where to make your escape, consider what defines your personal paradise. Are you most interested in white sand beaches and tropical greenery? Is your ideal vacation filled with relaxing spa treatments and romantic sunset dinners? Or are you more interested in hiking, scuba diving, and other active adventures?
Understanding what's available at different Caribbean destinations and your ideal vacation activities will help you start taking in the culture the moment you arrive. You should also consider how much culture you want to experience.
2. Take in Nature
---
Experiencing paradise doesn't happen in your hotel room. If you've made it to the Caribbean, it's worth exploring the rainforest, walking on the beach, or enjoying a book in a tropical garden. The Caribbean islands offer a unique ecosystem, creating a perfect natural landscape pulled straight from a storybook.
This environment shapes the culture of the islands — it's impossible not to feel relaxed when you're taking in sunshine and ocean air. The unique flora and fauna are as much a part of the Caribbean culture as the people.
---
While you might prefer a more isolated getaway, truly experiencing the culture of the Caribbean means venturing away from the resort. Take a fishing trip, talk to locals, and explore the cities on the island you're visiting. You'll be surprised at what you might find and the stories you'll hear!
Many resorts are positioned just a few minutes away from port towns, casinos, and other local attractions that are rich in cultural experiences waiting to be seized. If you're at an all-inclusive resort, there may even be a shuttle that will take you directly to the nearest town and knowledgeable staff to tell you about the places most worth exploring.
4. Learn the History
---
To understand and appreciate the living culture of the Caribbean, it helps to learn about the history of the island you're visiting. Luckily, these islands have plenty of opportunities to explore and learn about that history firsthand.
Saint Lucia, for example, has a rich history as an important colony of the Spanish and was hotly contested in various battles with the English, French, and Dutch. The island is home to forts, churches, and art dating back to that era, all of which inform the diverse and eclectic culture of the island today.
5. Enjoy the Music
---
Music shows a unique side of any culture, and the Caribbean is no exception. Caribbean music is so much more than mellow beats and steel drums. Because of the diverse mix of native, African, and European influences, music on the islands is truly one of a kind.
Authentic Caribbean music, including reggae and its modern cousin "dub," helps tell the cultural story of the islands. If you're visiting Jamaica, especially, you'll have unique access to the birthplace of reggae and be able to visit clubs and bars that are part of its ongoing renaissance.
6. Go All-Inclusive
---
Trying to plan a vacation can end your relaxation before it starts. Feeling like you're responsible for budgeting and scheduling your entire trip can make vacation feel like a chore.
By opting for an all-inclusive getaway, you can focus on taking in the sights, sounds, tastes, and experiences in your personal paradise. If you choose to book a vacation package in Saint Lucia, Barbados, Jamaica, or elsewhere in the Caribbean, going all inclusive gives you access to food, drinks, activities, and a concierge to help you manage it all.
When planning a vacation, many people have a set mental image of what a Caribbean resort is. In reality, these destinations serve as the perfect central hub for a tropical escape. Choosing to stay at a resort gives you access to the amenities and local knowledge you need to plan a truly one-of-a-kind vacation you'll never forget.