See the sights of Scottsdale on a Segway i2 Personal Transporter with the "Old Town Exploration Tour." Roll with us into the historic Old Town Scottsdale District and glide your way through Scottsdale's most renowned Downtown area. Experience everything from the preserved rustic traditions to the unique art scene and outdoor sculptures.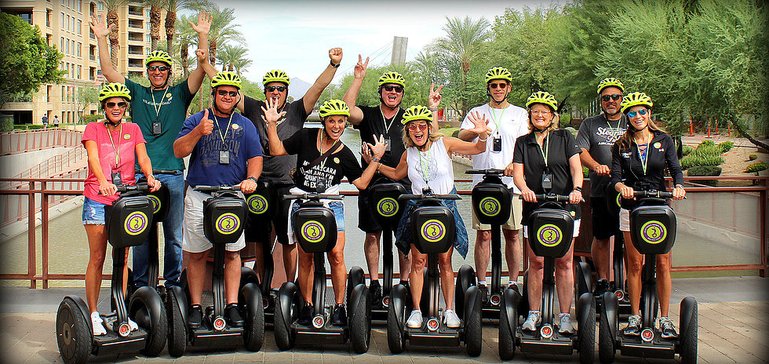 Group having a great time
What You'll See:
Civic Center Park
Stunning park with water cascading in fountains, rich greenery, and several art installations.
Scottsdale Museum of Contemporary Art
Local art with exhibits changed approximately every three months.
Old Adobe Mission
Oldest, standing, working church in Scottsdale.
Historic Main Street
Smack in the middle of Old Town, you will see charming architecture and some of Scottsdale's oldest businesses.
Arts District
Roll through and catch glimpses of several art pieces installed in front of dozens of galleries.
Scottsdale Waterfront
Enjoy a reprieve from the desert surrounding as you stretch your legs and contemplate your next meal at one of the several restaurants nestled against the canal system.