Join Kelly from The Hellenic Odyssey for a guided walking tour of Chania in Crete. Chania is known for its people, its hospitality and its produce. Join this tour to learn about the Cretan food & culture as a local not a tourist. Explore all of your senses while you experience this immersive tour on foot.
Chania Food Tour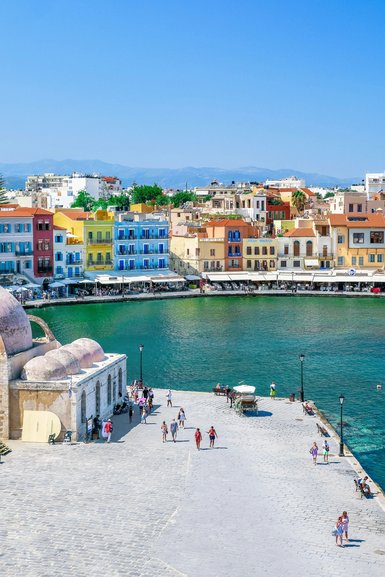 Chania, Crete Walking Food Tour
Explore Chania with a local food lover on a 3 hour food walking tour, strolling leisurely through the backstreets and little-known pockets that only locals seem to know about. In between sampling Cretan specialties, you will also learn about the art of filo making and visit a traditional Kafeneio (coffee house).
Savour the taste of Crete and sample Greek coffee & Cretan bougatsa, a light lunch at an iconic Cretan eatery, while you browse and learn about the differences among Greek cakes and biscuits on display, sampling a traditional Greek dessert and drink as well as other dairy products such as local cheese and seasonal produce from passionate traders who are proud to share their knowledge.
Once you have purchased your tour, please email us your preferred dates between 6 July to 6 Sept 2020 to secure that place.
We reserve the right to cancel the tour if we do not reach minimum number requirements and in that case a refund will be issued.
TOUR INCLUSIONS:
Guided walking tour and commentary throughout
Morning tea at a café
Variety of food and cultural stops
Market visit
Bakery and delicatessen visits
Tasting samples
Lunch
TOUR HIGHLIGHTS:
Introduction to Chania, its food and its culture
Taste the most popular local, authentic and traditional Cretan food
Learn about the origins and health benefits of the Mediterranean diet
Learn about the Cretan way of life and its people's eating habits