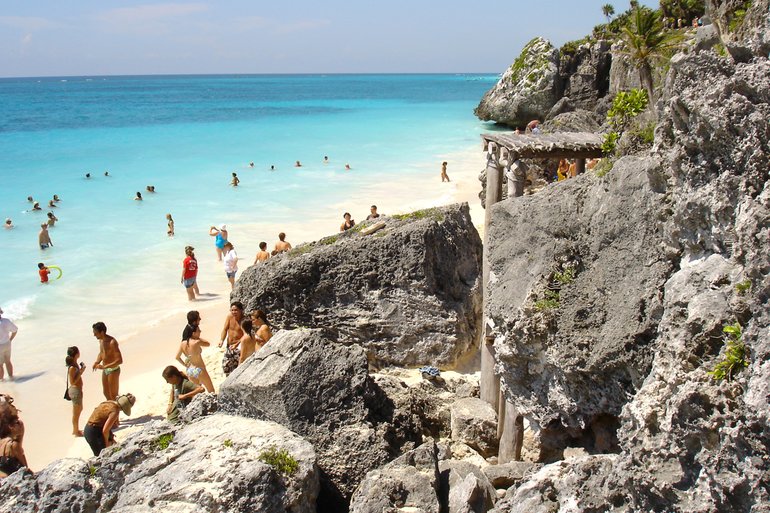 Mayan Beach at Tulum, Mexico
Taking photos of adventures and new destinations is a great part of travel. We all want to have those beautiful images and memories so we can relive those amazing places and experiences. However, I urge you to consider a waterproof camera (or waterproof housing for an existing camera/smartphone).
Learn from my mistake! While visiting the Tulum Mayan Ruins in Tulum, Mexico, we had photographed the various buildings and iguanas, taken the appropriate amount of selfies, and then wandered down to the picture-perfect beach. This place is stunning, with white sand, the ocean in varying shades of blue, and the backdrop of the stone ruins. We absolutely had to visit the beach and at least put our feet in the water.
It was there that I dropped one of our digital cameras in the ocean... and reached for it with our second camera strapped to my arm. Yep, that's TWO cameras ruined in about two seconds flat. Luckily, the memory cards were absolutely fine, and we had our phones to capture a few more images (just in case before!) we left the historic site. Of course, we had no idea if the images were safe on the cards until we got back to a computer. "Nervous" would be an understatement. This trip was my first outside of the country, and our first international trip together, and I thought I had ruined it. It was an awful experience at the time, but we look back on it and laugh now. Of course, the first thing we did when we got back home was order a waterproof camera!
Today, there are lots of options to keep your gadgets dry! Look for waterproof casing for your existing gear, including phones. Some cell phones are waterproof, so if you spend a lot of time around the water, this may be a good option for you. Action cameras are often waterproof as well. Be sure to thoroughly read the information to make sure you're getting waterPROOF and not water RESISTANT. There's a difference. Also remember that the case or gadget may only be waterproof to a certain depth.