Aruba gave us life!!
This was the most romantic/relaxing trip I've been on yet. We booked our entire stay through cheapcarribean for our 3rd year anniversary. We got a really good flight+hotel deal for the Renaissance Resort and Casino. We saw a picture of the flamingo island and just had to see it for ourselves. The rooms were very clean and the hotel is located near a lot of stores and restaurants so we didn't have to rent a car.
The food in the resort is American (in fact most of the restaurants nearby were American too). We didn't get to experience much Island style food which is probably the only downfall of staying at the resort. Everyone spoke English and took American money so it was very easy to communicate. We stayed for 3 nights and honestly this was the perfect amount of time to do everything we wanted. We never even got a chance to explore much outside the hotel area (something we'd like to do next time). The first night we hung out at the pool bar with live music. The next day we went took the boat taxi to Flamingo island which is free if you have a room there. The flamingos were everything!
The island wasn't even very crowded and the weather was perfect. We went in early September. Later that day we got a couples massage at the hotel spa with champagne and appetizers. It was a little pricey but we really enjoyed ourselves. We didn't know much about where the nightlife so we stayed close to the hotel and walked around for the rest of the evening. The next day we rode bikes in the surrounding area and it felt very safe. No weird vibes at all! People here are very chill and laid back. Our kind of people. Its the perfect spot if you're looking to relax or baecay. We did not want to go home!
-Matt & Britt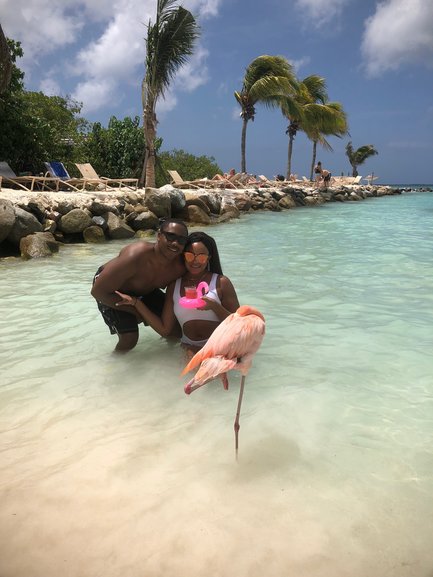 Flamingos in Aruba