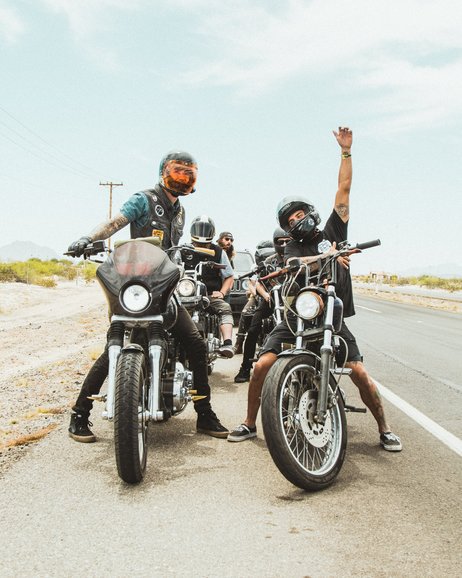 I think its pretty safe to say almost all of us know the things we'd pack for a long holiday, but completing a long distance journey on a motorcycle, that also needs maintaining along the way – that's a whole different story. It seems like when we don't know what to expect from our journey, we tend to pack too many items.
So how do you know exactly what to take with you, and what you should leave at home?
Personal experience and the experience of others is invaluable to ascertaining the 'final inventory' of items that will help you complete a long distance journey successfully and have the greatest time imaginable.
So, through keen listening of other bikers on the road and the lessons we have learned from our travels, this is our guide to what is absolutely necessary and useful for a long-distance motorcycle journey.
The Essentials
---
When trying to consider your own essential items, avoid going crazy with the amount of clothes you bring with you. I would say a good rule is to pack for 5 days – no matter how long you are travelling for, you will have plenty of chances to wash your clothes on the road.
If you are like us, always pack a swimsuit – it's not always safe to go naked, you never know when you might get a chance to cool off.
Leave the luxuries behind, they take up valauble space from your steed. Are you allowed to take your hair-dryer? forget it!
Clothes – try to stick to lightweight clothing, insulated base layers are handy for cold and warm places, keep your clothing simple, 5 tops, 7 underwear, 7 socks, 2 trousers/shorts, a comfy outfit and some comfy shoes like trainers. Squish your rolled-up socks and store them inside your shoes when they are stored in your luggage.
Waterproof Jacket – even visiting the hotter destinations, rain can be unpredictable and sometimes last a whole day or more – 'fail to prepare then prepare to fail' I think they all say.
Decent LED flashight or headtorch (or both!) – you never know when you might need a decent light source, and far better than using a mobile phone.
Waterproof pouch or pocket for vital documents – passport/right to travel, insurance documents, registration documents, vehicle tax documents
Portable device charger – having a powerbank with you is like having an extra lifeline and makes you feel more relaxed knowing you have some extra power for your electronic devices and can afford to venture into more remote locations.
Reusable water bottle – We prefer the flexible bottles over the metallic solid bottles for ease of carrying and packing. Especially when riding in hot countries, you don't want to risk becoming dehydrated. A lack of fluids can severely affect your concentration, rational decision making, your ability to cool down and the energy levels you have. On the subject of warmer locations – don't forget to keep your salt levels under control, too.
Lock/Security/Tracker – In an ideal situation, you would have a GPS tracker with SIM card hidden on your motorbike. In some cases there is no way we can prevent our bikes beign stolen, the beauty of the tracker is that we can see where the bike ended up and actually get it back. A secure lock that doesn't weigh an excessive amount is also a great idea. The last thing you want is your whole life on wheels to be stolen. Alarmed disc locks are a good idea, as are the crafty locks that allow you to chain your handlebar end to the motorcycle's frame.
Resealable bags – store any items that are wet, or that you want to prevent from getting wet in resealable zip bags, they cost pennies and are super useful on long journeys when you never know what could happen next!
Bungee cords/ratchet straps/cargo net – a safe and easy way to store your valuables on your motorcycle. What's incredible about cargo nets is that they can store a huge amount of stuff securely and without the need for that stuff to fit into any of your bags. Try to avoid overloading the cargo net and secure it well with bungee cords or straps. On the journey make regular checks that your luggage is still safe, secure and it is not moving around.
Wearable accessories
---
We have both learned the hard way from our rides that being ill-prepared for the weather to change can lead to delays and risks in your journey.
If the conditions are too cold or too wet for you to handle, it will hamper your progress on the road. Prepare yourself for cold and warm weathers by carrying these essential bits of gear.
Summer and winter gloves – perforated armour gloves are fantastic for sun-baked road trips where you hands really get a chance to breathe and you don't have the impossible struggle of trying to remove a sweaty hand from a leather glove (think Ross in that Friends episode). On the other hand they won't be so handy when you are climbing a mountain pass chasing clouds where temperatures can plummet fast. Find some well-reviewed winter gloves that are not only thermal and warm but also totally waterproof. Don't worry how the winter gloves look too much or if they have too much armour, the best glove will be the one that keeps your hands continually warm and responsive through the coldest of conditions.
Face and neck protection – Whichever your preferred style, a thin base layer that protects your neck and face is great for cold and warm temperatures. Thermal headwear is great for colder places and a thin layer for your neck in the hotter places I have found to be great at fighting off wasps – it has happened to me and I can honestly say, wasp stings to the neck are not something you'd want. Neckubes, balaclavas, scarves, masks, bandanas – there are a range out there for you to try with the multi-use headgear being the most useful for saving space and offering options for a range of eventualities. We recommend you check out Buff for a stylish range of well-made head and neckwear.
Spare lens/goggles – If your helmet has a range of different lenses make sure you are prepared for bright and dark conditions. Clear visors are great for rain and most light conditions. Tinted visors are fantastic for super sunny days, but are hideously impractical and downright dangerous as soon as daylight fades. Yellow lenses I find, are fantastic for night-time riding and work especially well in busy cities at night where the treatment of light can make the oncoming headlights less dazzling and easier to distinguish other potential hazards.
Base layers – A lightweight top, thermal leggings or a whole suit that you can wear under all of your gear often takes care of any unwanted cold and means you dont have to wear a wooly jumper under your biker jacket! Why not check out the awesome range Sportsbikeshop have on sale, they ship to the UK, Europe, USA, Canada, Australia and New Zealand.
---
Most motorcycles come equipped with a toolkit that can be stored on the bike. Whether you still have the toolkit with your machine or not, it doesn't always carry all of the necessary things you might come to need anyway.
You might think that having breakdown recovery means you don't need to carry any tools, but imagine the situation where you end up stranded somewhere remote and you know what you need to do to get your machine running again, but you just can't access it without the tools.
At a bare minimum you at least need the tools required to remove plastics/panels from the motorcycle to give you access.
If you have the toolkit for your bike it should include a spark plug removal tool, mine does. If this is not the case, pack one with the rest of the essential tools below.
I keep a compact selection of just enough tools with me that have never let me down.
Small 1/4″ ratchet – 8mm, 10mm, 12mm and 13mm sockets.
Screwdriver with interchangeable tips – flathead, crosshead, posi-drive. (look out for a ratchet attachment on the end of the handle it's a worthy upgrade here)
Allen keys on a rail – I like to pack 2-10mm with rounded long-ends
Long-nose/bent-nose pliers – invaluable for those hard to reach places!
10/13mm double ended spanner – 2 spanners in 1 of the amazingly common sizes we always need
A big strong flathead screwdriver – for leverage (or protection)
Compact impact driver – avoid rounding off and perishing difficult to release bolts and screws, pack an impact driver and hammer your way out of a potentially bad headache of dealing with a broken bolt.
Compact tyre pump – Maybe you want to adjust your tyre pressures for a change in road surface, or perhaps even you notcie your tyre is suffering from a slow-puncture, a small tyre pump is something you simply cannot create on the road. A compact pump that is effective won't cost too much and could save you when you need it most.
Mini Multimeter/Electrical tester – worth their weight in gold if you get into a pickle and don't know how to eliminate possible electrical issues with your motorbike.
Remember: You only need to carry the tools that apply to bolt sizes on your motorcycle. Full kits take up unnecessary space.
Snacks
---
It might sound ludicrous to carry snacks around with you while you ride when you could just stop somewhere to eat, but you wouldn't believe how effective they are at keeping your mood lifted and your energy levels high.
If a 5-minute stop to eat some snacks, means you can hold off for a few more hours of riding until you reach your destination (instead of stopping to waste half an hour looking for somewhere to eat every time you get hungry) then you can see how much time they can save you on the road.
Snacks that are sensitive to temperature change like soft cheeses will go out of date quickly and cause a mess.
Make sure you choose some snacks that have nutritional value and that you like the taste of too. For veggies and vegans, nut and oat-based snacks are great and for the meatier travellers, why not try some cured or dried meat snacks like jerky, salami or pork crunch.
The SOS kit
---
Now that we've covered all of the things you should carry to be prepared for any situation, here are a few more specialised items that we also like to pack. For the absolute survival situations, we know that with these items onboard, we can dare to ride anywhere we wish.
Cable ties/mechanic's wire – fastening, securing, replacing a bolt, holding everything together. Unlock and re-use instead of cutting and wasting.
Strong tape – it can hold cracked bodywork together and practically anything if you tape it right and tape it tight.
A rag – exactly that, something that is doesn't matter if it gets covered in oil or chain lube.
Rain-X – a hydrophobic fluid that effectively repels water from surfaces like your visor or screen. This product seems to work the best in the whole range, reapply the layer when you see its effects are fading. Get a small bottle of Rain-X to keep the rain out of your eyes and let you have a safer riding experience. Not being able to see when it's raining hard can be a scary to say the least.
Camping knife – Useful for preparing food on the road, to cut anything free or even to protect yourself from wild animals depending on where you are! We bury it into our luggage and have never had a trouble as many countries we have visited is considered normal for somebody to carry a small knife.
WD40 – Ah, the aroma of my childhood. WD40 will release stubborn bolts, keep areas protected from water and corrosion, clean off unwanted gunk, remove crud, there's a thousand uses for this clever little solution in a blue and yellow can.
Tweezers/sewing kit – Tweezers are the best tool for removing hard-to-reach, small items or splinters. A small survival sewing kit can be used to repair torn or damaged material on your gear.
Conclusion
---
This guide took you through everything that we like to carry on a long-distance road trip. This inventory however, is constantly being rethought, adjusted and added to as we never stop experiencing new situations that make us realise there was something else we weren't prepared for.
Overall, being resourceful and resilient is the greatest tool you can have as a motorcycle adventurer. If you haven't packed a particular item, you can be creative in your problem solving and find a solution using what's around you.
Think of the trip you will be taking and then prepare other situations you might face on the road.
If you are riding through a lot of mountainous areas on your trip think about your clothing, the condition of your brakes and the stability of the bike.
If you are riding through deserts and dunes, consider a good option for staying hydrated and protected from the UV levels with sun cream and a form of breathing filter for the dust.
Create your own inventory and then get creative with the endless arsenal of small gadgets and tools to push your adventures into new territory.
If there are any essential pieces of kit for a long-distance journey, please leave us a comment with your suggestions, we are always happy to hear from our community!