At the young age of 18, I embarked on a journey to Amman, Jordan to study Arabic. In Jordan, I lived with a homestay family. They spoke maybe 3 or 4 words of English and although I knew some Arabic, I was scared to use it. This made for a very tense household and I didn't feel like their homestay child, more or less an unwelcome guest or just a pain in the ass. There were many instances of miscommunication and even times when this miscommunication was cause for a scolding in incomprehensible Arabic.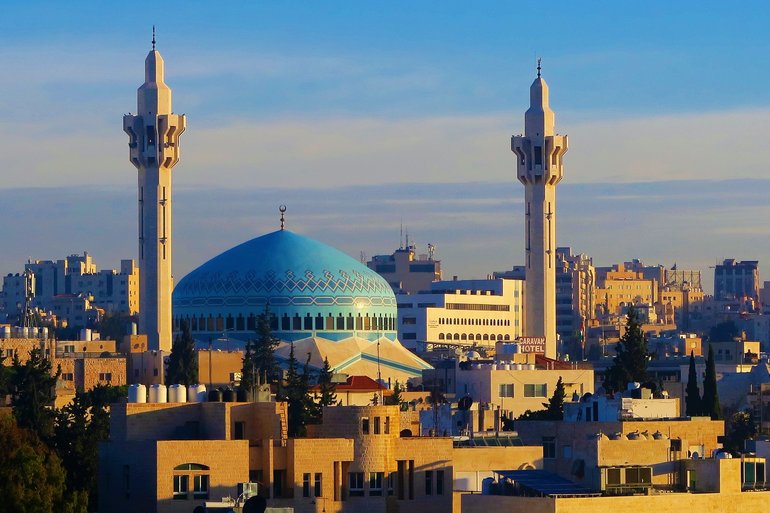 King Abdullah I Mosque, Amman, Jordan
As a 'wannabe' linguist, I now look for any opportunity to speak another language. I'm not quite sure why I was so scared to just try and speak Arabic with my Jordanian family, but it was a hard lesson I quickly learned. Now, I look for any opportunity to speak another language, whether it be ordering my food in Spanish at the local Mexican digs of Arizona or chatting up the Middle Eastern woman standing in line at the grocery store. I've learned that the smallest of actions go a very long way when it comes to language.
I have come to realize a few things I'd like to share with any woman who decides to visit Jordan:
1. Catcalling is inevitable; don't get upset, angry or scared. 98% of the time, it is harmless flirting by young boys who have nothing better to do, but sit around in the streets looking at tourists.
1. Be careful with street food! I had food poisoning for an entire month! Avoid meat that is sold outside and covered in bugs (obviously?) and do some research before finding a restaurant. There are lots of foodies that have taste-tested it all for you!
1. Taxis are the most common form of transportation, but they have a bad reputation for ripping people off! As soon as you tell him your destination, ensure that he turns the meter on. Many times they will try to give you a fixed price that can be 10x the actual price! Be stern and if he refuses, get out quickly. As a woman, you should NOT sit in the front seat with the driver. Always sit in the back.
1. And lastly, ACCEPTANCE. The biggest struggle I have faced as a strong-minded, independent woman in the Middle East is thinking I am entitled to different treatment or that I can change the culture. Remember, you are in their home country. I have had many dangerous encounters during my travels probably due to my headstrong and resistant personality. Erase all pre-conceived notions you may have, all comparisons to your country, all "Well, in my country, we…" and just listen and learn.
Jordan is a beautiful country with beautiful people. If you look outside yourself, you will find the beauty in every place you travel to.