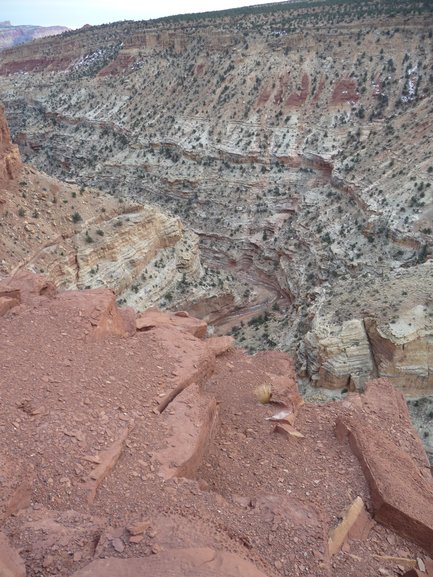 A Grand Canyon like view in Capitol Reef NP
The North Rim of the Grand Canyon is 1,000 ft higher than the more popular South Rim. The road in to the North Rim is closed by stow from roughly mid October to May. The North Rim Lodge, a National Historic Landmark, was built in 1928 from local stone and timber. The dinning room is sits right on the edge of the canyon, and when we lunch at a window table, it looks like we are suspended in air over the chasm. Although we have never done dinner there, it should be an even better experience because the view-- looking south from the North Rim into the canyon, is also facing the mid day sun. With the sun shifted to the west for dinner, the glare shouldn't be as bad. We have never mode a lunch reservation, but we always go late in the fall, never on a week end, and lunch late. I do not know if a window table can be reserved in advance, but it would worth your time to look into it.
Although the setting is what makes it memorable, the food was pretty good. All in all, an experience not to be missed.
NOTE: This is more than a day trip from the South Rim, even for only lunch.