Museums came in three sizes-- tiny (the house where Mozart was born, the house where where Kafka lived), small (2-3 hours sees it all), and big (two hours is just a start). The problem a big museum is that it is hard to ever see it all. We lived in Washington D. C. for 27 years. I would estimate that we went to the Smithsonian on average 3 times a months for two hours each time for 27 years-- say 2,000 hours in the Smithsonian, and we never saw it all. The Wallace Gallery in nearby Baltimore (we lived about a half hour drive from both museums) took 2-3 hours to see it all. We came to look at the Wallace as the best of the Smithsonian. Instead of collection and displaying everything, Wallace chooses to buy and display one examples of the best of all fields of art-- painting, every, gems, illuminated manuscript, Egyptian Mummies.
The Smithsonian's vast Natural History museum once had a brilliant small museum inside it. Splendors of the Natural World, We called it "petty things". Every time we visited the Natural History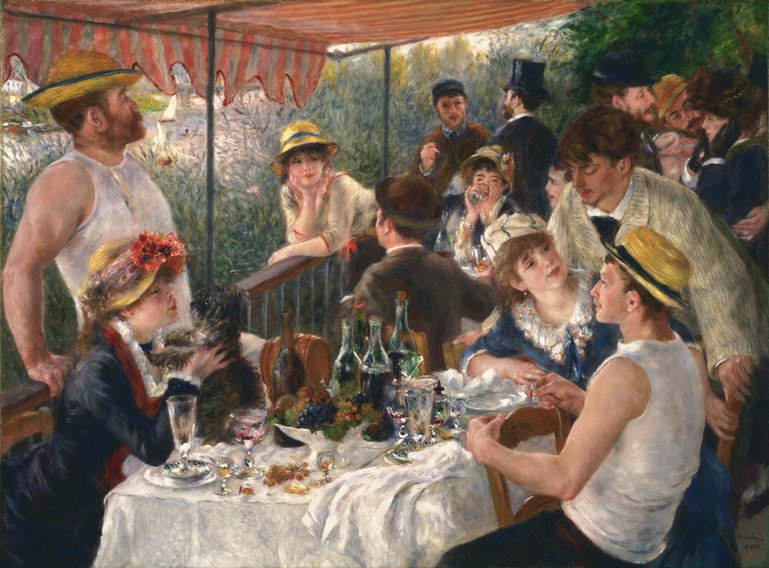 Great Renoir in the small Philips Gallery, Washington, DC
Museum, we started our visit with another trip thorough Pretty Things. Then the Smithsonian closed Pretty Things and replaced it with some typical big museum excess, which was worth one and only one visit. The idea that made Pretty Things a winner was to show your best, and keep it short and sweet. That is the key to the great small museums.
Some Great Small Museums
The Walters Collection, Baltimore, MD, USA. We lived in Washington DC for 27 years and spent a lot of time at the Smithsonian, but our top pick for a museum in the area was the Walter's, about 30 miles away (There are lots of train connections between DC and Baltimore). We think of the Walters a way to see the best of the Smithsonian in half a day, including lunch.
Clark Art Museum, Williamstown, MA Built by the Singer sewing machine family, this attractive small museum has an outstanding collection of Impressionist Art.
Unterlinden, Colmar, France is generally considered the second best museum in France, after the massive, endless Louvre, but you won't wear yourself out seeing all of the Unterlinden collection. Housed in 13th Convent, the various treasures of the Unterlinden can be seen in 2-3 hour visit.
Rijksmuseum, Amsterdam, Netherlands. The Rijksmuseum has transformed itself from a long stint as typical exhausting big museum into a small museum rivialing the Walters. There is now one spectacular Rembrant room. Add in three Vermeer's and a big collection of model ships in the basement, and a viist to the Rijksmuseum is about as good a way as there is anywhere to spend 2-3 hours in a museum