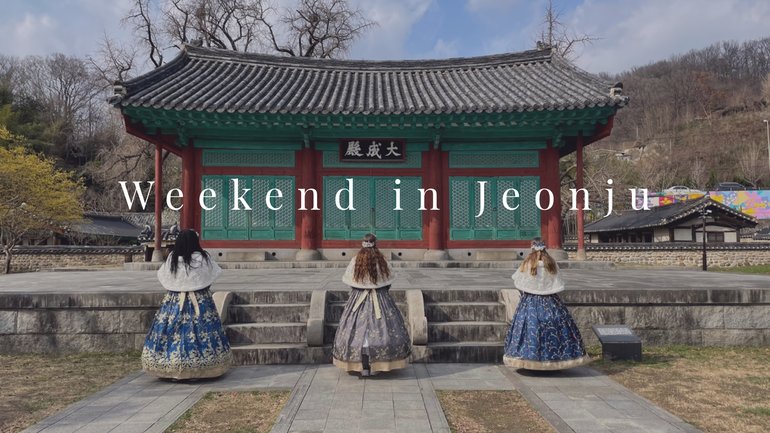 On Friday my friends and I decided to depart on a two-day one night trip to the southern city of Jeonju. We left on an express bus at about 7 am and arrived at about 11:20.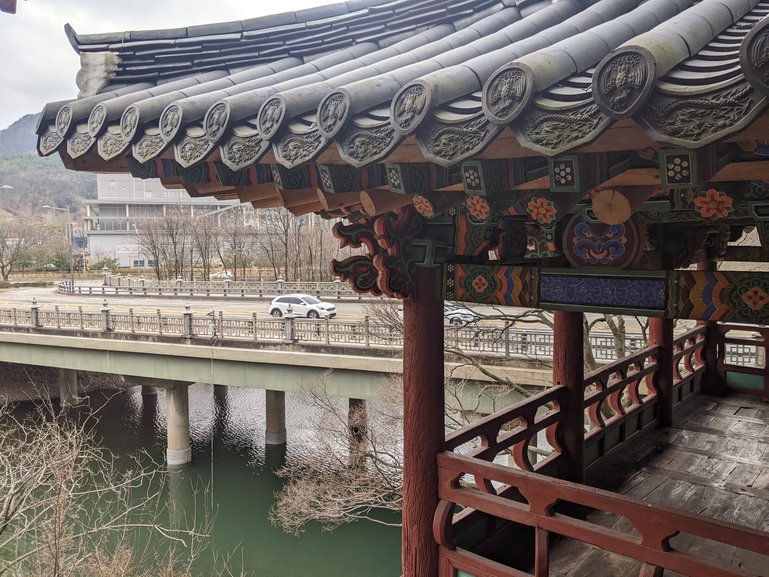 Pavillion
Sadly I had a serious covid scare on the bus as my best friend's roommate tested positive and as we were on a bus for nearly 3 hours we didn't know if we were traveling with covid19 and what would happen if we did have it and have to be shipped off to a quarantine facility. For those of you not knowing about how strict Korea is on quarantine. Since I live in a dorm after I test positive the hospital will pick me up and take me in an ambulance to a facility where since the facilities are packed you most likely have a roommate. Spending 7 days in a hotel room unable to have any freedom and possibly a stranger living with me I was so anxious that I would test positive. After taking a self-test in the bus terminal bathroom Kimberly and I both tested negative and distanced ourselves from our other friends on our trip. We were still wary but made the most of our trip after getting tested again.
On our first day after the covid scare, we ate some of the famous food in Jeonju. Bibimbap is a mix of lots of veggies and rice in a hot bowl and maybe some meat. The food was amazing even to me the avid bean sprout hater. We walked through the city to find our Airbnb which was a traditional home. After dropping off our stuff in the rain we explored the area and took lots of photos.
There was a lot in our vicinity and we were able to snack on our favorite street foods. As the night ended and we were walking on the historic bridges over a pretty creek a man was playing some older Korean music and we sat and listened. The two days we were in Jeonju were quite chilly but definitely manageable.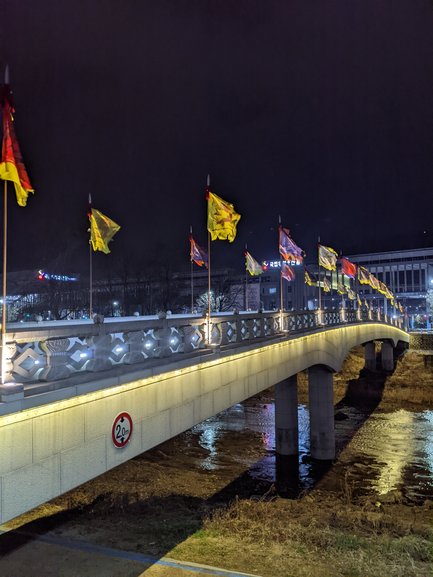 The second day started with Kimberly and I took a bus for an hour to a covid testing site to make sure we were safe. We slept with our masks on to limit exposure to our two friends but we both tested negative again! Now we were truly comfortable and after leaving the Airbnb and meeting in the Hanok village we walked more and got some famous galbi and more bibimbap after eating our fav street food the whirlwind potato. Its one big spiral of a potato on a stick.
We then went to a beautiful pavilion looking over the water, it was a writer's retreat and it's in the pictures above. Also whenever entering these you must take off your shoes so we had to remove our shoes at least 10 times during this trip and our socks got so dirty but It was for the best. Then we went to the famous mural village. A very old neighborhood on a hill where every home seems to be Painted with some sort of pop culture or historical reference. It was very colorful and nice to see. We went up a small mountain to look over the entire hanok village and took so many pictures.
Lastly was my favorite part where we dressed up in Korean traditional clothing (but more sparkly than historical) and went to the Confucian school. We all were able to choose which outfit we thought was prettiest and got our hair done as in the pictures above for about $25. We definitely took enough photos to fill a magazine. The Confucian school was also mostly deserted so the pictures were amazing with my 3 friends I went with! I am very happy to go with new people while traveling. Most of the time it was just Kimberly and I but this time two new people to Korean joined and I hope they had a good time(:
We ended the trip well and even with a rough start had memories to last a lifetime!
We are planning 3 more trips and somehow my budget will allow it. I am excited to say the two-day trip only cost me $115 in total so definitely a score.