In three trips to Prague, we have probably eaten six times at U Bila Krava (At the White Cow). U Bila Krava is a French steak house, serving grass raised organic meat from Charolais cattle. EU beef is generally free range and comes from different breeds of cattle than in America. The taste is different, and the meat more chewy (many call it tough). We don't eat much beef, especially steak, in the EU except for stews or long cooked roasts. Nevertheless U Bila Krava is such a delight that we make it regular stop when in Prague. Every now and then, I'll even try a steak, which always confirms my rule, don't eat steak in the EU. On the other hand, their Beef Bourguignon "Famous traditional Burgundy dish - beef cubes marinated in Merlot wine for 24 hours, then simmered in strong sauce flavoured with cognac, mushrooms, bacon and small onions" for $12 is a regular guest at our table. A 7 oz. sirloin steak costs $15.00. There are always some dishes offered that are not beef. French restaurant or not, we always have Czech dark beer, 11% alcohol, $1,90.
U Bila Krava
The staff occasionally struggled with English, but they were very friendly and it always works out. The decor is either silly or quaint or all of the above. Visit their web site to see photos of some of the collection of small dinning rooms. There are also tables for two tucked away in every possible nook and cranny.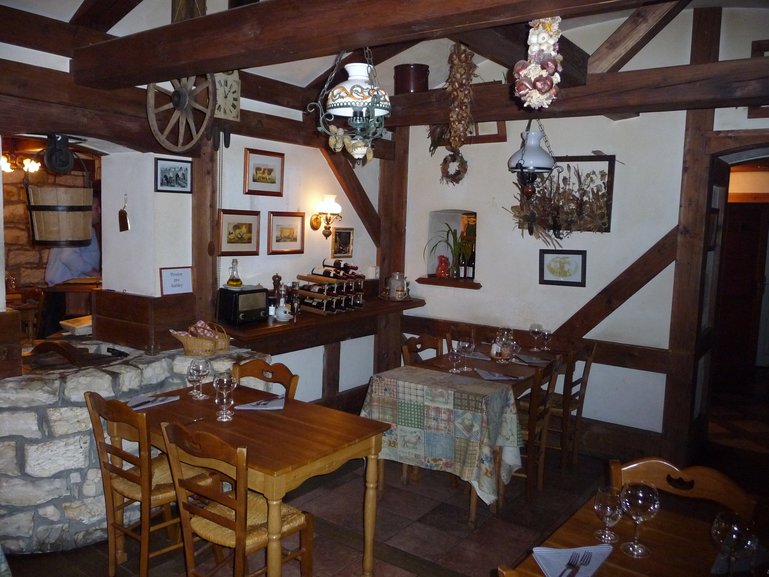 U Bila Krava
To get there, take the Green Line Metro to Namesti Miru, an attractive square in Prague's art nouveau district. As it is downhill from Namesti Miru to Wenceslas Square, we generally walk down to the Muzeum Metro station to return to our hotel.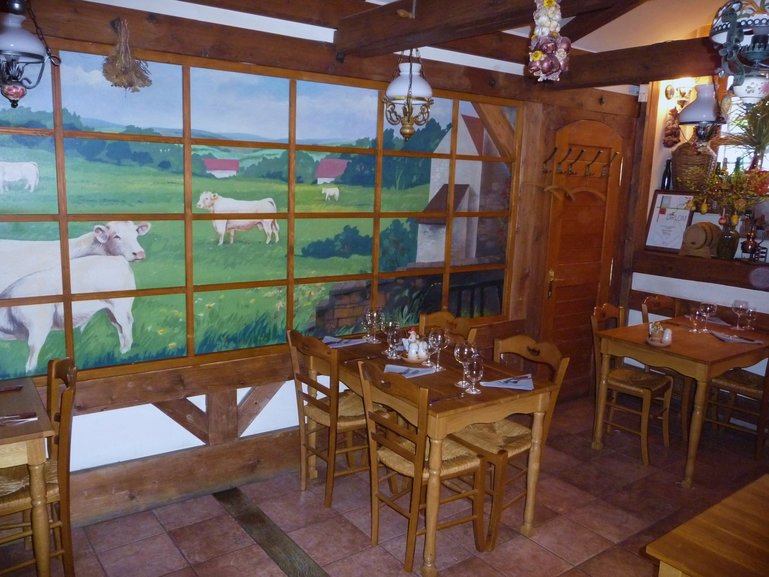 U Bila Krava
Its worth ending with a quote from the web site: "The meat ageing process is becoming the key to the final meat quality, its tenderness, juiciness and taste. In the Czech Republic, meat is frozen or distributed usually 3 days after slaughter. However, we leave meat age for about 21 days while we strictly observe conditions as it is usual in France. We do not freeze meat in order to preserve its consistence and taste."