Transport options are plentiful in Chiang Mai, but which is the best?
Well, I just got home from an outing in Chiang Mai and I feel like I've just sucked down two packets of Camel unfiltered, again, but I don't mind this time because I feel like I've made a breakthrough. So, here's the options and the best solution.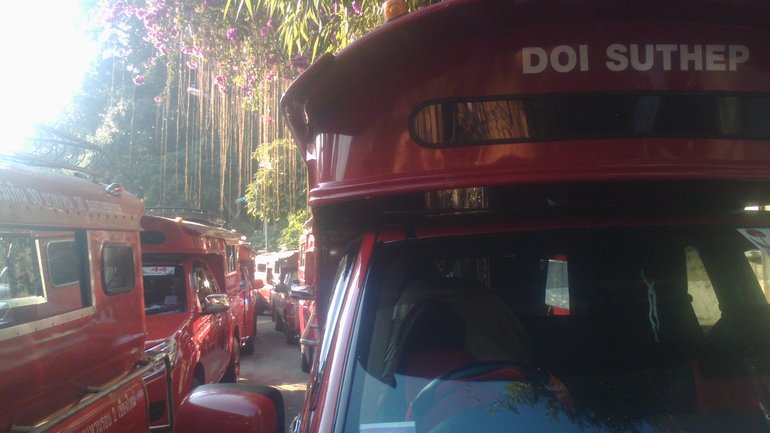 Red Truck
---
How to: Wave down a passing red truck say where you want to go and ask how much. Usually it's 30BHT per person but may be more if you're going further. If you think you're being charged too much, just smile and walk away. Also, language can be tricky, so pick the biggest landmark near where you're headed and get dropped there.
Pros: It's a shared taxi, so you can meet fellow travellers and get good info or tips. It's a very cheap travel option. When traffic is good they are fine, as you can see in this clip
Cons: Can get very crowded and uncomfortable and sometimes your fellow travellers are irritating. Also, as it is charged per person it can end up being more expensive than other options.
The worst of the red truck comes when you hit traffic. At these times their lack of manoeuvrability means they can't negotiate like a tuk tuk and they are pretty closed which feels like all the fumes from surrounding cars get trapped with you in the back. I could be several points lower in my IQ than I started with at the start of my two-month stint in Chiang Mai.
Tuk Tuk
---
How to: Follow the same procedure as for the red truck, then hop in the back. To get to most places around the city will cost 150BHT, for the ride, not per person.
Pros: Plain and simple it's fun. There's nothing quite like zipping down the street with the warm Thai air blowing your hair around, particularly at night when they put on the disco lights and funky music.
They're also surprisingly manoeuvrable through dense traffic.
Cons: Obviously more expensive than the red truck, but still only around $AUD 6.00.
While they can be quick and fun, the magic soon disappears when you hit a traffic jam which is anytime, on any road, but most likely between 4pm – 6pm on the arterials. At this time the low seating of the tuk tuk puts your breathing apparatus at the same level as surrounding vehicles. However, the open construction of the tuk tuk means you don't feel like you're in the worst kind of gas chamber.
Walking
---
How to: At first this comes under the heading of 'the brave' but it soon becomes easier as you come to understand the non-verbal language spoke between drivers and pedestrians. Walking along the side of the road will often mean that you're walking in the road as footpaths are not level. In these situations, just check over your shoulder before you step onto the road to indicate your intentions. As long as there's at least ten metres between you and a scooter step out and stay to the left. Traffic will go around you without complaint.
The other skill is crossing the road, it can be a little hair raising. But again, you indicate your intentions by standing on the curb, then when there's a slight – and I do mean slight- break in the traffic, take one step onto the road. Once you're there you'll notice they slow down, so just keep walking. Sometimes you can only get half way across, but they will slow and that is your cue to cross. This system is used on small roads and large, pedestrian crossings and none.
Pros: It's obviously the cheapest option, and the one that gives you the best close up and personal experience of Chiang Mai. Surprisingly it is often the quickest means of transport, especially in the 4pm-6pm timeslot.
Cons: It can get pretty warm in Thailand, even in the winter it's in the mid-30's so if you want to look fresh when you arrive at your destination, maybe go with another option. You also need to have your wits about you because the footpaths are often broken or uneven and wires hang low. Having to concentrate so hard can get a bit wearing, but you do get used to familiar routes. Again, the 4pm-6pm time can be a hideous time for the pedestrian too as most walking routes require you to walk and mingle with gridlocked traffic as it spews fumes into your hard working, walking lungs. (See the traffic in this clip)
Grab
---
How to: It works just like Uber, with the option of paying cash. Just download the app and off you go. To go from Nimman area to the other side of the old City costs around 100BHT for a grab, for the ride, not per person.
Pros: It removes the need to communicate your destination, so is less stressful for both parties. You're in an airconditioned car, which takes you out of the fumes. Surprisingly it can be one of the cheapest options. They are fast to arrive and provide an excellent standard of vehicle and driver.
Cons: You need internet to use the app, which isn't a problem most places as everyone offers free Wi-Fi. No manoeuvrability through the traffic, so it can be slow, particularly 4pm – 6 pm.
Best Solution
---
At night, always get a tuk tuk. To go a long distance either get a Grab, or split the journey into a walking portion and a red truck portion. But between 4pm and 6pm don't go anywhere. If you find yourself out and about looking for a way home from about 3.45pm, take yourself off the streets and enjoy an icy cold beverage until the sun has gone down.