Obviously when travelling you have to be careful, but it helps to know what to avoid before going! On this occasion, it was the 'Yellow Tuk Tuk Scam' in Bangkok.
We were stopped by a man telling us we could get a Tuk Tuk for 60 baht that would take us to the Happy Buddha, then to some other places such as the Grand Palace and wait outside whilst we walked around. This wasn't exactly what we wanted to do, but we got talked into it by a very convincing and seemingly nice man. Silly us! Writing it now it definitely sounds too good to be true, but everyone we'd met so far had been so nice and willing to help that my naivety meant I didn't even think twice about this. Hopefully by telling my story, it'll help people recognise it as a scam in the future and not fall for it!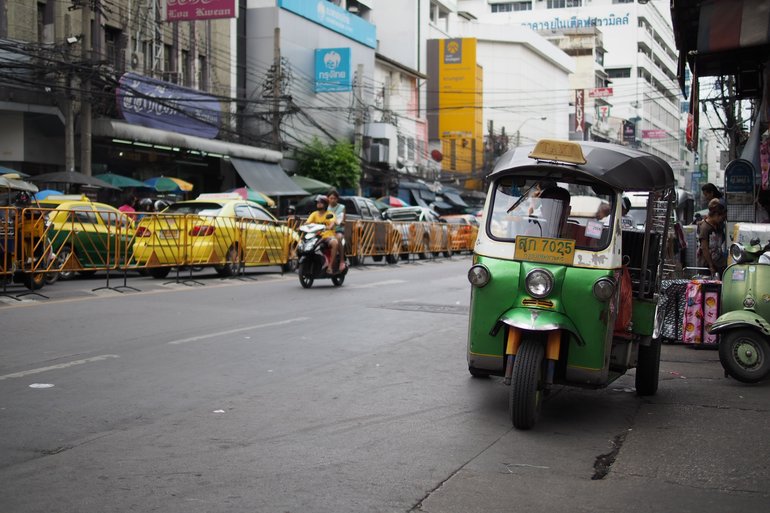 Bangkok
Our story...
We got in the Tuk Tuk (he said this was a special deal for Yellow Tuk Tuks) and went to the Happy Buddha, where we got out to have a look around as the driver waited outside.
James said to me he felt like something wasn't right about this and it was too good to be true, so we quickly googled 'Yellow Tuk Tuk, Bangkok' and the first thing that came up was 'Bangkok Top Scams'. It was lucky we checked then! I hadn't been using my phone over here due to costs, but I'm glad I turned on my data just to check that. The scam is they take you to different sites, but then make you go into a gem shop where you're pretty much forced into buying something expensive. We went back to our Tuk Tuk driver and told him we'd changed our mind and we'd just like to go to the museum, but we'd still pay him the 60 baht. He got very angry and told us no, we had to continue on the tour so he could get free fuel (apparently this is what they get from taking you to the gem shop). We told him we did not want to go anywhere else, and if he couldn't take us to the museum we'd give him 60 baht now and walk there. He then said he was ringing the police, and got his wallet out (I think he was pretending this was his phone) at which case James just told me to walk away. As we walked off he agreed to take the 60 baht and let us leave.
Him threatening to ring the police really scared me, but as James said to me at the time, they're just annoyed they've been caught out and they know how to scare tourists. Once he realised we weren't going to get back in the Tuk Tuk with him he did just take the money.
Please be careful! I hate to say it, but if something seems too good to be true it usually is – it doesn't hurt to quickly google and check. On this occasion we were very lucky, but had I been with a girl friend I don't think we'd have been as brave as James was and would've ended up getting ripped off!
Anyway – lesson learnt! It could've been much worse. But if you're travelling to Bangkok, please beware!