The idea of climbing up 500 stairs to the top of a mountain in the cold rain seems very unappealing to me. We are in the Ninh Binh Provence of Vietnam, two hours away from Hanoi. Our bus drives us towards a set of sharp craggy limestone mountains that suddenly jut skyward from the flat valley floor. We seem so small in the shadows of the giant mountains. I can see white stairs that run zigzag up the front of the mountain directly in front of us. Here are the 500 stairs, the 500 obstacles that must be overcome before you reach the top. The white mist of the rain floats in and around the mountain, giving the landscape a surreal and magical appearance. Múa means "dance" in Vietnamese because dance performances used to be held in the cave at the foot of the mountain. On top of the mountain is the Temple of the Goddess of Mercy, Quán Âm.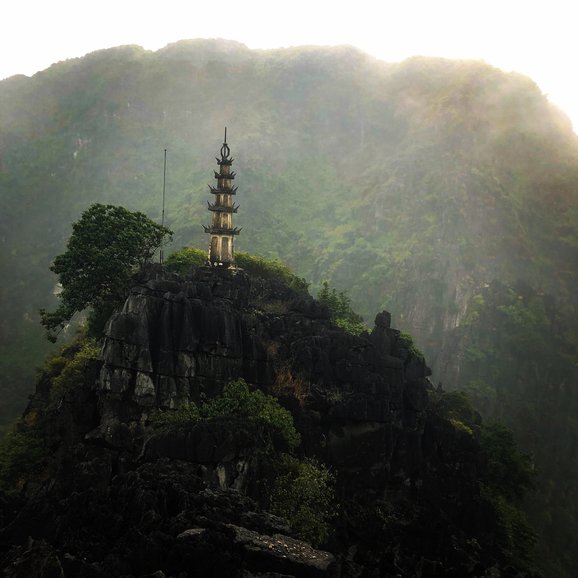 Múa Mountain
We begin our ascent of the white marble stairs that form a walkway resembling a mini Great Wall of China. At the base, the Dragon Prince winds down the mountain towards the bottom, as if he is leaving Âu Cơ, his fairy princess, in a rush to get back to his beloved sea. There are only a few other travelers scattered along the stairs. The air is thick with the heavy mist of rain. The fog balances on the tip of the mountain, neither descending or rising, just balancing. With each segment of the steep path, I breath more heavily, my heart pounding in my ears. I am determined to keep going without pausing. Finally, we reach the top. I stand there, elated by the pure physical exertion it took to reach the top. Feeling my lungs gasp for air, my heart beat, my legs ache, I feel alive.
On top of the mountain, Quán Âm looks down on the beauty of the landscape with a calm serenity. I take in the view, the river below dotted with tiny boats, the surrounding mountains, the green rice patties, the tall slender pagoda on the far peak. It is a magical and majestic sight. The place where mountain joins the sea connected by the lifeline of the river. To be in this place is to understand why the Vietnamese people believe their very existence sprang from the union of mountain and sea, of fairy and dragon. We descend the mountain, elated, inspired, invigorated.