As someone who has been in love with trekking since I was a little kid, the Everest Base Camp trek was nothing short of holy for me. When I started training for it three months ago, I was nervous.I thought there was no mountain high enough and started research on scaling Mount Everest, or trekking to its base camp at least.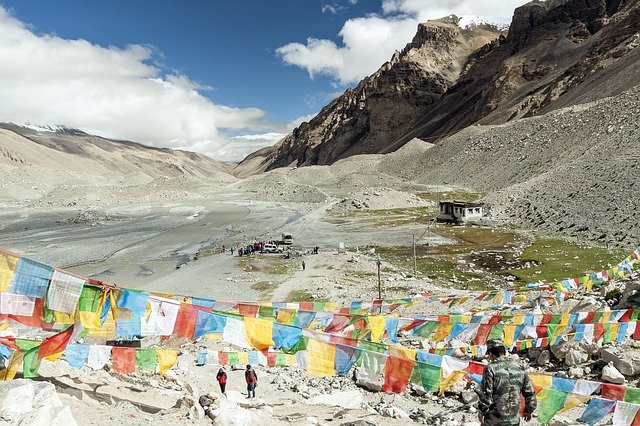 Trekking to the Everest Base Camp
After reading everything from tweets to sports journals, I decided it's better to go with a good agency rather than hiring a porter or guide, or marrying a Sherpa. I read the reviews and finally made my booking two weeks later. I spent some time figuring out everything from the Everest Base Camp trek cost to all I had to carry and train for. Then I prepared for about seven weeks, and finally I was standing at the airport, with my trekking backpack next to me.
I landed in Kathmandu, where I was greeted by my enthusiastic operator. He took me to a hotel in Thamel, which looks like a set of a Bollywood music video. Many stalls and shops skirt its narrow streets, which look smaller thanks to the rows of hanging flags and lights. It has a thriving nightlife. After I met up with my group in the hotel, we went to eat something local and enjoyed some live music.
From Kathmandu, we flew to the Lukla airport. It was a very small plane and it goes between huge mountains, so it can be quite scary. But I was struck by the beauty of the white of the snow against the green of the Solukhumbu valleys. After breakfast we started for Phakding. The agency employed Sherpas to carry our luggage all the way up the mountain. None of them used the help of yaks! We walked up the steps, and I could feel the difference of the thinner air. We walked on for three hours, basically getting our groove on and getting a feel of what was coming.
The longest walk was our trek from Phakding to Namche Bazaar. It took us around seven hours. I was quite slow, as the trail had gotten quite steep. The clouds were all around, and the Dudhkosi river was beside us. Every now and then, a herd of huge yak would pass by. We'd been instructed to press ourselves against the rocky side of the trail when the yaks came by – never against the edge where the drop was, in case the yaks brushed against us and knocked us down. We even had to cross a long swinging metal bridge over a particularly deep valley. It was all so fairy-tale like and thrilling.
Even though most of my walk were moments of wrestling with thoughts of whether I should put my sweater on or take it off, I took notice of how steep the trek to Namche was. We had to take a day to acclimatise to the thinning air. Namche has two money changers but I was already running low so I took a walk around and visited the cultural museums, and withdrew some cash. The next day, we headed to Tengboche. We could see the Everest in front of us the whole way! It rained a little but when the clouds cleared up we could see mountains all around us, like we were in a snow globe that someone stopped shaking. We took another day off in Dingboche after crossing clear streams, wooden bridges, one massive iron bridge and experiencing our first snowfall.
The trek to Lobuche was like practice for the Everest Base Camp trek. It was getting really cold, like at least -15 degrees cold. It was also getting windy. The trees had faded into low shrubs and rocks, and the views were stark and dramatic. We had to climb across the Thukla-Dukla Pass, which seemed almost unbearable but we did it. Harsh conditions aside, it was harder to take in the reality of the dozens of memorials that stood there in honour of dead summiteers. It was a sober moment for everyone to think about those who never made it back home from here.
As we approached the base camp, I developed a mild headache, thanks to the altitude. I wasn't too hungry but I forced myself to take a few spoons of porridge and some medicine. Soon after that, I felt better. When we finally arrived at the Everest Base Camp, it felt so good! We were here and we had beaten all the odds. If I was slow before, I must have crawled to Gorakshep as we crossed the 5,000 metre/16,400 feet mark and from Gorakshep to the camp. But we were surrounded by mountains and they were so close, it really did feel like we were on the top of the world.
Kala Patthar is a short trek away from Everest Base Camp, but it gives you the best view point to see Everest as the first rays of the rising sun hit it. You have to wake up at 3:00 a.m to reach there in time for dawn. I was feeling tired and I didn't want to wake up so early, because we had to trek back also, but I told myself I'd be crazy to miss this chance. It wasn't like I was going to come back here soon.
I woke up at 3 a.m. with the other trekkers and was arguing myself the whole time. One part of me didn't want to go out into the cold, and just wanted to go back to sleep. The other part of me said to imagine getting back to my city and thinking about that one morning that I couldn't sacrifice my sleep. So I listened to the latter and laced up my hiking shoes.
It was really tough to get going, but once I was on the trail with the other trekkers, in the dark, I felt so strong, so alive. The excitement of the darkness, the lightness of the air, the reality of being higher than everyone I knew in my life gave me such a thrill. We got there in time for sunrise and I saw Mount Everest turn golden as the day dawned. I had tears in my eyes as I stood there, and would not have missed it for the world.
I was a little relieved to return, but somehow, I hated turning my back on Everest. I'd gotten so accustomed to seeing it while I trekked. On our way back to Namche Bazaar, we went to the Khumjung monastery to see a yeti skull. From Namche Bazaar back to Lukla, we saw other trekkers, who still had the whole journey in front of them. There are so many who try this extreme adventure. I didn't know any of them, but I saw myself in them, and we exchanged happy greetings and lots of tips. I managed to buy some meditation bowls and trinkets for my friends and family, but I didn't need a souvenir myself - I got the experience of a lifetime.
Though I was hoping for Maggi and chai, like my other treks – I didn't realize how different the food would be on this trek. So much better! I ate Tibetan bread and omelettes for breakfast at a tea house. I devoured pancakes, apple porridge and French toast for breakfast over the course of other breakfasts. I also ate a lot of chocolate cake on the rest days in Manche and Digboche. The yak cheese pizza is too good too. No doubt the view makes it the best meals you will probably ever have. Back at Thamel, I made a new friend and we went momo-hopping, and had as much thukpa as we could stomach.
The Everest Base camp trek cost me nothing considering the life-changing experience I got to live. I got to scale the base of the world's highest peak, I made friends for life, I discovered a whole new culture, and so much more. This trek was my pilgrimage, and I'll never forget it.