Redwoods
---
The CA Coastal Redwood tree is the tallest tree in the world. It is also remarkably straight and very desirable for constructing out door decks because 1] it rarely warps, 2] it is a very pretty wood when properly stained, and 3] it takes and holds a smooth splinter free surface. It is also really expensive as wood goes.
The Redwood ecology is limited to most of CA's coast, north of Los Angeles and a little in southern Oregon, o location that has a cool, very humid climate.
See in Redwoods in Redwood National Park, Muir Woods, and all along the coast north of Los Angeles.
Sequoia
---
Sequoia CA's Coastal Redwoods, the tallest trees in the world, grow near sea level. CA's Sequoia, the world's largest tree by mass, grow in the High Sierra Mountains.
See in Sequoia National Park
Bristle Cone Pine
---
Redwoods are the tallest trees in the world. Sequoias are the largest trees in the world, Bristle Cone Pines are the oldest trees in the world, There are two Bristle Cone pines in the White Mtns., whose locations are kept secret to protect the trees. One is 4,854 yrs old, and a more recently discovered one is more than 5,000 years old . UT's Pando Aspen, at least 80,000 years old, calls the Bristle Cone Pine's age record into question, but not all trees are the same. Pando Aspen is a clonal tree, a type of plant that looks like a bunch of trees on the surface, but clonal trees have many trunks, that are all connected to a shared root system. Pando occupies 110 acres of land. On the other hand. You could put a Bristle Cone Pine in your bath tub.
Joshua Trees
---
Technically, Joshua Trees are not trees. The are a very unique cactus, but since there is a mis-named Joshua Tree National Park in CA, count them a tree for sight seeing. See in Joshua Tree National Park, the Mojave National Persevere on the CA / NV border, and scattered around the Southwest desert in southern CA, UT and some of AZ.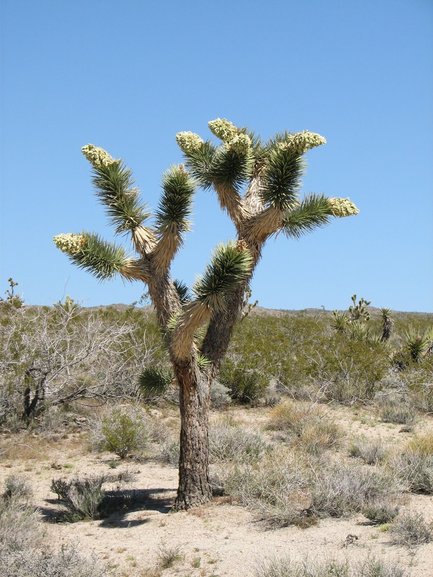 Joshua Tree