Thailand consists of three seasons. There is rainy season, cool season, and hot season. Each season has something different to offer in terms of coming to visit.
Rainy season is from May/June through October. This season, as you would expect, sees a lot of rain. Don't let this stop you from visiting Thailand though! Most days it only rains for a short part of the day so you still have plenty of time to be outside and explore. Due to the fact that it rains so often this season usually sees less tourists and therefore can be referred to as low season. That means you can expect to visit the touristy places with less tourists! Many consider this a plus to coming during rainy season. One thing to consider if you want to go to the islands during this time is that due to the large amounts of rainfall the water in the south of Thailand is usually more rough. This doesn't mean there won't be tours, it just means you should prepare for a rockier ship.
Cool season begins right as rainy season ends, around November, lasting through February. This is often seen as high season as it is the most popular time for tourists to come. The positives are that you won't have to worry as much about rain and the temperatures are not crazy hot yet. If you go north it even gets cold during the morning and night! The negatives to visiting Thailand during this cool season is that due to the many tourists things such as hotels and activities get sold out quicker and sometimes the prices of things are raised.
Hot season is exactly as it sounds: HOT. March through May bring Thailand's most extreme heat, with the hottest month being April. The plus to coming during this time is because of the crazy heat, Thailand sees few tourists and therefore tickets, hotels, and activities are usually at a much cheaper price. Coming from America in April I have seen several round-trip plane tickets for under $600. Another fun thing about coming in April is that this is when Thailand celebrates it's new year! Thailand's biggest festival, Songkran, spans over three days in Thailand and consists of everyone throwing water at one another. It is an extremely fun way to fight the heat! The downside is obvious, the heat.
There are ups and downs no matter what season you decide to come to Thailand. However don't let something as small as rain or heat stop you from experiencing the beautiful, adventurous Thailand!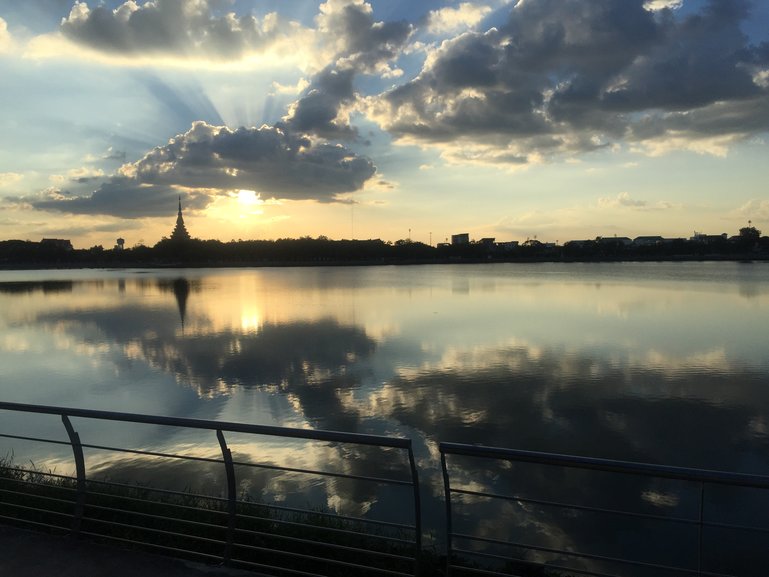 Beautiful lake in North Eastern Thailand