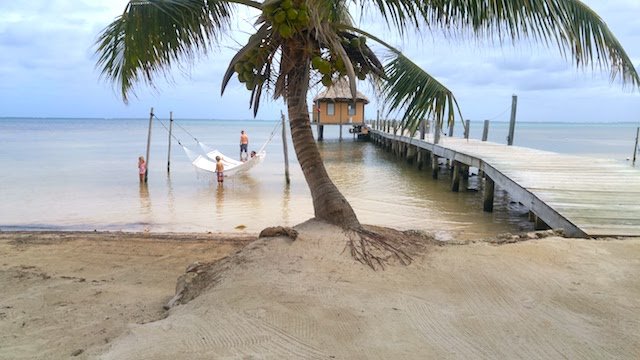 This is waiting for you!
Ever get off a plane and wonder what comes next?
We did.
We do all the time. But, our arrival in Belize City was one of the TATW team's most confusing experiences, so I am sharing our lessons learned with you.
Belize City International Airport (BZE) is a small airport, similar in size to regional airports many of us experience at home. First, you will not arrive through an enclosed gangway. Passengers disembark the plane down flights of stairs. Be prepared for the process to be slow if you aren't seated by an approved exit, carry your carryon luggage down the steps, and walk a short distance (in the heat and humidity) to the airport entrance.
From there, as with any international travel, you will need to clear customs to enter the country. Have a pen and flat surface available for completing the entry forms - and note, a form is required for each traveler. Many countries require a form to be completed per family, Belize requires one per traveler. There are a minimum of 2 clearance points to pass security, and the last clearance point requires travelers to line up beside tourist shops. This can be good or bad, depending on your perspective. During our last trip, one of the travelers in line with us was celebrating a birthday and the wait included sampling alcoholic beverages from one of the shops.
Which may not be a bad thing, as the line was long. It took us over 2 hours to complete the step between the last 2 clearance points. 2 long..... hot......exhausting hours. There was no place to sit, use a restroom, or generally relax while waiting to start your vacation. If your traveling party includes elderly or infirm, please take this into consideration. Remember, life may be slower here than what you expect at home. Security agents left their stations and long lines and disappeared..... only to come back what seemed to be a long time later. There is also potential for language barriers. Patience is key.
Our last step in the process was to secure a regional flight, and to me, that is where the real tip comes from.
As you exit the last customs clearance point, the exit to the airport is to your right, but there is also a set of doors straight across the hallway from the customs clearance point.
To access ground transportation and regional ferries, exit out the doors to your right.
To access regional flights, go through those double doors.
We were not expecting this, but there was an agent greeting passengers right inside those double doors. That agent's job, is to help travelers secure a regional flight. This is not a scam, and they were very helpful.
There are 2 airlines to choose from. We have flown with both, the experience was good with both, and we don't recommend one over the other. The agent will help you not only secure the next available regional flight, they will assist with any required paperwork and forms, and then escort you to..... wait for it...... security.
Yep. Now that you have all your bags, have put everything back together from your long flight to Belize City, you need to do whatever required to pass through security again. Luckily, the rules for security here are the same as general worldwide rules - separate liquids, remove computers and all electronics larger than a cell phone, and remove shoes.
From there...... relax!
The regional airlines are located at the far end of this wing of the airport - which is still small, this was the easiest part of our airport journey. One wall of the wing is lined with windows overlooking runways and parked planes, and the other wall is lined with shops. These are NOT your typical airport shops. We found the best barbecue in Belize here, as well as a nicely priced selection of sauces, wide selection of souvenirs, a couple of small bars, and light snacks. From here, seating is available and space to enjoy your purchases will keep you comfortable until your regional flight is ready.
Upon your return flight back home, the gates for departures are located in this same region - so do your comparison shopping and scope out the area for your return trip!
There are lots of things to do in Belize, we have a couple of full length stories on our travel blog. For more information, check my profile for my travel blog website. And enjoy your trip to Belize!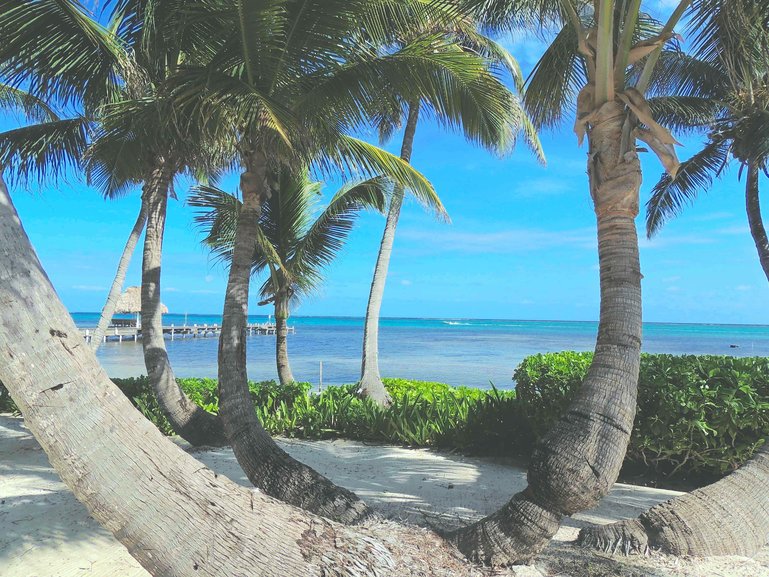 Its worth the work to get here!