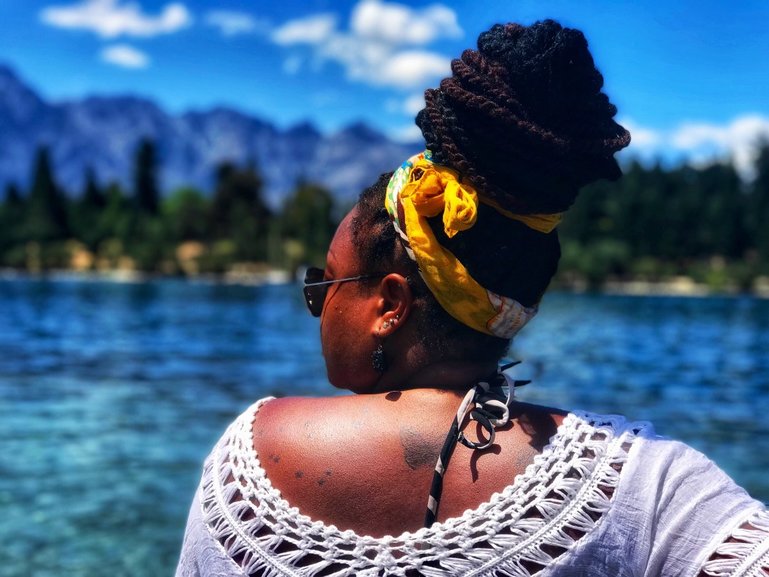 I've genuinely lost count of the number of times I have been berated by inquisitive minds about my favorite country out of ALL of the countries I have been blessed to visit. I find the notion of a favorite to be comical after traveling to more than 50 countries worldwide each rich with its own culture, history and adventurous memories. It remains nearly impossible for me to whittle down a favorite. But for the sake of adventure, especially for those globetrotters out there, I concede to sharing five cities – in no particular order – around the globe that have been imprinted on my soul.
Amsterdam
---
What's made Amsterdam a memorable city in my travels is not the reason it's memorable to most—I'm from California, c'mon — it's having friends that live there. Gallivanting around the globe has its perks in that regard as I met my Dutch buddies bonding over salt & vinegar chips on long bus rides in New Zealand and sharing bug spray in a hostel while backpacking in the Philippines. A frequent visitor to the European continent, I pay them a visit a time or two while bouncing from border to border. Seeing Amsterdam from a locals perspective is a completely different experience than that of a tourist. I was, however, very much a tourist the first time I visited the historic town with lanky, leaning houses and a certain scent on the breeze wafting off of the canals fed by the river Amstel.
In Amsterdam debauchery and benevolence abound. One only needs to choose which of the two to indulge in. I choose benevolence (mostly) each visit and am contented learning more about the country's history and culture or just chillin' vs getting into trouble or visiting areas like the Red Light District. With plenty available to entertain an eclectic array of characters, balance seeing the obvious places with the not so obvious to befittingly grasp the glory of this seductive town.
A couple of Bag Lady recommended museums:
Van Gogh Museum – plan at least three hours to be enchanted by this museum and splurge for the audio tour. The multi-storied building is an architectural gem and there's a park for
a picnic lunch just outside. The museum is open daily and tickets must be purchased online. As always, arrive early to avoid the crowds and it's worth mentioning that the building
does not have luggage storage (backpackers note).
Anne Frank House– most definitely overpriced and reservations for entry should be made two to four weeks (high season) in advance, but if you like history you cannot miss this
experience. Portions of the house you've seen in movies (like those featuring starlet Shailene Woodley climbing the stairs in The Fault in Our Stars) are not always accessible to
visitors. You'll need an hour – give or take – for this museum.
Fried food is seriously a cultural thing in The Netherlands. So too is the consumption of alarming amounts of mayonnaise, which I don't ingest by choice. Fried foods, however, well, let's just say I fail to gastronomically discriminate. That being said here are three memorable crispy, savory, fried goodies to entice your taste buds.
Kassouflee (breaded, deep-fried cheese)
Bitterballen (meatball-sized croquet)
Frikandel (a skinless sausage with fixings)
Kroketten (a cylindrical croquet stuffed w meat, seafood or vegetables)
Canal tour companies in Amsterdam are a dime a dozen, but a canal tour is a must. A tour company I've personally used was referred to me and was a fan favorite among trip reviewers because you could bring food, alcohol (and anything else you'd like) aboard for the nautical experience. Those Dam Boat Guys will give you a memorable time with plenty of laughs and fun facts about the city. A second option is the eco-tourism company Plastic Whale. Eco-friendly tourists can collect rubbish and waste in a vessel made of recycled and repurposed materials. Float along the often heavily polluted canal ways helping the planet and the municipality of Amsterdam keep its waterways that much cleaner.
Queenstown
---
Exploring the South Island of New Zealand was a travel dream come true. I strategically visited the land of sheep and hobbits during the Summer months (southern hemisphere); I avoid cold temperatures as much as humanly possible. Starting in Auckland, a group of travelers and I traveled through the North Island by bus in a zigzag before crossing over to the South Island via ferry into Nelson. I was awestruck by the power and velocity of the thundering waterfalls of Milford Sound, but it was the charming fjord-side paradise of Queenstown that stole my heart. Fergburger aside, Queenstown is quaint with boutique hotels in the hillsides, a trendy night-life, plenty of shopping and outdoor activities. Adventure seekers can hike, skydive, bungee jump or picnic near Lake Wakatipu.
Rio De Janeiro
---
The River of January. My gem on the Atlantic sea. I landed in Rio after a ten-day plus adventure tour from the south of the country (Iguazu Falls) to the beaches of Copacabana. Having only been one year since the unexpected passing of my Mother, at the time, I was deep into my grief and more often than not held hostage by my cascading emotions. Still adjusting to life after tragedy, I struggled to balance everyday activities with profound feelings of displacement and sadness. After so much time in Eastern Europe and having no anonymity because of the color of my skin there, Rio was an unexpected breath of fresh air. Dark skin and curves were everywhere, natural hairstyles were widespread and the natives welcomed me with open arms when I felt I didn't quite belong anywhere. The beaches, history, and architecture coupled with this fact make Rio de Janeiro a memorable city in my travel dossier.
Rio offers plenty of activities in and around the surrounding areas of the city, but here are a handful of Bag Lady recommendations and musts:
Take the cable car to Sugarloaf Mountain
Visit the botanical gardens
Beeline for the famous beaches of Copacabana and Ipanema
Travel south to the enchanting town of Paraty
Grab a ferry to Ilha Grande for unforgettable white sand beaches and saturated sunsets.
The jaw-dropping panoramic views from the base of Christ the Redeemer (the main reason for my adventure to Rio) will stay with you for decades to come.
Kratovo
---
Kratovo, born from the ashes of a crater is a small town nestled into a valley of the Osogovo Mountain range. 90 kilometers from the Macedonian capital, Skopje, about 40 kilometers west of the Bulgarian border and roughly 60 kilometers south of the Serbian border, Kratovo was once a mining town during the reign of the Ottoman Empire. Today it's home to the untouched nature, crispest-tasting water and a quaint way of living that for me are unmatched. My dark skin makes me an obvious out-of-towner when visiting, but the warm welcome I receive from those who know me well manifest the fondest memories and priceless moments of happiness.
Kratovo was my home away from home for two years and serves as a place of great familiarity. As a Peace Corps Volunteer stationed in the unique mountain town, my language and cultural training served as the catalyst for my integration. Now fully integrated, I frequent Kratovo and the Balkan region to take in the breathtaking beauty of the topography, geek out on the ancient history, and to gorge on the fresh produce (especially the tomatoes). Kratovo is arguably one of the oldest towns in the entire Balkans and features seven bridges, six towers, five restaurants, four local beers on tap, three rivers, two ancient pine trees, and only one pub.
Though the town itself can be seen in a day (towers, bridges, museum, underground tunnel and old Turkish prison), stick around for a while at the local hostel (Etno House Shancheva) or hotel (Kratis) and check out these activities:
Hike into the Osogovo Mountains to Gorno (upper) Kratovo and swim in the natural ponds of freshwater – runoff from the snowmelt.
Visit Kuklica, a small village just outside of Kratovo popular for a natural geothermic phenomenon (aka the Stone Dolls) backed by its own locals-only, fictional history.
Take the scenic route back to Skopje to witness charming villages such as Slegovo, Sveti Nikola, and Lozovo. Take a break from the drive in Veles where you can find shopping and
plenty of cafes/restaurants for lunch.
Try rakija (homemade whiskey), uvijac (bacon-wrapped grilled chicken stuffed with cheese) and Ajvar (a spread made of eggplant and peppers) to cement the charm that is
Macedonian culture.
San Diego
---
It's my namesake, it's my hometown. Raised in the San Diego sunshine, a stone's throw from the Mexican border and 20 minutes from the life-creating Pacific Ocean, I'm a San Diego girl through and through. The outdoors is a big part of Southern Cali culture as our weather is magnificent year round (with the occasional tropical rainstorms). Because the city is massive it's highly recommended to rent a car when visiting. There are plenty of high-priced activities such as the world famous San Diego Zoo or Seaworld, but there are plenty of delightfully free activities too. Get out in the San Diego sunshine:
Hike Cowles Mountain or Torrey Pines Reserve for breathtaking views of the city.
Visit/picnic in Balboa Park. Certain days of the week some of the museums in the park are free for residents or students.
Be a beach bunny! Spend the day on the sand or in the sea and top it all off with a bonfire.
Can't-miss them eats at local hotspots:
To travel has served as the foundation for my child-like wonder. Exploring this planet has humbled me, taught me empathy, tested my patience and my witts. It has also granted me a unique outlook on the behaviors of humankind while cementing my adoration for the power and beauty of raw nature. To date, my itch for travel remains immune to solvents and instead spreads deeper, taking root in the depths of my being. By sharing these five favorites I hope to inspire you to witness them with your own eyes and come away with unforgettable moments of your own. Adventure on!