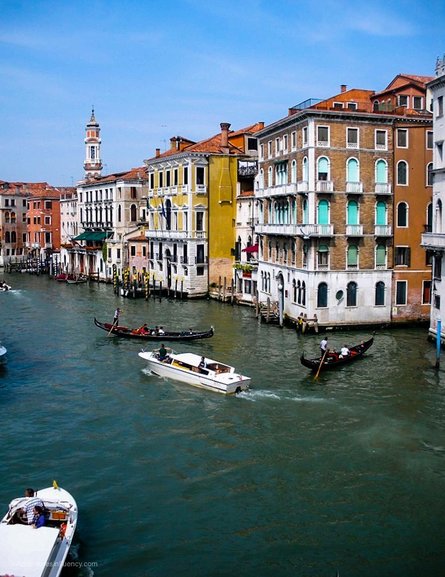 The Grand Canal of Venice, Italy
Venice, Italy has a calming, hypnotic effect that can put you in a trace. On a sunny day, the light breeze snows down flowers from the trees. The traffic of the Grand Canal bobs and bounces, each gondola, vaporetta and motor taxi miraculously missing a near collision with the other. The smooth water and the cloudless sky are both impossibly blue. At night, the water rhythmically lapping on the stairs and the boats is hypnotic. The lagoon rocks the entire city of Venice to sleep.
If you are in San Francisco and yearn for the Venetian experience, you can travel to Venice in less than 30 minutes. Just kidding, however, even though these two places may not be the real Venice, but they will certainly satisfy your Venetian fix.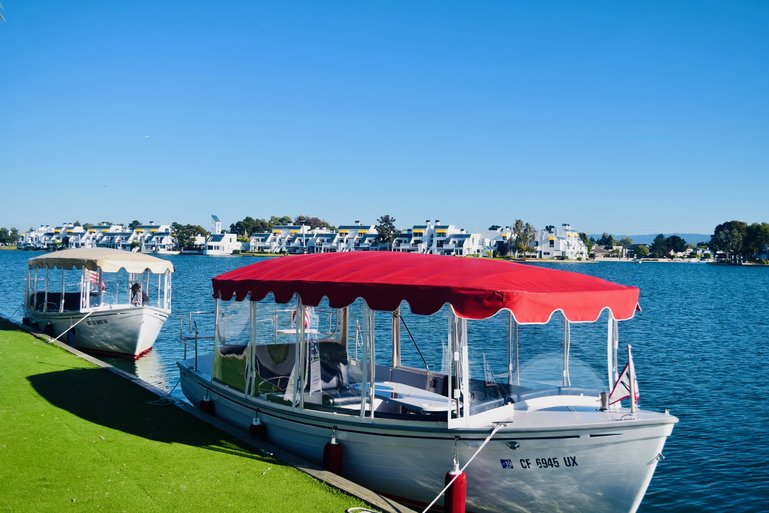 Foster City Lagoon
Just 30 miles south of San Francisco is the lagoon of Foster City. In 1958, T. Jack Foster bought Brewer Island and several square miles of marsh just south of San Francisco for $200,000. Foster dredged the wetlands for six years to form 230 acres of lagoons and pumped 18 million cubic yards of mud and sand onto the island, raising it slightly above sea level. Foster promised that his new city would be "the island of blue lagoons," "a new world Venice." Conservation groups decried the destruction of wetlands and shrinking bay. From this controversy sprang the planned community of Foster City. Today Foster City is one of the safest cities in the United States, averaging one murder per decade. Forbes has ranked Foster City number #10 in America's Top 25 Towns to Live Well. Perhaps this low crime rate and easy living comes from the immediate sense of tranquility that envelopes you as you walk along the shores of the lagoon at that time of day when the low sun turns the water into diamonds. It did for me.
The Foster City Lagoon with its adjoining canals can be explored by boat or paddle board. At California Windsurfing, you can rent a kayak, a pedal boat, a stand up paddle board or a windsurfer. They also give lessons. Bring cash because they don't accept credit cards. After your water tour, you can unwind on the back balcony of Olives while you take in the view of the canal and enjoy a delicious meal. Although Foster City feels likes a different world, it is only a thirty minute drive from San Francisco.
Travel thirty minutes east of San Francisco for another Venetian experience on Lake Merritt in Oakland. You can explore this lovely salt water estuary in a real authentic Venetian gondola shipped all the way to California in a container ship. Book your thirty minute ride around the lake by visiting the website for Gondola Servizio. The gondola leaves from the Lake Chalet restaurant. No only is the gondoliere filled with great facts about Lake Merritt, but he sings Italian love songs too.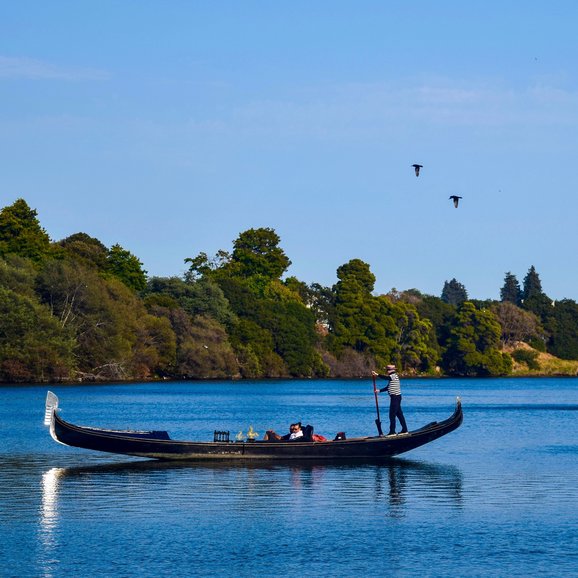 Gondola on Lake Merritt in Oakland, California