Dubai is ranked fourth among the most visited countries in the world. Its high rising buildings are famous for their wonderful architecture and also have an excellent collection of spas and resorts. It's a place that was known for a huge tower named Burj Al Arab, which is now replaced by the Burj Khalifa and Palm Jumeirah. This city never stops growing and is doing so rapidly with fascinating attractions and certainly, with a Dubai Visa it will be a holiday experience that you will enjoy. Let's look at some places you should visit.
The Burj Khalifa
---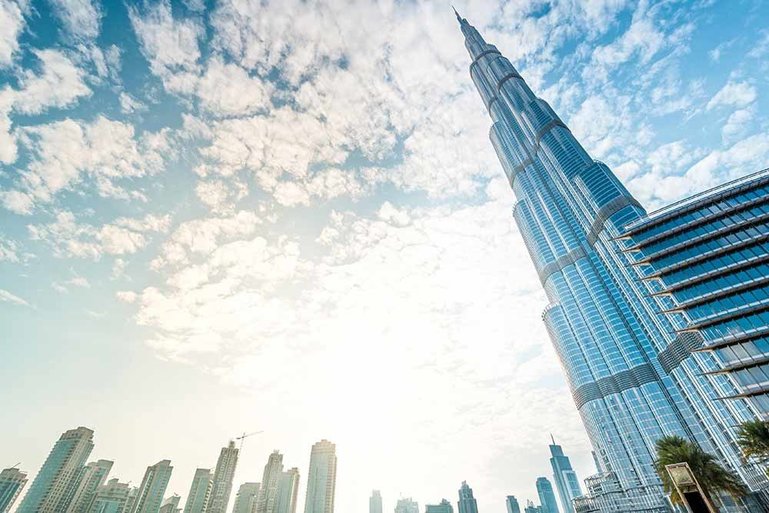 Burj Khalifa
Also known as Burj Dubai, this structure holds the world record for being the world's tallest building and has 163 floors and goes over 2,716 ft. Among other things, it houses hotels, offices, and luxury residences. You can go up the 124th floor with a high-speed elevator for the observation deck with a 360-degree view and go higher to the 148th floor to SKY, known as the tallest observation deck in the world.
Atlantis Water Park
---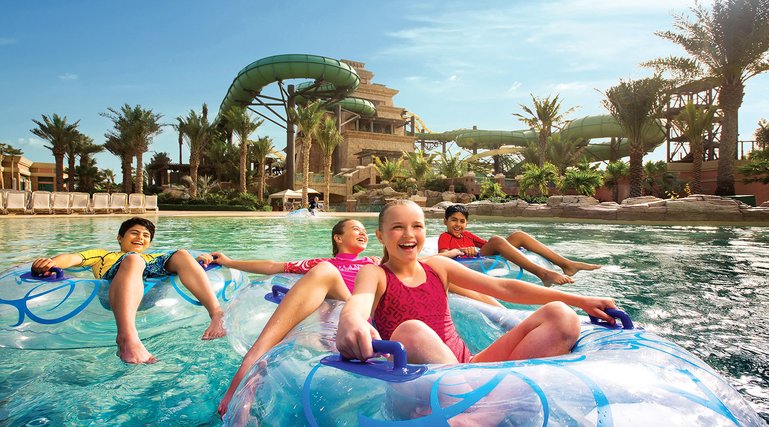 Atlantis Water Park
Situated in Atlantis the Palm, the Atlantis Aquaventure is the largest in Dubai. Aquaventure will give you an experience beyond any waterpark. From exciting slides, the lazy river, and relaxation spots on a private beach, the park will make your holiday memorable.
With an adventure pass to Shark lagoon experiences, marine biology learning, and a fun time in the Wavehouse, the adventures are endless. It also has a Lost Chamber Aquarium which consists of 65000 exotic aquatic creatures, including snorkelling and diving, with completion certificates. Additionally, it also has cafes and restaurants.
Laguna Waterpark
---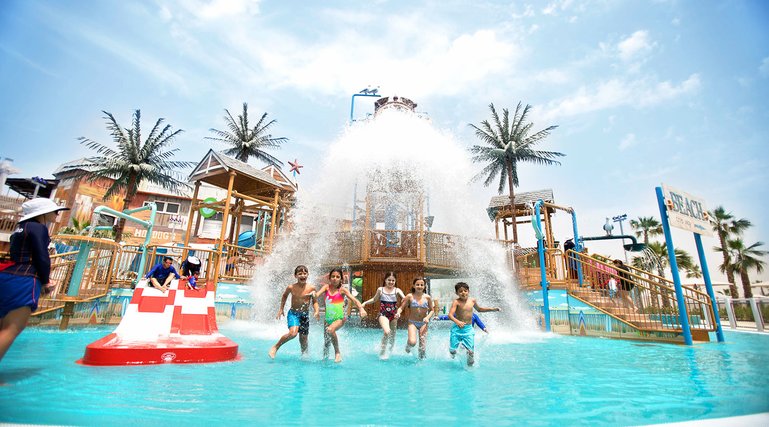 Laguna Waterpark
It is modelled after a vibrant neighbourhood called La Boca, which is situated in Buenos Aires, Argentina. This is Dubai's newest water park and a segment of La Mer. It's one of Jumeirah's prestigious beachfront developments.
The Surfing section is a headline zone, featuring WaveOz 180, Ultimate Surf Machine, or FloRider. This offers an experience of 180-degree surfing, suitable for beginners too. Some others include Constrictor, Freefall, Loop, Mantra, and Mad Racer; the slide zone is unmissable. It also has a Splash Zone for kids and an array of dining and shopping options
Dubai Ice Rink
---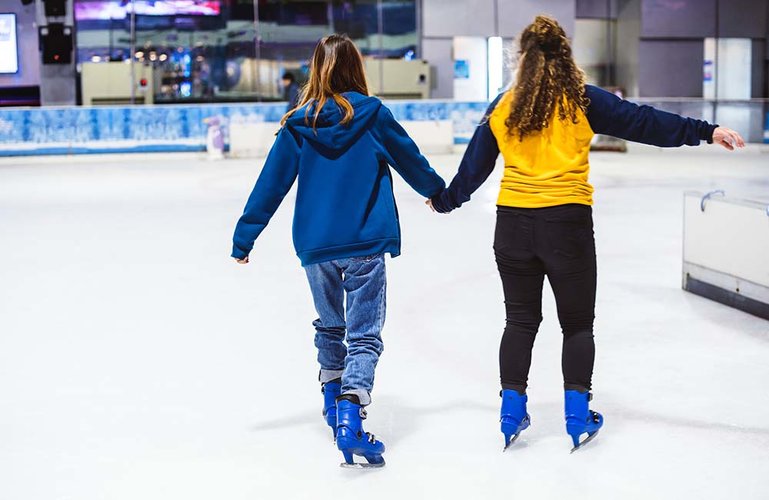 Dubai Ice Rink
You can skate across this 1500 square meters ice area and display some crazy and sleek turns. Set up right at the heart of the Dubai Mall, the biggest in the world, this indoor ice area is beautifully recreated which gives you a cool ambience feel. Open throughout the year, you can skate in any season even when the city is blazing hot in the summer. If you want to get creative, there's also an Ice Golf and Hockey session.
Desert Safari and Dune Bashing
---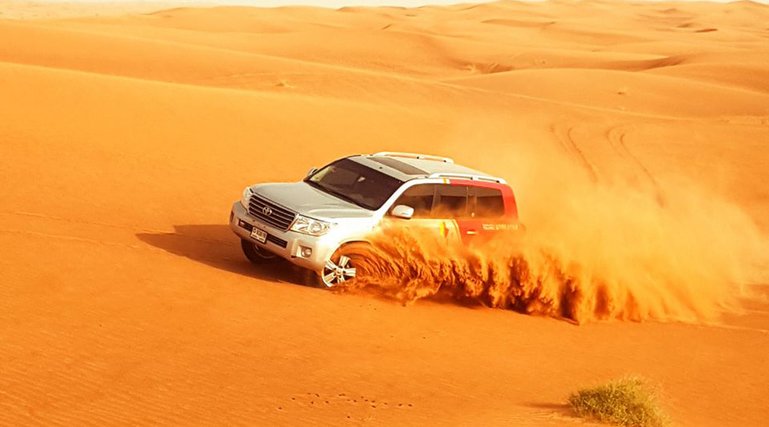 desert safari
With a 4X4 transport, a driver expert in dune bashing will take you across the vast desert. After this adventurous experience, you can take in the beautiful sunset views and click some pictures too. Then there's a desert camp where you'll experience nature, culture, and Arabian hospitality. Get a glimpse of ancient Bedouin traditions and activities like camel rides, Shisha smoking, and henna painting.
Added fun adventures like quad biking and sandboarding are available. After this, you can relish vegetarian and non-vegetarian dinner along with traditional
Belly Dance Show.
Skydive Dubai
---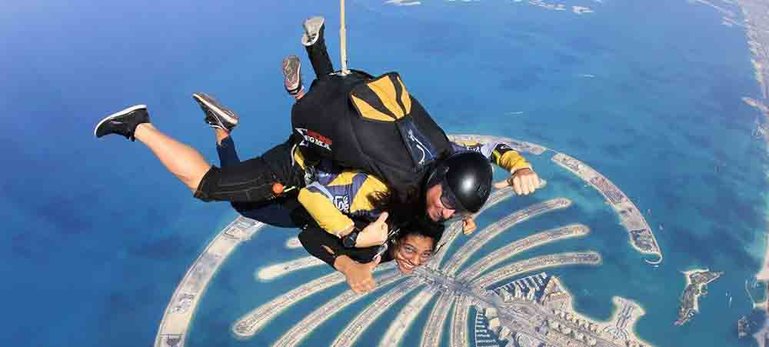 Skydive Dubai
Select from Tandem Gyrocopter flights and feel the rush of speed at higher than 120 miles/ hour. It gives you views across the JBR Beach, Palm Island, and Dubai Marina. You'll have an explanation and an effective briefing by a Skydive instructor.
Then, board the flight from the drop zone which is at Desert Campus or Palm, while being suited up with a harness, goggles, helmet, and jumpsuit. Once the
aircraft reaches an altitude of 13,000 feet; you'll experience the free fall for 60 seconds before the instructor pulls the cord for the parachute.
Dubai Marina
---
Absorb the architecture, yachts, and waterfront sights in Dubai's Marina. The atmospheric dhow cruise experience is magical with sightseeing, dining, and entertainment. A great dining experience would be a two-hour cruise that resembles the Venetian-style canal. Take in the views and multi-hued manifestation of the water.
Dubai Frame
---
The Dubai Frame is identifiable with its award-winning design which takes after a huge picture frame. It has two vertical 150 meters high and wide by 93 meters, both linked with a 100 square meter.
Dubai is definitely a paradise of glamour, luxury, and fun and will be an experience of a lifetime. So go ahead, pack your bags and visit this mesmerizing city.