We all know Dubai is a city of superlatives. The largest city in the United Arab Emirates along with the tallest building in the world as well as some of the most luxurious restaurants. However, when it comes to brunch, Dubai has boosted the concept to the status of such as unmissable city tradition. You will eat your way through our list of the best brunch places in Dubai. it is fascinating to know that Dubai offers several brunch places to spend some quality time with your friends and family. Here we are going to discuss some of the outstanding places that you must keep in consideration while planning for a brunch in Dubai.
Bubbalicious Brunch
---
If one word can describe the Westin Mina Seyahi's Friday 'Bubbalicious Brunch', breathtaking would be an appropriate choice. Now the question arises,what makes it so outstanding? The reason is that, Bubbalicious offers imaginable food. Thanks to the combined forces of the hotel's fantastic in-house restaurants for such kind of enjoyment.
The place is available for both the buffet as well as brunch section with live cooking shows. the food that services varie from Arabic mezze and pastas to Belgian waffles. For your information, Spice Emporium is considered as the Asian face of the trio as it takes care of the noodle, sushi as well as sashimi dishes. People who like to be entertained during brunch, there is a great need to know that Bubbalicious Brunch provides Chinese acrobats, live bands, a PlayStation room as well as also a kid's corner.
Maya Mexican Kitchen + Bar
---
If you are planning for a beachside brunch, Maya Mexican Kitchen could be the best place for you. the place is spearheaded by head chef Richard Sandoval. By keeping in consideration, Maya offers a modern twist on almost all the traditional Mexican favorites. Based in Le Royal Meridien Beach Resort and Spa, as part of their brunch package. All the guests have pool and beach access. However, while you are sampling a plethora of dishes such as rib-eye steak fajitas as well as lamb chops, you can lounge on the private beach. We can also say that, Maya Mexican Kitchen is one of the best places that serves up a fantastic brunch with plenty of exciting flavors.
Splendido Bar and Kitchen
---
Splendido bar and kitchen is located in the exquisite Ritz-Carlton Hotel. It is the epitome of understated classical elegance. It is fascinating to know that, this restaurant has an Italian culinary heart that offers a rich buffet brunch consisting of salads, grilled fish, cold mezze, pastas and several further options. Splendido is one of the ideal places for guests who want to enjoy excellent food as well as high-quality service in tranquil surroundings.
Toro Toro
---
If there is need to enjoy a Latin American taste in Dubai, then Toro Toro is the best restaurant to visit. For your information, world-renowned Latin chef Richard Sandoval has brought the hospitality as well as family-style dining of his native region to restaurants. At Toro Toro, he has also offered the pan-Latin Hola Hola Brunch since 2012.
It is fascinating to know that, the Hola Hola Brunch consists of forty-five options of small plates filled along with traditional food. Some of the famous foods include guacamole, yucca fries, chorizo, beef-stuffed pastries, empanadas, and crispy calamari. Guests must try to save space for Toro Toro's delicious churrasco chicken, lamb or beef according to their choice.
El Sur
---
El Sur pushes the needs of what is done with traditional Spanish tapas. Keep in consideration that, by using all the finest ingredients, El Sur recreates traditional tapas meals along with a sophisticated vision. Here is the best chance to enjoy yourself with the stunning views of the ocean along with dine al fresco on their balcony. However, El Sur is the best place in Dubai to eat brunch.
The major dishes include classic Spanish cuisine like patatas bravas (potatoes in a spicy tomato sauce) as well as calamares a la romana con alioli (fried squid with alioli). There are also some contemporary meals like avocado cannelloni with tuna. The restaurant emphasis on seafood. Along with this, the menu also features the likes of Wagyu beef tartare as well as prime rib-eye steak. You will always be served with a drink to your liking and guests can also enjoy premium cigars. However, reservations at this exclusive restaurant is a must.
Jumeirah Al Qasr
---
Jumeirah Al Qasr serves up as one of Dubai's biggest Friday brunches. All the guests experience the atmosphere of three various restaurants such as the Hide, Arboretum and Al Hambra. Al Qasr translates as 'The Palace', that hints at the style of service. It is fascinating to know that, all the guests can choose from a vast variety of foods such as Arabic, Spanish, Chinese, Thai, Japanese, Malaysian, Indian, German as well as British dishes. Al Qasr is one of the upscale brunch venues with a mighty reputation.
Lotus Mega Yacht Brunch Cruise
---
If there is need to enjoy a lavish brunch spread aboard Dubai's glistening waters, you can sail peacefully on the Lotus Mega Yacht. It is fascinating to know that; lotus mega yacht brunch cuisine is packed with all kinds of amenities in order to make your day. Some of the highlights include:
Sail along peaceful waters on the Lotus Mega Yacht with classy facilities
Watch old-school luxury, as well as modern technology, come together in order to give you a truly unique experience
As you set sail towards JBR Beach, just take in the silhouettes of the Palm, the Atlantis, as well as the Dubai skyline
Avail the numerous entertainment options onboard along with weekend brunch
You have the best time to relish delectable treats at the international brunch buffet with live cooking stations and sushi bars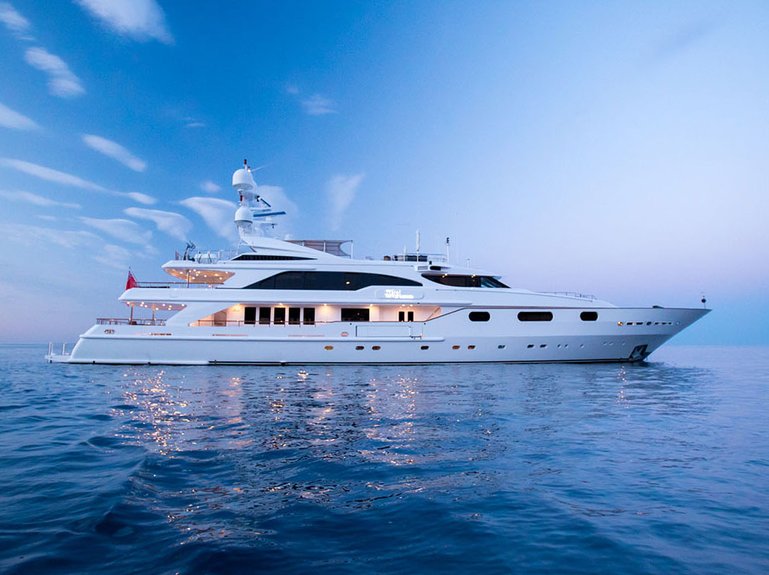 Mega Yacht Dubai
Once you board the Lotus Mega Yacht near Marina Mall, you will be ready to set sail. The captain will maneuver their way away from the pier as well as set sail towards the JBR beach. Just head to the upper deck. Take in spectacular views of the water as well as the Atlantis hotel. Along with this, you can also make the way to the main deck and salon in order to grab yourself a drink based on the package you choose.
Here is the best chance to enjoy the onboard facilities such as an indoor swimming pool along with jacuzzi, the Chill Lounge, as well as the Kids Cinema. There is something for the whole family in order to indulge in while aboard. You can enjoy wide range of dishes at lotus mega brunch cuisine. If you are looking for an outstanding brunch with fun for all ages, just book a lotus mega yacht for the brunch.