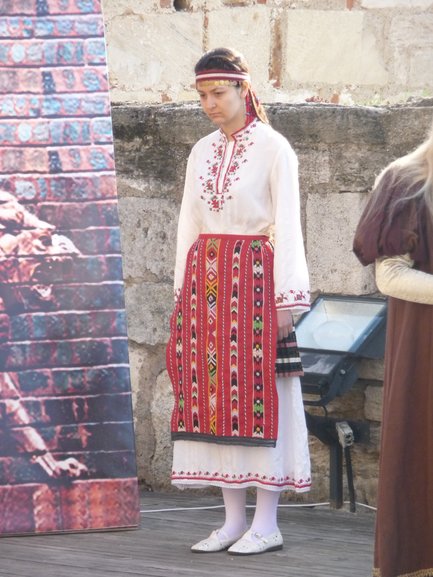 Castle Entertainment
We took an AMAwaterways Danube River cruise from Budapest to Bucharest. We spent a full day docked at Vidin, one of the oldest cities in Bulgaria. Our morning tour was of Vidin, starting with a short guided walk from the dock-- less than a half an hour-- to the old center of town. The streets in the immediate vicinity of the town square are attractive but there are no 'great' sights, just a pleasant foreign feeling place to be in.
There is a large, almost impressive near cathedral sized church on the town square. From the town square, we headed back toward the Danube River to Vidin's top attraction, a well preserved old castle, a very old castle by the looks of it. After exploring the castle, we were treated to short local folk play at the castle's outdoor concert stage. There were several purveyors of local hand crafts scattered about the castle grounds. We walked back to the nearby ship to the ship for lunch. Shortly after lunch, we had an early afternoon departure by bus (coach) to Belogradchi.
Bulgaria is far from being a wealthy country---- Bulgaria's per capita PPP-GDP income is $25,500 while the USA is $68,300--- but we were struck by how poor Bulgaria has better roads than does the very wealthy USA. That is a the difference between government by the Republican Party USA and a country with a decent government.