Antigua Guatemala, Colonial City
---
Antigua Guatemala is located 45 kilometers from Guatemala City, depending on the day and hour, the land transfer may take from 1 hour to 2 hours.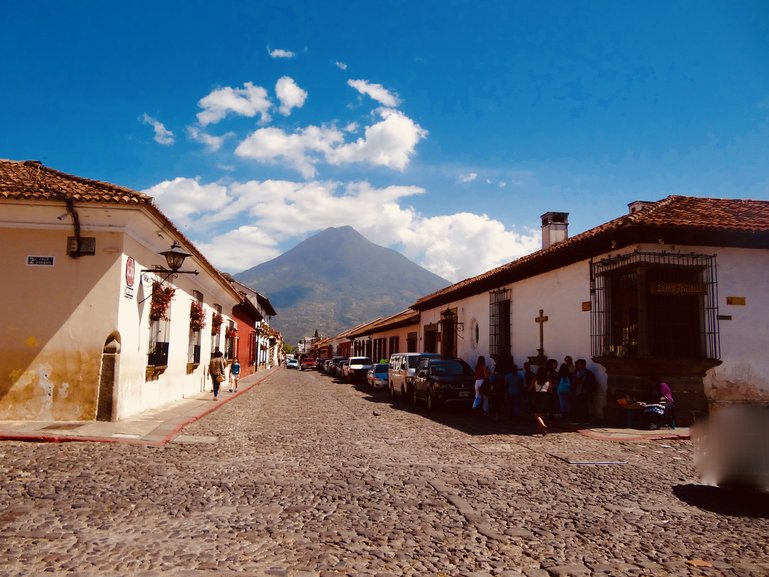 Photo by Bosa Tours
It was declared World Heritage by UNESCO and is doubtlessly the top destination in Guatemala. Tourism development has been constantly growing.
History
It was established as the capital city on the 10th of march of 1543 in the valley of Panchoy.
Before it, 2 other cities had been named capital. Iximché in Tecpán, Chimaltenango was the first capital city established by Pedro Alvarado on July 1524, but due to constant fights between the Kaqchikel (Mayan natives of the zone) and the Spanish, it was moved -in 1527- to San Miguel Escobar known as "Ciudad Vieja" in the Valley of Almolonga.
Attractions
Antigua attracts its visitors with its stoned streets, colonial architecture, Agua Volcano on the back, and the unique mix of Mayan traditions and modern life reflected on every corner.
There many places to discover, from corner markets to big plazas, but here the most renown:
Cerro la Cruz: before entering into the city, go directly to this hill for a panoramic view over the Antigua. You see the colonial buildings, streets, and nature. You can ascend in a vehicle or walking.
Central Plaza: take a time to walk the Central Plaza, admire its fountain, and interact with locals selling hand-made products and gastronomy.
Cathedral: built around 1541 and still under restoration work. This building suffered earthquakes and demolition from one year to another. Today, you can access its ruins and admire the beauty of its architecture as you discover the secret Mayan rituals that have taken place in it.
Palacio de los Capitanes Generales: a jewel of the city. Built with wooden floors and arches in 1558, destroyed by many earthquakes.
Arco de Santa Catalina: it originally connected the Covenant to a school; today it is a symbol of the city.
Ruinas de las Capuchinas: the history of nuns who lived here will impress you as much as the beauty of the ruins.
Jade house-museum: it opens its door for a tour to learn about this sacred stone and the largest mines in the world found in Guatemala.
Handicrafts market: get into this market to buy local souvenirs
Atitlán, lake & villages
---
Atitlán lake is located in Sololá, 120 kilometers from Guatemala City. Land-transfer may take 3 hours approximately.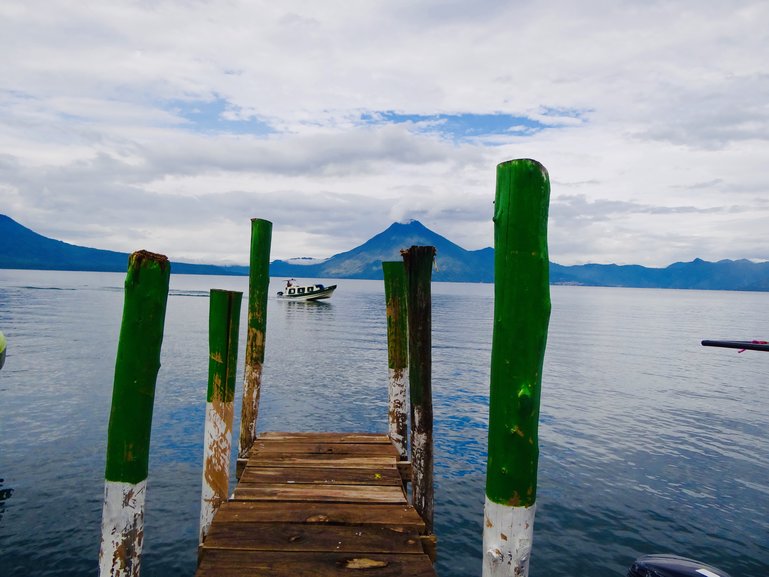 Photo by Bosa Tours
Described by many as "the most beautiful lake in the world" due to its blue waters, 3 volcanoes, and 11 Mayan Villages on its shores.
Its name means "between the waters" in Nahuatl. It is the deepest lake in Central America with 340 meters and a surface of 130 square kilometers. Due to the nearby volcanoes and waters, the area has fertile soil, allowing agriculture to be a source of income.
History
Before the lake, millions of years ago, there was an enormous volcano. There was a strong eruption dispersing ash that reached the areas from Florida to Ecuador, creating the lake and the 3 volcanoes.
A natural phenomenon occurs at the lake mornings and afternoons, called by the Kaqchikel as "Xocomil", which means: the wind that carried away sin. This phenomenon is the encounter of Pacific winds with cold Northern winds creating a swirl in the waters of the lake.
An underwater city was discovered years ago. "Sambaj", 55 feet below the lake level, archeological pieces have been collected from it and shown in museums.
Attractions
Lake Atitlán: take a public boat to cross the lake or visit some Mayan Villages.
Mayan Villages: 11 villages of which we recommend to visit San Juan la laguna (cultural tour), Santiago Atitilán (cultural tour), San Pedro (party village), San Marcos (spiritual village), Santa Catarina Palopó (textiles tour), San Antonio Palopó (pottery tour).
Panajachel: it is the most renown village since it is the one that connects the rest of Mayan Villages to the mainland.
Tikal, Petén
---
Tikal is located 540 kilometers from Guatemala City. The land-transfer takes approximately 8 hours. You can also arrive by air taking a domestic one-hour flight.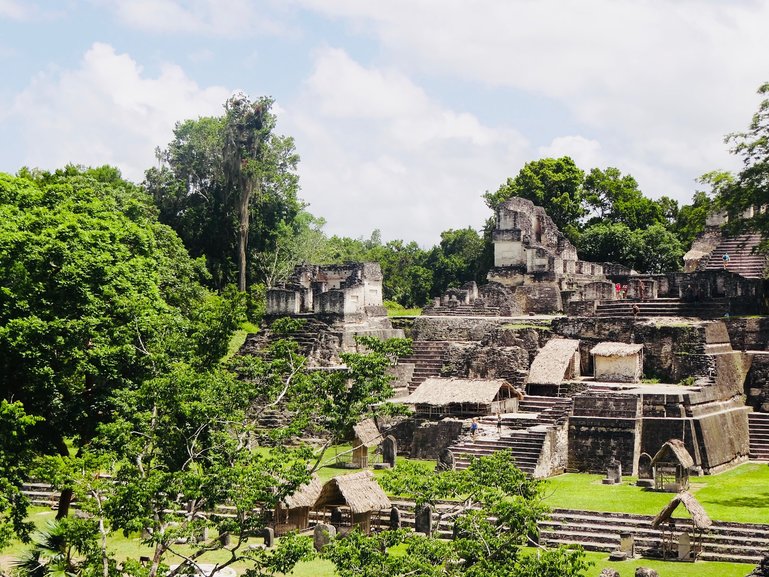 Photo by Bosa Tours
Tikal is one of the major archeological sites and most powerful kingdoms of the Mayan Civilization. The National Park is in the middle of a rainforest and was declared World Heritage by UNESCO.
History
According to archeologists, the site might date back to the 4th century BC. The greatest time of Tikal was in 200 to 900 AD and was when the civilization was the political, economic, and military power of the Mayas. Major events including wars and climate affected directly its population and led to the abandonment of the site in the 10th century.
Attractions
Tikal National Park: the basic tour lasts 4 hours visiting Main Plaza, temples, royal palaces, small pyramids, administrative buildings, stone monuments, a jail, and ballgame courts.
Flores: it is located 65 kilometers from Tikal Park. Visiting the island, the town on the shores of Lake Petén Itzá is a peaceful and colorful experience.
Yaxhá: it is another archeological site in the area nearby Tikal Park. If you have time, you should take the 3 hour- tour, as well

Chichicastenango
---
Chichicastenango is located in Quiché, 145 kilometers from the capital city. The land transfer takes 3 to 4 and a half hours, approximately.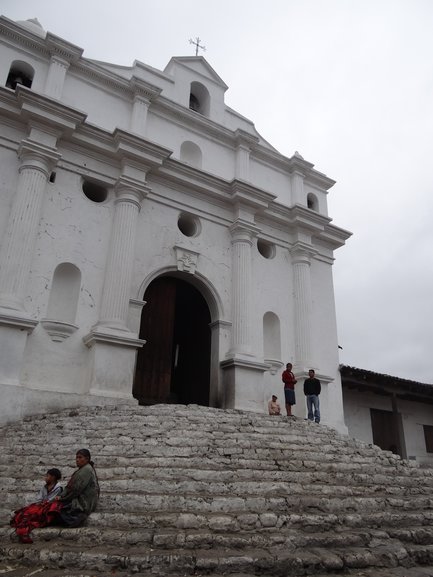 Photo by Bosa Tours
The road trip is inspirational passing from one town to another, admiring crops and fruits plantations, as well as beautiful green landscapes formed by valleys and volcanoes.
The town is a tourist and cultural center; 98.5% of its population are indigenous Mayan K´iche. Important to mention this is the city where the Mayan sacred book "Popol Vuh" was originated.
Attractions
The Market: every Thursday and Sunday locals open the market from 6 am on to sell their products that vary from vegetables and fruits to wood, copal, cal, and handicrafts tools. The streets are filled with colors and textures; the atmosphere is pure energy.
Church of Santo Tomás: it is next to the market. Built 400 years ago, it has served as Mayan and Catholic temple. Mayan priests practice rituals with candles and animal sacrifices on the stairs and inside the temple. Catholic priests deliver masses as normal tradition.
Chichicastenango Regional Museum: it lies on the grounds of the church, you find ancient jade, stones, and clay figures.
Izabal
---
Izabal is one of the departments in Guatemala and its capital, Puerto Barrios, is located 300 kilometers from Guatemala City, on the Caribbean Coast. Land transfer from Guatemala may take 6 to 8 hours. Another way to arrive is by taking a domestic 1-hour flight.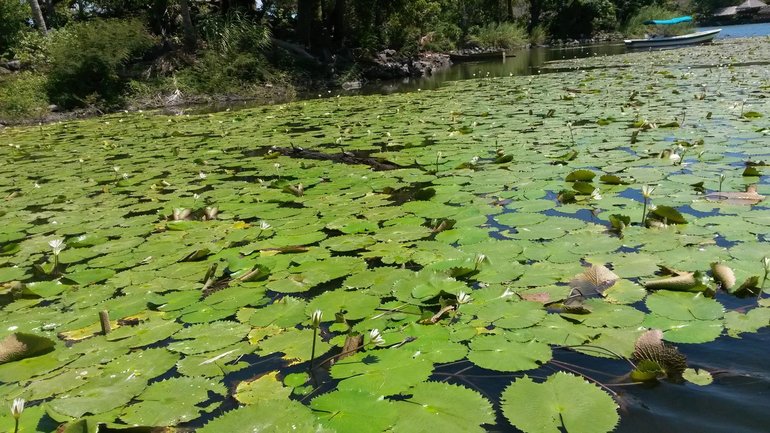 The zone is a natural jewel with white-sanded beaches.
History
The zone was populated by the native Caribbean, Arahuacos, and Afro-Americans, giving as a result what today we call Garífunas.
Part of the importance of Izabal for Guatemala and the world is the construction of train rails from Puerto Barrios to Guatemala City. It started in 1883 and went on under different administrations and difficulties. Later, The United Fruit Company came in and took control of it to transport imported and local products as bananas to the USA.
On the other hand, in the 1950s, in El Estor, Izabal, Niquel mines were found, but exploitation of it started until 1971, contributing to the country´s and world´s economy.
Attractions
Visiting Izabal is a good option to discover the Caribbean beauty of Guatemala while at the same time having the option of extending your trip towards Tikal, Petén and the cays of Belize.
Livingston: it is a Caribbean town, you should walk its streets and try its gastronomy; also, it is a great place to lodge and visit other nearby tourist sites.
Río Dulce: take a boat tour admiring an island of birds, a garden of lilies and visiting Castillo San Felipe at the end of the river.
Siete Altares: it has 7 mini waterfalls creating natural pools.
Playa Blanca: it is a white sanded beach located at 1 hour in a boat from Livingston, no buildings allowed to preserve its natural beauty.
Our recommendation: If you are planning a trip to Guatemala, do not travel on your own. You should take a travel package at one Travel Agency of your home country, take tours from travel platforms, or book them directly with a local Tour Operator legally registered.