It can be incredibly difficult deciding what to take for a long trip. How do you know what you'll need? After several longer trips, this is what I've found I actually use from my pack. Of course, it varies for everyone based on your needs/reason for your trip. Here are my must-haves for any basic trip.
* Don't pack more than 7 days worth of clothes. You will have to do laundry one way or another and nobody wants to carry around 3 weeks worth of dirty laundry. This, however, doesn't apply to underwear for me I need them all! Clean underwear is not something I'm willing to leave to chance!
* Make sure you have at least 1 modest outfit for religious places, that usually means shoulders and knees covered
* Even if you're going somewhere warm bring a lightweight jacket. Planes, buses, and trains may be cold and the mountains are always a little chilly.
* 3-4 pairs of shoes, you do not need shoes for every outfit however this will vary depending on your interests/activities. I usually bring 1 pair of good walking sneakers, a pair of sandals for warm weather or flats for cool weather, these double as my going out shoes, and 1 pair of flip flops for the hostel showers. If I'm going to be doing a lot of hiking I'll throw in a pair of hiking boots
* Take the bare minimum for personal hygiene products, you can buy them you don't need enough to last the whole trip. I would also highly recommend looking into soap or shampoo bars, they take up a lot less space and produce less waste!
* I always travel with a small basic first aid kit as well. Mine has band-aids, tums, Pepto-Bismol, chapstick, a multipurpose tool, an ace bandage, and antibiotics prescribed by my Dr. It doesn't hurt to be prepared and you will be grateful if you so happen to need any of these items.
* As far as electronics I travel with my camera, phone, and a small tablet. I find some websites are difficult to view on a phone screen so the tablet comes in handy. It also allows me to upload my photos from my camera to keep my friends and family back home posted.
Now that you have an idea of what you're packing you might be wondering how to pack all this. I travel with a large backpack, a 50L bag to be specific as well as a smaller backpack. Here are my best tips for keeping your bag organized and maximizing your space
* I can not stress this enough invest in packing cubes. They're a total game changer! Look how much I can fit into just 1 cube. This cube is s medium size, roughly 14 inches by 10 inches and about 3 inches deep. I manage to fit 5 t-shirts, 2 tank tops and a dress all in 1 cube!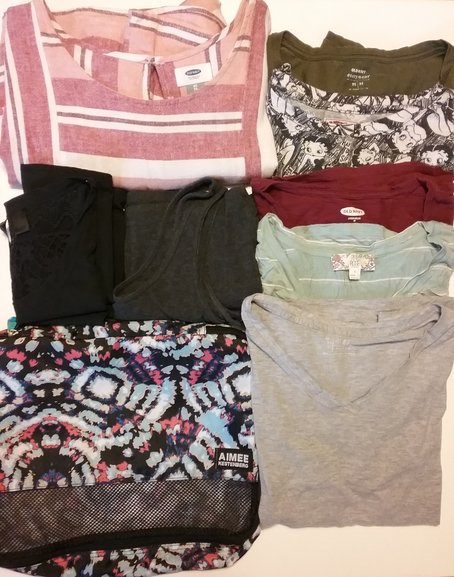 That's 5 t-shirts, 2 tank tops and a dress that all fit in a medium packing cube (14 inches by 10 inches by 3 inches)
* To really make the most of your packing cube roll your clothes. This also makes it easier to just pull out what you're looking for instead of taking everything out to get the shirt in the middle.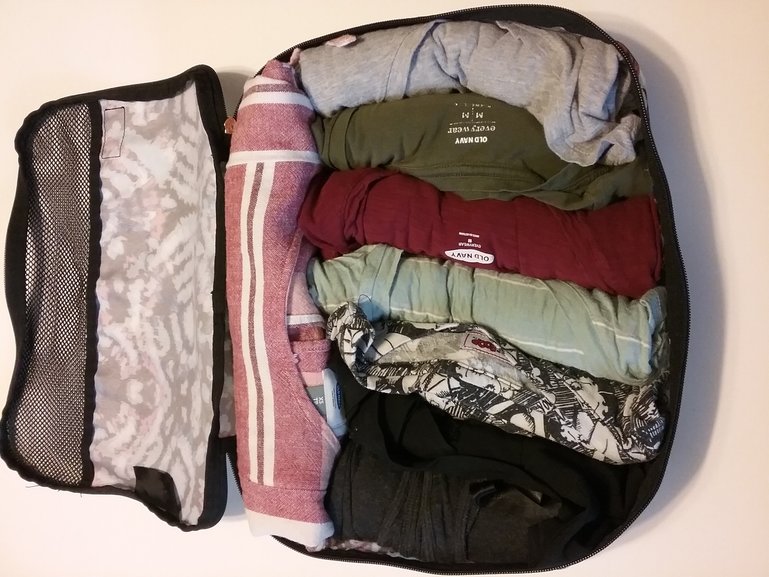 All your options are easy to see and pluck out for that day's adventures.
* A shower bag is also super helpful, there is nothing more annoying than dropping your toothbrush on the way to the bathroom while you juggle 7 other items.
* Wear your bulkiest items on the plane, I know sandals are much easier to get on and off when going through security but your sneakers or hiking boots take up valuable room.
* For transportation, flying or taking a bus I always put my electronics in my bag, I don't want to risk getting them broken or losing them.
I hope you found these tips useful! Leave a comment with your best packing tip!