Brief Overview
---
We visited this National Park in October 2021. The weather was still lovely, and the temperatures were terrific. Carlsbad Caverns National Park is in the Chihuahuan Desert of southern New Mexico. It features more than one hundred caves. The Natural Entrance is a path into the namesake Carlsbad Cavern. Stalactites cling to the roof of the Big Room, a vast underground chamber in the Cavern.
You will need to make reservations before your arrival by calling 877-444-6777. There are no reservations available at the park. It is also mandatory that you wear your mask the entire time you are in the Cavern, something to keep in mind if you have small children with you or someone who doesn't like wearing a mask for extended periods. (During the Pandemic)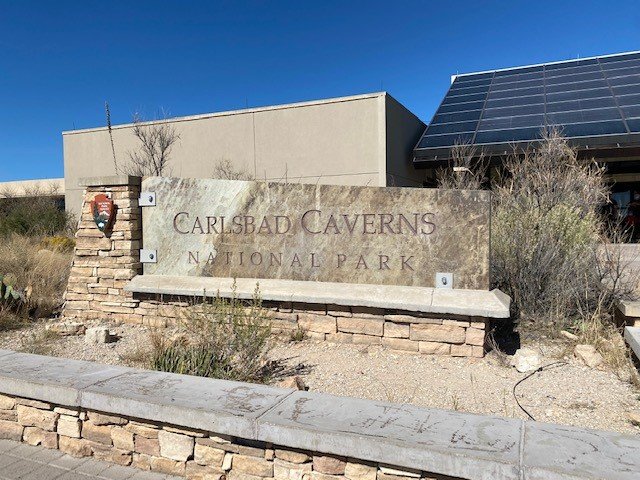 What to Expect
---
Walking into the Cavern was better than taking the elevator down and climbing back up if I could make a recommendation. As you enter the Cavern, it can be musty and have sort of an odor, so be prepared. If you have small children with you, please note that you can only whisper while in the cave, so there are no loud noises or talking amongst yourselves. (Something to think about before you arrive.)
If you are traveling with someone that is elderly, you may want to consider a wheelchair or a scooter. The lighting in the Cavern is limited, so for someone that is not too sure-footed, you would want to be careful. Walking through the Cavern can vary; however, I would plan 2-3 hours at the minimum.
So, as you enter, it will slowly become darker, cooler, and damper. As far as clothing goes, make sure you dress in layers. During the year we went, I was good with a tank top and a light sweater tied around my waist.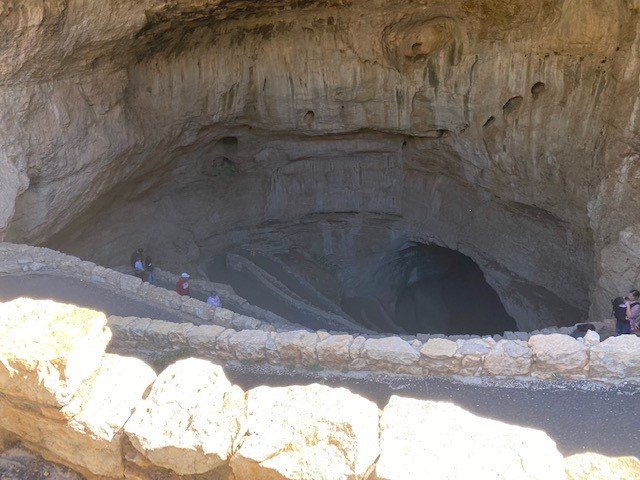 Walking down into the Cavern
Insight
---
Carlsbad Cavern National Park is a massive cave system that is situated on a bed of limestone. It has had a long history of geologic formation that started 250 million years ago, which is the same time wherein the park was once a coastland for an inland sea. Over the years, tectonic movement lifted the reef above the ground.
One hundred nineteen caves are included within the park's protected area. Out of 119 caves, only three are accessible to the public via tours. Carlsbad Cavern is the most famous of these caves, so the park was named after it. It is also the most developed of the caves, with paved trails, electric lights, and elevators to make it easy for tourists to access and explore.
Aside from the caves, bats are another popular tourist attraction in the national park. Seventeen species of bats call this national park their home. The Mexican free-tailed bat is the most prominent of these species, although experts claim that these bats have declined significantly. While we were there, we did not see or experience any bats.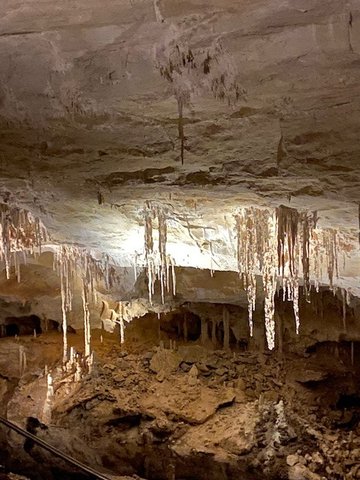 Stalactite - formed of calcium salts deposits of dripping water.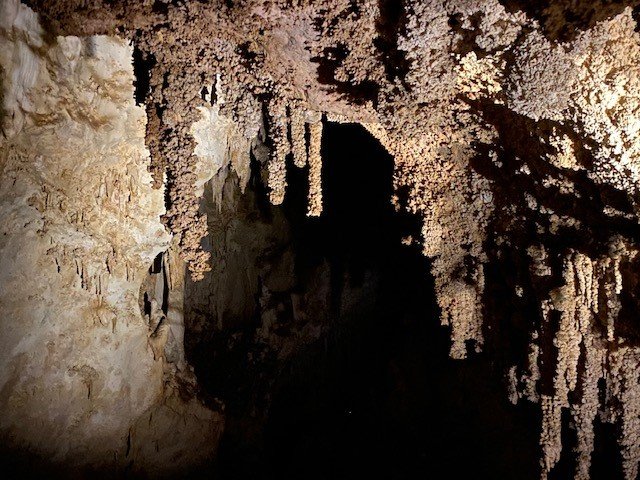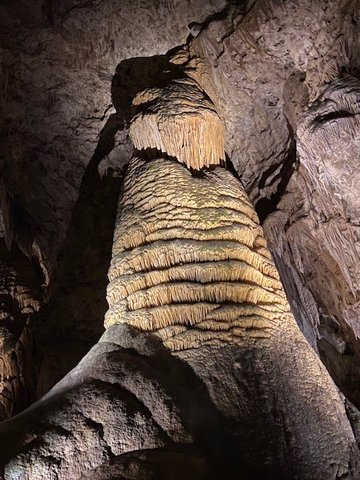 Stalagmite formation inside the Cavern
Summary
---
We have visited many National Parks in our adventures; I will have to say this one does rank right at the top. If you are in the area and are able, please take the time to visit and explore. It will be well worth your time.