I Fly –A Lot– During The Pandemic
I have flow quite a lot during the pandemic. Let's just say, more than ten times. Now before you go all "yOu aRe tHe pRoBlEm" I want to re-iterate there are safe and respectful ways to engage with air travel in the midst of a global pandemic.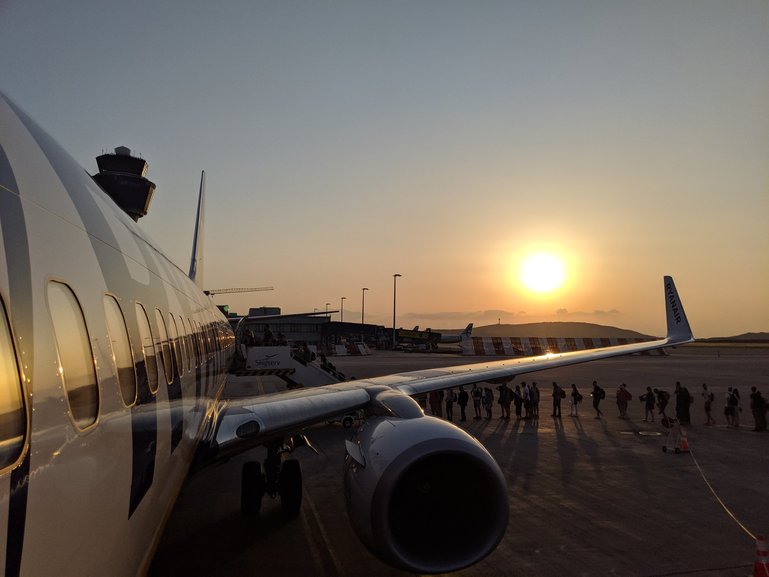 Photo Credit: Nate Benz
You Have Virtually No Chance Of Catching Or Spreading On An Airplane
---
A lot of extensive research has been done on COVID-19 and air travel. What researchers are finding is that there are next to no cases of COVID-19 transmission on airplanes, even when it is later discovered a COVID-19 positive person was on the flight. The combination of mask-wearing and fresh air-circulation in the plane creates extremely safe air. Safer than any of the trips you've taken to the grocery store!
Hydrate & Snack Before You Get On Board
---
If you're on a short or medium hall flight, try and get your stomach fed before you are seated. It is extremely important to stay hydrated on airplanes, so be sure to drink lots of water the day of your flight. In pandemic times or not, airplane cabins can be a bit icky. Food trays, hundreds of people touching the seat-belt, etc. Now, there is an extremely low chance of catching COVID-19 from surfaces, but the less you can put food in your hands to your mouth the better!
Wipe Down Your Seat
---
Many airlines are providing passengers with sanitizing wipes as they board the aircraft. When you get to your seat be sure to wipe down the seatbelt buckle, the tray table, and your armrests. There are high touch zones of the aircraft.
Book A Window Seat
---
In normal times, I am strictly an aisle seat gal. However, during a pandemic sitting by the window wipes out an entire side of your body exposed to people. Plus, you get some stellar views!
If you are going to travel there are safe ways to go about it when you reach your destination. Take a COVID-19 test before and after your trip, book lodging that requires little to no interaction with others, and wear your freaking mask! If you're traveling for a COVID safe vacation, I can't recommend national parks enough. Book a cabin, stay in the woods away from people and enjoy some fresh air.